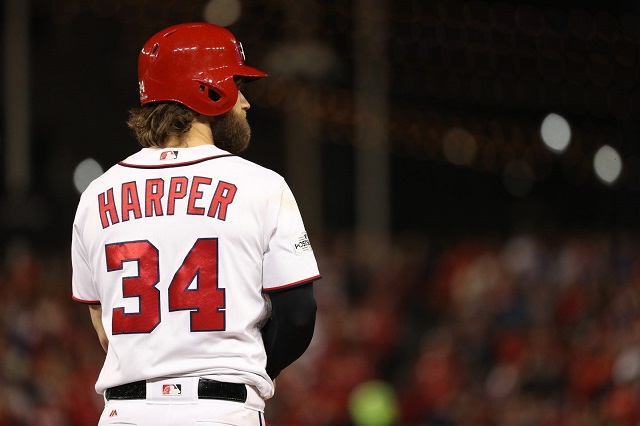 Written by Brian Murphy
19 June 2018
Back in March, if there was one question I thought we would be asking about Bryce Harper come June 19, it was this one: How much money is this kid going to make this winter?
Now, it's June 19 and many people seem to be asking the same question about Bryce Harper: How much money is this kid now costing himself from making this winter?
No matter if any dreams of a half-billion-dollar contract have now been, uh, diminished to $300-$400 million, Harper is still possibly going to sign the most expensive contract in the history of the game in a few months, surpassing Giancarlo Stanton's $325 million pact with the Marlins from 2014. That doesn't mean the road to riches has been paved with gold for Harper.
He is slumping. Not in the usual sense of a baseball player experiencing a standard baseball slump. Those happen. No, the funk Harper is currently in has entered its seventh week. Since May 5, he is the owner of a .173/.256/.353 slash line.
So, what's wrong? It's pretty easy to see, and that slash line shows it.
The man who walked 38 times during the first month of the season has walked just 14 times in 40 games since May 1. His chase rate is up to 32.1 percent since the start of the slump. For context, that number ranged between 27-30 percent over the past few seasons. And he's just not reaching those pitches as often; Harper's contact rate on pitches out of the zone is 51.9 percent, down 10 points from his career average. For what it's worth, he's pulling the ball a hell of a lot, up 10 points from 2017 to 45.5 percent, and he's running into a lot of outs via the shift. Again, this is something Harper can fix. He has shown in the past that he is adept at going to left field. His opposite-field rate last year was just about 30 percent, which is very good. 
Is Harper pressing with the knowledge of what awaits him this winter? Perhaps. There's no doubt that he understands his market value. But there is good news on this front.
For one, you're in a standard 5x5 league, Harper's overall numbers (minus the batting average) are still fairly strong. He has a 41-19-43-6 line. With more than half of the season left to go, Harper, even with this slump, is still on pace to put up 94 runs, 43 homers, 99 RBIs and 13 steals. That's mighty lofty, and you have to assume that he'll get his plate discipline problems straightened out in time to go on a hot streak or two that could help him surpass that pace.
Second, there are a couple of metrics on Harper's side. He's still stinging the ball very well with a career-high 42.7 hard-hit rate, and his .208 BABIP should relent at some point. His current wOBA (weighted on-base average) is .345, but according to Statcast, he his hit the ball in a manner where his wOBA should be expected to sit at .400. Maybe these things don't even out over the long run, but they should.
Lastly, I preach this a lot, but please don't panic good players who are slumping, even if the slump is prolonged. Again, if you're in a standard league, the counting stats look pretty good, and there are a few things that say Harper's slash-line averages should rebound in time. Yet, within the past day in Yahoo leagues, here are some the returns that Harper has fetched in trades:
Adam Jones and John Hicks; Alex Bregman; Matt Kemp and Elvis Andrus; Brandon Nimmo and Walker Buehler; Anthony Rizzo; Clayton Kershaw and Kevin Pillar.
That's six trades, and I'd say that the party receiving Harper in each one of them got the better half. Maybe Kemp keeps this up. Maybe Kershaw comes back healthy in a week or so and dominates. But some of these deals are flat-out ridiculous. 
If you want to trade for Harper, now would obviously be the time. Otherwise, just hold and be patient. Enjoy the fact that Harper is healthy and still homering at a decent clip. The rest of the numbers should rise soon. And whatever you do, don't trade him for Adam Jones and John Hicks.


You can follow, ask fantasy questions and yell at Brian on Twitter: @Spokes_Murphy
Never miss ASL's latest fantasy sports news. Send us an email at This email address is being protected from spambots. You need JavaScript enabled to view it. and list the sports you are interested in (NFL, NBA, MLB, NHL, EPL) to start receiving ASL's newsletter.