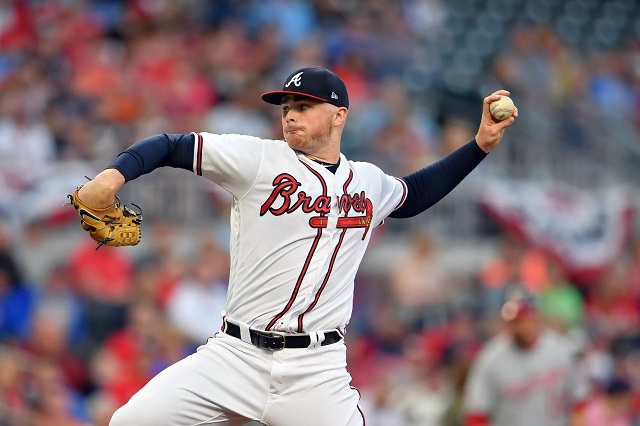 Written by Michael Nease
10 May 2018
We are about six weeks into the season and finally starting to see how strong our fantasy baseball rosters really are. The early results in the win-loss column are the ultimate measuring stick. Last week, we looked at the whole overall 5x5 scoring picture by position.
Yahoo tells us who the trending hot pickups are, but like in other fantasy sports such as football, it is great to be able to do this analysis ourselves, just like the experts do. That way we can often get a leg up on the competition by knowing the hot pickups before the rest of the crowd. Remember this: Your knowledge and analytical abilities help win championships. Just playing halfway never cuts it!
OK, what I have done here is easy and you should be able to do it too using any platform, not just Yahoo. I selected 5x5 player stats for all starting pitchers from the last 30 days, sorted by current ratings. From that, I was able to single out the hottest players who are owned in fewer than 65 percent of all the Yahoo leagues.
While I cannot guarantee their success, my gut tells me these pitchers will be an improvement over many of the SPs on rosters who are woefully underperforming. I have added Chad Bettis and Sean Newcomb to my own roster.
SP Jake Faria, TB (48% Owned)
Preseason Ranking: 216
Current Ranking: 43
Wins: 3
Saves: 0
Strikeouts: 28
ERA: 2.17
WHIP: 0.86
 SP Chad Bettis, COL (60% Owned)
Preseason Ranking: 451
Current Ranking: 54
Wins: 3
Saves: 0
Strikeouts: 20
ERA: 1.89
WHIP: 0.93
 SP Kevin Gausman, BAL (61% Owned)
Preseason Ranking: 211
Current Ranking: 85
Wins: 2
Saves: 0
Strikeouts: 28
ERA: 2.08
WHIP: 1.01
 SP Fernando Romero, MIN (54% Owned)
Preseason Ranking: 475
Current Ranking: 111
Wins: 2
Saves: 0
Strikeouts: 14
ERA: 0.00
WHIP: 1.11
 SP Sean Newcomb, ATL (62% Owned)
Preseason Ranking: 325
Current Ranking: 130
Wins: 2
Saves: 0
Strikeouts: 33
ERA: 2.37
WHIP: 1.15
We all have a natural tendency to be complacent and accept the status quo. It is human nature. If we are playing in a 12-team fantasy league and currently sit in fifth place, we rationalize that as being just fine and dandy. Does your league have a fifth-place trophy? Mine does not and I would wager that very few do.
This morning, I checked my team score for the week. I am in second place in a 12-team league and currently leading my opponent, 9-1. He, by the way, beat me for our league championship last year by the margin of a single stolen base.
Was I happy and satisfied with what I saw this morning? You bet I was! Then, since it had been a couple of weeks since I made any roster changes, I submitted five waiver moves.
With a solid team that I am happy and satisfied with, why would I do that? I lost the championship last year by a razor-thin margin. If I can find five players better than the bottom five on my roster, I will. The rules that I follow are simple: Never let up on the gas pedal. Press, press and press some more to do whatever is necessary within the rules to win.
We have to keep our eyes on the prize. While I enjoy being happy and satisfied now, that means nothing, absolutely nothing. I want the championship. Nothing more, nothing less. I will do everything I can to win. You can count on me adding another base stealer or two for the playoffs.
After all, none of us are playing for that fifth-place participation ribbon. Stick with me during the season and together, we will all give a 110 percent effort in our quest to hoist that coveted trophy at season's end.


Statistics updated through May 9, 2018
Over the years, many readers have contacted me for fantasy baseball advice throughout the season. I look forward to helping you on your journey to win championships this year. You can contact me with any questions or comments at This email address is being protected from spambots. You need JavaScript enabled to view it., follow me on Twitter @mikeinsights, or join me as a member of Couch Tomatoes, my fantasy sports discussion group on Facebook: https://www.facebook.com/groups/330237687362965/
Never miss ASL's latest fantasy sports news. Join our mailing list. Send us an email at  This email address is being protected from spambots. You need JavaScript enabled to view it. and list the sports you are interested in (NFL, NBA, MLB, NHL, EPL) to start receiving ASL's newsletter.
Good luck! Have fun!