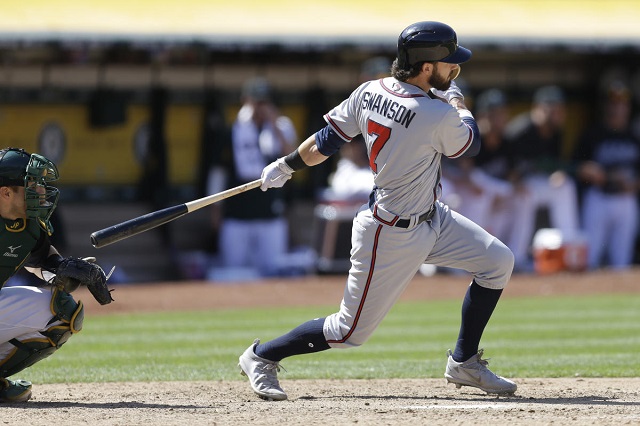 Written by Michael Nease
24 April 2018
This week, the media hordes will descend upon Dallas for the NFL Draft, a simple seven-round affair that will once again become one of the major sports events of the year. Football fans worldwide will be attentively following each and every election as 250-plus young men are added to one of the 32 teams. Last year, 4.6 million viewers reportedly tuned in to the draft on ESPN and NFL Network.
On the flip side of the coin, MLB will conduct a massive 40-round draft in early June. While the NFL passed MLB in the national pastime race decades ago, MLB is still scratching its head and asking why. By the way, after extensive Googling, I found no reports of how many viewers watched the 2017 MLB Draft. In a "which draft is bigger" comparison, the NFL wins by KO.
The "why" is obvious. The NFL has filled up its offseason with events that interest football fans -- the combine, free agency, the draft and a constant bombardment of all this through a hungry media, fighting each other to gain an audience and build up the financial bottom line with every trick known to the marketing industry.
Maybe I'm going out on a limb with this, but I think most of us are general sports fans and follow all major sports. To those who play only fantasy baseball, I apologize. We will get to that specifically in just a moment. First, I have a question for all of you and I bet that nobody out there can tell me the right answers without looking them up. Spontaneously rattle off the names of the first overall picks in MLB, NFL, NBA and NHL drafts from 2015, 2016 and 2017? Too hard? How about just last year? Hell no, I can't do it either, but I can at least recognize the NFL names and probably most of the NBA players selected too.
The MLB Draft is an extensive project where about 1,200 players, mostly unknown to fans, are selected by teams and are dispersed throughout their extensive minor league systems. While about two-thirds of first-rounders make it to the big leagues, only about 10 percent of all drafted players will reach the majors. In fact, those drafted in Rounds 21-40 have almost no chance whatsoever of making it.  
Not only is the MLB Draft held in near anonymity, but with an overall 10 percent success rate for those selected, is it all a big waste of money to build a minor league system in the first place? Most of the best minor leaguers take a few years waiting for the big move up. The rest -- the career minor-leaguers -- live at or below the poverty line. 
Furthermore, an All-Star career is in no way assured to the player who is anointed as the year's top draftee. I have tracked the successes and failures of the 1.01 pick in each of the past five MLB drafts. What I found might surprise you. It certainly opened my eyes.
2013 — RHP Mark Appel, HOU
Previously drafted in 2009 and 2012

Traded to the Phillies in 2015

Compiled a 5.06 ERA in the minors from 2013-17

Announced he was stepping aside from baseball in early 2018

Only the third 1.01 pick to not make it to the majors

Trending: One of biggest all-time busts in sports
2014 — LHP Brady Aiken, HOU
Did not sign due to a signing bonus dispute over the health of his throwing arm

Become the first 1.01 pick not to sign since Tim Belcher in 1983

Had Tommy John surgery in 2015

Drafted 17th overall by the Indians in 2015

Has registered a 5.05 ERA through 40 starts at the rookie-ball and Single-A levels

Trending: The Beatles' song "Nowhere Man" comes to mind
2015 — SS Dansby Swanson, ATL
Became the Braves' full-time shortstop in 2017

In 144 games, he had a 5x5 stat line of 59-6-51-.232-3

Among all qualified hitters through April 23, he ranks 11th in batting average, seventh in hits and 18th in WAR

Trending: Becoming the player he was expected to be as such a high draft pick
2016 — OF Mickey Moniak, PHI
Google lists him between Mickey Mantle and Mickey Mouse — which of the three do you suppose is overrated? LOL!

5x5 stat line in 186 minor league games: 85-6-75-.244-22

Struggling in 2018 so far, batting only .191 after 17 games

Trending: Too soon to tell
2017 — SS Royce Lewis, MIN
Currently playing at Class-A level in Cedar Rapids, Iowa

5x5 minor league stat line thus far in 2017 (54 games) and 2018 (9 games): 60-5-32-.283-21

Trending: impressive during his brief career


Today we have learned about the realities of becoming a major league baseball player. Only one of the past five 1.01 picks has made an impact so far. Very few make it, and many great local-level players are discarded like a bad card dealt along the way. Even that MLB player who you think sucks has overcome great odds and left many competitors in his wake over the years it took him to earn his shot.


Over the years many readers have contacted me for fantasy baseball advice throughout the season. I look forward to helping you on your journey to win championships this year. You can contact me with any questions or comments at This email address is being protected from spambots. You need JavaScript enabled to view it., follow me on Twitter @mikeinsights, or join me as a member of Couch Tomatoes, my fantasy sports discussion group on Facebook: https://www.facebook.com/groups/330237687362965/
Never miss ASL's latest fantasy sports news. Send us an email at This email address is being protected from spambots. You need JavaScript enabled to view it. and list the sports you are interested in (NFL, NBA, MLB, NHL, EPL) to start receiving ASL's newsletter.
Good luck! Have fun!