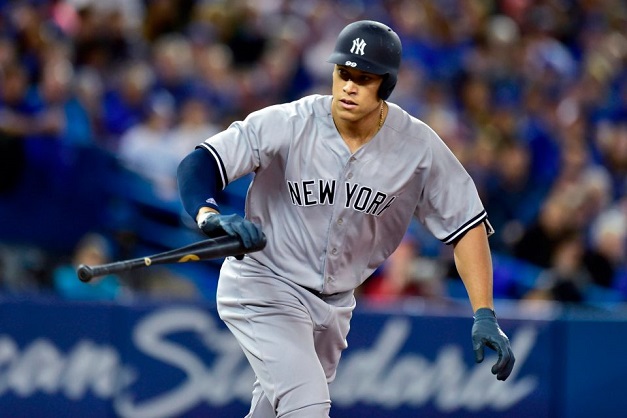 Written by Brian Murphy
03 April 2018
A lot of hasty fantasy owners put too much emphasis on early-season happenings. If a player has a bad week in July, not many will notice. But a bad few games when there are only a few games of data to go on send owners into a tizzy. Don't freak out. There is so much baseball left to be played. Stay committed to these household names. They will give you the numbers you crave by year's end.
Paul Goldschmidt, 1B, Arizona Diamondbacks
Goldy is off to a 1-for-12 start, but his on-base percentage is at .450 because of seven walks. He actually has more walks than strikeouts (six). Plus, Goldschmidt has posted a 50 percent hard-hit rate over the first four games. He's going to continue making solid contact, and those balls will end up falling soon.
Joey Votto, 1B, Cincinnati Reds
Votto has picked up just three singles and one walk through four games. But do you really think that one of the best hitters of this generation won't find his groove? If you need more verification that it will be OK with Votto, he hit just .256 last April and recorded a .640 OPS in April 2016. He ended both of those seasons among the top 10 in MVP voting.
Aaron Judge, OF, New York Yankees
I think everyone, myself included, doesn't expect Judge to repeat his 2017 stats. However, his .267 slugging percentage probably has his fantasy owners antsy. Lest we forget that he experienced a 47-game stretch last season from July 9-Sept. 2 in which he put up a .178-.338-.337 slash line with just seven home runs. If we get to the middle of May and Judge has only seven home runs, then we can start to worry. Right now, absolutely not. For all intents and purposes, he was an MLB-level hitter for only about four months last season and still was the MVP runner-up.
Andrew Benintendi, OF, Boston Red Sox
This is a bit of a tougher sell only because Benintendi's batted-ball profile has been uniquely awful to start this season. He is 1-for-15 with just one single, one run and three walks to show for his time. Moreover, Benintendi doesn't have a hard-hit ball to his credit, according to FanGraphs, and has notched a 53.8 ground-ball rate to go along with a 33.3 infield fly ball rate. Again, he's been bad. So maybe Benintendi is the poster boy for this article: It's too early to panic. Talent wins out more often than not. Keep the faith. He is still hitting second or third in what should be one of baseball's best lineups this season. Benintendi is going to hit. Himetricscs may not display much in the way of hope, but this is one of those cases where you need to trust a player's pedigree and larger sample sizes more than just four games of work.
Stay patient. We've got about 25 weeks of baseball remaining. Don't give up on someone for the next 25 weeks because of a single poor one.


You can follow, ask fantasy questions and yell at Brian on Twitter: @Spokes_Murphy
Never miss ASL's latest fantasy sports news. Send us an email at This email address is being protected from spambots. You need JavaScript enabled to view it. and list the sports you are interested in (NFL, NBA, MLB, NHL, EPL) to start receiving ASL's newsletter.