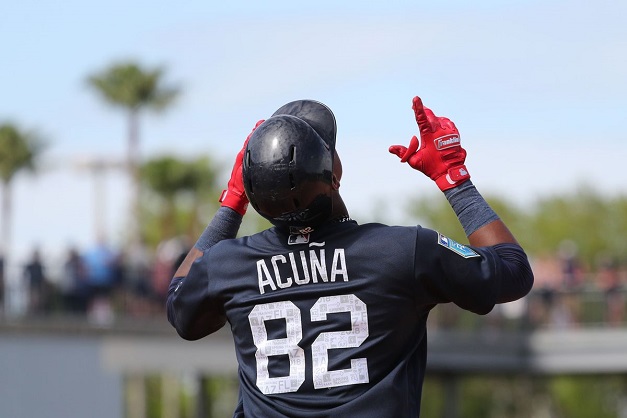 Written by Brian Murphy
12 April 2018
It could happen Friday. It should happen no later than Monday. It should have already happened, really, but because of baseball's service-time rules, Ronald Acuna Jr. has yet to make his MLB debut. But we should be right on the doorstep of that reality, ladies and gentlemen. A player who has been compared to Mike Trout, Roberto Clemente and Hank Aaron will be on his way very soon. In fact, Friday is the earliest the Braves could call him up to the majors while keeping him under an extra year of team control.
Are those comparisons crazy? Admittedly, yes. But Acuna has also been linked with Carlos Correa, Adam Jones, Jay Bruce and former Braves great Andruw Jones. We're talking about a high-floor, higher-ceiling outfielder. And with Preston Tucker inevitably cooling off following a scorching start to the season, there just so happens to be a space opening in Atlanta's outfield.
Why all the hype? Well, there are reasons for those lofty comparisons. Acuna, who won't be of legal drinking age until December, has put up a .306/.375/.481 slash line across 241 games in the minors. He rocketed through three levels of minor-league ball last year as he hit .325 with 21 homers and 44 steals as a 19-year-old. He then backed that up by being named the youngest-ever MVP of the Arizona Fall League as he bashed seven homers in 23 games and OPS'ed 1.053. There's no wonder why Acuna was named the game's No. 1 prospect by Baseball America and Baseball Prospectus prior to this season. MLB.com had him at No. 2 behind only Shohei Ohtani.
Oh, Acuna ripped it up in spring training, too. Still, the Braves have kept him down in the minors to delay his free agency. Come Friday, that delay will have given them an extra season of control, and Acuna has nothing left to prove on the farm. Yes, he is just 2-for-19 at Triple-A this year, but what sample size are you going to trust: Acuna's most recent 19 at-bats or his previous 900-plus at-bats in which he hit .310?
It's nice to see that Acuna is already owned in so many leagues (82 percent in Yahoo leagues; 83 percent in ESPN leagues: 96 percent in CBS leagues), but this is last call. It's time to make sure the best prospect in baseball isn't sitting unclaimed on your league's waiver wire. Ronald Acuna Jr. is a true five-tool star and possibly a generational talent. Prepare yourselves.


Related:  Click here to see why you should pay attention to another high-ranking prospect, the Reds' Nick Senzel.
You can follow, ask fantasy questions and yell at Brian on Twitter: @Spokes_Murphy
Never miss ASL's latest fantasy sports news. Send us an email at This email address is being protected from spambots. You need JavaScript enabled to view it. and list the sports you are interested in (NFL, NBA, MLB, NHL, EPL) to start receiving ASL's newsletter.