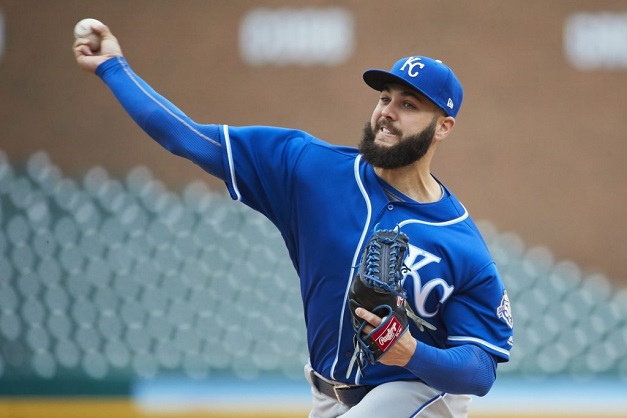 Written by Brian Murphy
10 April 2018
SP Jakob Junis, Kansas City Royals
I took a chance on Junis at the backend of a 20-team draft just before the season began and I believe that pick has already become a value. Junis is going to have some rough starts just because he doesn't miss enough bats to salve those days when he doesn't have his best stuff. But he does have above-average control and after opening the season with 14 scoreless innings, you'd be a dummy to at least not take a chance on him in any format. Junis is still available in about 40 percent of Yahoo leagues and 55 percent of ESPN leagues.
SS Andrelton Simmons, Los Angeles Angels
Would you believe that Simmons is tied for the major-league lead in hits (17) and is joined by Elvis Andrus atop the American League leaderboard in runs (10)? It's true. I know he's not a monster in any particular category and plays a position with a lot of quality contributors, but Simmons posted a useful five-category line of 77 runs, 14 homers, 69 RBIs, 19 steals and a .278 average last season. Now batting sixth for the highest-scoring offense in baseball, he's on an easy pace to top three of those five categories, and the power will show up for him at some point. He is still available in more than 40 percent of Yahoo leagues.
3B Colin Moran, Pittsburgh Pirates
Moran, a former top-10 pick, was traded by Houston in the Gerrit Cole deal and now he is having a bit of post-hype breakout start to 2018. Moran owns a .904 OPS thus far with a .345 batting average and eight RBIs. Now that Moran is getting everyday playing time, he is worth your time just in case he regains the form of the player who was seen as a top-60 prospect a few years ago.
RP Joakim Soria, Chicago White Sox
The White Sox probably aren't going to win 75 games this year, and Soria is well short of being a lockdown closer. However, he is the closer for the South Siders, so if you are looking for a Corey Knebel replacement or, heck, if you just need to pick up some ground in the saves category, you should know that Soria is still out there in more than half of CBS, Yahoo and ESPN leagues. Bonus: If you have to choose someone out of the Brewers' bullpen quagmire to replace Knebel, I've already put my money on Matt Albers, who is widely available in all formats.
3B Nick Senzel, Cincinnati Reds
The No. 2 overall pick in 2016 and the game's No. 7 prospect on three different lists prior to this season is on his way to the big leagues ... soon. He could be up with the Reds by some point next week to fill in for the injured Eugenio Suarez. Senzel has compiled a .313/.390/.509 slash line across 191 career minor league games and profiles as a high-average hitter with some power and speed. Plus, he can play at third base, second base and shortstop. He should be on the radar of everyone in leagues with at least 12 teams. 


You can follow, ask fantasy questions and yell at Brian on Twitter: @Spokes_Murphy
Never miss ASL's latest fantasy sports news. Send us an email at This email address is being protected from spambots. You need JavaScript enabled to view it. and list the sports you are interested in (NFL, NBA, MLB, NHL, EPL) to start receiving ASL's newsletter.