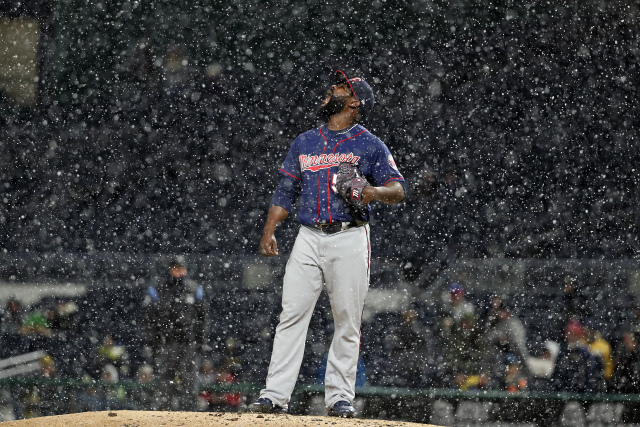 Written by Brian Murphy
12 April 2018
MILWAUKEE BREWERS
The Brew Crew's bullpen has been left scrambling to replace Corey Knebel, who will miss a couple of months due to a hamstring injury. Fortunately for Milwaukee, they have a wealth of possibilities to take over in the ninth inning. Josh Hader has been the best arm in the pen, but it looks like the Brewers want to keep him in middle relief for now. That leaves Matt Albers, Jeremy Jeffress, both of whom have closing experience, and Jacob Barnes to fill Knebel's shoes in the meantime. I immediately placed a couple of dollars on Albers in a deep league, and that has paid off thus far as he has been given the last two save opportunities, converting one successfully. He shouldn't have a long leash by any means, but Albers is the guy to get right now. Barnes would be the next-best option, and Hader is still worth adding in case Milwaukee gives him some turns in the ninth (and it should). Nonetheless, Hader can help you out right now in the ERA and WHIP categories while tacking on a few more Ks as well. He has struck out 17 batters in 7.2 innings.
CHICAGO WHITE SOX
Speaking of closers on a short leash, Joakim Soria was mentioned in my most recent pickups column, but his time might have already come and gone. Mea culpa. He allowed three earned runs in a save opportunity last week and has been used just once since April 5. Meanwhile, Nate Jones notched a save Wednesday night and has been generally more effective this year. Soria has more experience, but it's clear that Jones is the better pitcher right now. His 97-mph sinker is a fantastic weapon. 
LOS ANGELES ANGELS
This situation is bound to stay on shaky ground as long as Mike Scioscia is running things. Granted, there are no sure things in the Angels' bullpen, but it took Scioscia forever to realize that Blake Parker was his best ninth-inning reliever last year. This year, I'm wondering how long it will take him to anoint Keynan Middleton. There was a glimmer of hope Wednesday night when Middleton converted a save chance albeit while giving up a run. Still, that's the first run he has allowed while striking out seven and posting a 1.04 ERA through 7.2 innings. Parker has permitted at least one run in half of his six outings thus far, Cam Bedrosian has lost 3 mph off of his fastball in the past two years, and Jim Johnson, in terms of pitch value, is barely a league-average arm now. It's time for Middleton to get a long look. Please. 
MINNESOTA TWINS
You know the Fernando Rodney Experience is never a smooth ride. He has made a career out of making managers and fantasy owners bite their fingernails down to the nub. And 2018 has been no different as Rodney opened the season with a blown-save win and then got tagged with an extra-inning loss Wednesday. Addison Reed, who has registered a 1.13 ERA and a 0.88 WHIP through six outings, is waiting in the wings. Consider him in deep leagues. I don't think Rodney will lose his job tomorrow -- he always seems to survive no matter how many bad stretches he goes through -- but the Twins should be aware that they have a high-quality backup option for the ninth if Rodney's act just becomes too much to bear.
Other situations to watch:
The Rays are an awful team, and Alex Colome hasn't been helping matters. He has given up a run in three of his five outings and has struck out just one batter in four innings. I think former Giants closer Sergio Romo would be next in line, but Chaz Roe is also a candidate.


If the Phillies had an evidently better option than Hector Neris in the ninth, I'm sure Gabe Kapler would have used him by now. Alas, due to some injuries in one corner and poor performances in the others, the Phils seem stuck with Neris, who blew a save Wednesday. Pat Neshek or Tommy Hunter could be options once they get healthy.


I just want to see Kyle Barraclough get a fair shot in the ninth. I don't know if he'll get it with the hapless Marlins, but he has struck out eight men in 4.2 innings while Brad Ziegler has an ERA near 8 in the early going. Why not give Barraclough a look over the 38-year-old submariner? I wish I had an answer.


You can follow, ask fantasy questions and yell at Brian on Twitter: @Spokes_Murphy
Never miss ASL's latest fantasy sports news. Send us an email at This email address is being protected from spambots. You need JavaScript enabled to view it. and list the sports you are interested in (NFL, NBA, MLB, NHL, EPL) to start receiving ASL's newsletter.