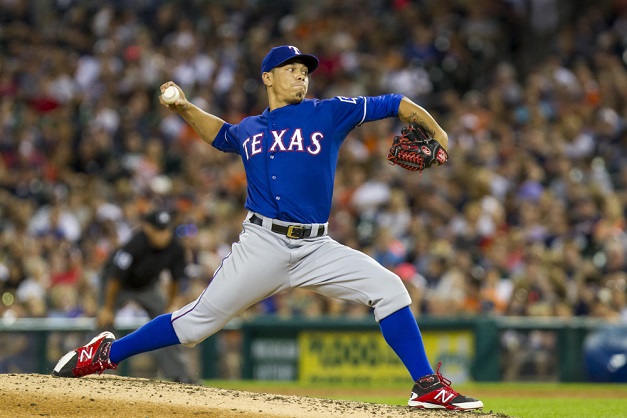 Written by Brian Murphy
31 March 2018
Jose Martinez, 1B/OF, St. Louis Cardinals
I will commend those who have done the right thing and added Martinez following his three-hit performance on Opening Day. However, he is still available in about half of all ESPN and Yahoo leagues. I told you earlier this month that he was a bargain, and as long as he keeps hitting for power -- something his batted-ball profile states he will continue to do -- Martinez is going to get regular at-bats. Plus, batting fifth in the Cardinals' order between Marcell Ozuna and Yadier Molina is a cozy spot.
Robinson Chirinos, C, Texas Rangers
Another preseason favorite of mine, Chirinos is 0-for-7 to start the year with one RBI. However, his numbers would look quite a bit better if his opposite-field sacrifice fly from Friday night went over the wall instead of dying just in front of the wall for what would have been an opposite-field grand slam. Chirinos is not going to hit for a high average, but he has power to spare, and Salvador Perez owners could do a lot worse in their search for a short-term replacement at catcher. Chirinos has gone unclaimed in more than 80 percent of Yahoo and ESPN leagues.
Keone Kela, RP, Texas Rangers
The rush to grab the Giants' Hunter Strickland or the newly signed Greg Holland of the Cardinals is understandable. The former has already closed games on back-to-back days, and the latter will almost undoubtedly be closing as soon as he completes his own spring training, knock-off-the-rust period. Kela has not yet been given a save opportunity, but Rangers manager Jeff Bannister did tab him as the team's primary closer on Opening Day and used him in the ninth inning Friday. Kela hasn't thrown more than 40 innings in a season since 2015, however, his strikeout rate has been close to 12 per nine in the last two years, and he posted a 2.79 ERA in 2017. He won't be leaned on as heavily as other, more established closers, but his ownership percentage needs to be well above its current level of 22 percent in ESPN leagues. Kela is still available in about 45 percent of Yahoo and CBS leagues.
Lewis Brinson, OF, Miami Marlins
Brinson was listed as a top-30 prospect by multiple outlets this winter and is locked into an everyday role atop the Marlins' ... let's say, rebuilding, offense. There are plenty of flaws in Brinson's game, and he's going to go through stretches where he looks like the rookie he is. It's encouraging that he has struck out only once in his first 13 plate appearances, but that will not sustain. Something else that will not sustain is Brinson's lack of extra-base power. Each of his four hits thus far has been a single, but this exciting youngster has 20-20 potential. I expect him to hit between .240-.250, but again, he is going to play every day, so a line of 80-20-60-20 is possible given his tools. The 23-year-old is available in 65 percent of Yahoo leagues and more than 75 percent of ESPN leagues.
You can follow, ask fantasy questions and yell at Brian on Twitter: @Spokes_Murphy
Never miss ASL's latest fantasy sports news. Send us an email at This email address is being protected from spambots. You need JavaScript enabled to view it. and list the sports you are interested in (NFL, NBA, MLB, NHL, EPL) to start receiving ASL's newsletter.