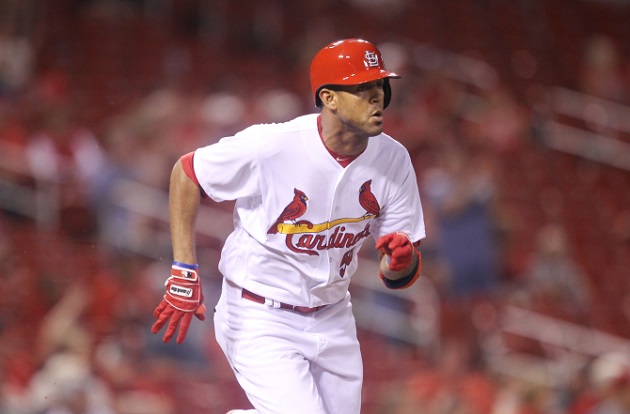 Written by Brian Murphy
01 March 2018
Matt Chapman, 3B, Oakland Athletics
Chapman is going to swing and miss a ton, but that's the norm for power hitters in baseball, so you accept it and move on. Along the way, Chapman is going to probably run into 30-plus balls just right. He bashed 14 HRs in 290 at-bats last year and that meshes well with all of his minor league numbers. If anything, you should expect an uptick in Chapman's homers because his homer-per-flyball rate was about two-thirds of what it was prior to the majors. His average draft position has been rising lately, but he is still being found on draft boards past pick No. 200. He doesn't offer anything much other than homers, but if you can get 40 homers past pick No. 200, you've got to take it every time. 
Jose Martinez, 1B, St. Louis Cardinals
Martinez probably shouldn't be an everyday player for a contending MLB team. At least, that would be a fine opinion by just looking at his minor league record, which shows Martinez never hit more than 11 homers at any stop. Then he arrived in St. Louis last year -- at age 28 no less -- and sent 14 balls out of the yard in 272 at-bats. His groundball rate has dropped about 10 percentage points in the past few years and his fly ball rate has risen significantly as a result. He also ranked among the top-30 hitters in average exit velocity (90.1 mph) and barrels last season and has hit for a pretty good average at basically every stop. The only issue for Martinez is finding a place for him to play, but I expect him to end up getting a lot of time at first base. The Cardinals have to play Martinez if his power sustains.
Kendrys Morales, DH, Toronto Blue Jays
I know, it's not sexy at all. Yes, Morales is a designated hitter (although he is eligible at first base in Yahoo leagues). Yes, he'll be 35 years old in a few months. However, he posted 25 homers with 85 RBIs last year, and that should be considered his baseline if Josh Donaldson stays healthy for a full season. Plus, Morales ranked 11th in all of baseball in average exit velocity (91.0 mph). He's a one-dimensional slugger, but again, this is all about finding cheap power, and Morales will also be available after pick No. 200 in most drafts. At least you know what you are going to get from him. I also wouldn't rule out a 30-homer campaign.


Never miss ASL's latest fantasy sports news. Send us an email at This email address is being protected from spambots. You need JavaScript enabled to view it.and list the sports you are interested in (NFL, NBA, MLB, NHL, EPL) to start receiving ASL's newsletter.