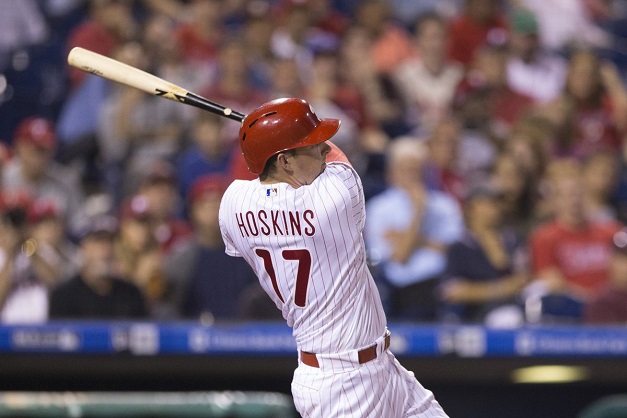 Written by Michael Nease
29 March 2018
OK, your draft is over and it is time to sit back and watch the wins roll in, right? WRONG! If you are a fantasy baseball veteran, you likely know what needs to be done, but you rookies out there need a wake-up call.
Fantasy baseball is not a sprint. We are talking world-class marathon here. From now until September, when champions are crowned, you will have to manipulate your roster on a daily basis. Thinking of this six-month journey as a walk in the park can only result in making you a loser.
Now that I have your attention, let's gather around and get our plan into action. I will be here on this road to victory right beside you. We will celebrate successes and when you start to stumble, I will pick you up. I've got your six.
We have control over our rosters in two ways: trades and waiver moves. Then we have to make lineup moves on a daily basis. Yes, becoming a champion is hard work, but the bragging rights or maybe even some $$$ makes it all worthwhile.
Let's begin with some trade talk about some players you should try to add to your "gotta have " list. Today, we will cover hitters and move on to pitchers in a later article. I have listed each player's 2017 stats.
Since most of us do not play in baseball keeper or dynasty leagues, trading future draft choices is not relevant here. Of course, you can always email me for help with any type of leagues (you can find my contact info at the bottom of the article). I will just say here that in leagues with year-to-year continuity, trading picks in combination with players helps to balance trades and make them more enticing. And as in fantasy football, acquiring additional future picks helps you dominate in subsequent years. Successful team management can help you build a dynasty.
C Yadier Molina, STL
Preseason Position Rank: 6

Average Round Drafted: 15th

Runs: 60

Home Runs: 18

RBIs: 82

Stolen Bases: 9

Average: .273
As a Cubs fan, I have an automatic hatred for the Cardinals, but I am also a big Molina fan. Fantasy sports is a way of life that erases those sorts of biases. His ADP slipped this year to the point where some have drafted him as their second catcher. However, I feel confident about the 35-year-old Molina because he just signed a three-year contract at about $20 million per year. Over the years, I have learned that knowledge about the game is what gives you power over your peers. That knowledge comes from keeping your eyes and ears open coupled with knowing the numbers of the game.
In making a trade for a major player, I would try to snap Molina up as a minor piece to balance the trade. He is not only good enough to be your starter, but he can also be a superb backup catcher or used in one of your lineup's utility spots.
1B (OF) Rhys Hoskins, PHI
Preseason Position Rank: 8

Average Round Drafted: 4th

Runs: 37

Home Runs: 18

RBIs:48

Stolen Bases: 2

Average: .259
When you first see Hoskins' 2017 stats, you simply shrug indifferently and look away. They are absolutely no big deal on the surface. What makes him such a top prospect is the fact that those numbers were compiled in just 50 games following the rookie's call-up in August. Tripling those stats would make Hoskins an MVP candidate.
I would move fast and offer just about anything for this kid. He has "superstar" written all over him and could carry your team for multiple stretches in 2018.
2B (SS/OF) Chris Taylor, LAD
Preseason Position Rank: 12

Average Round Drafted: 11th

Runs: 85

Home Runs: 21

RBIs: 72

Stolen Bases: 17

Average: .288
It is hard to believe that a player who offers this much versatility and production can last until the 11th round in drafts. With injuries, days off and so many spots to fill in a lineup, Taylor is a great piece to have. He can help you at multiple positions and play well day after day.
3B (1B) Miguel Sano, MIN
Preseason Position Rank: 11

Average Round Drafted: 9th

Runs: 75

Home Runs: 28

RBIs: 77

Stolen Bases: 0

Average: .264
With the Twins not getting much national coverage, a player like Sano pretty much flies under the fantasy radar. He smashed 28 homers in 114 games last year, and I like him as a complementary player. He contributes on a consistent basis and could be a difference maker.
SS (1B, 2B, 3B, OF) Marwin Gonzalez, HOU
Preseason Position Rank: 13

Average Round Drafted: 14th

Runs: 67

Home Runs: 23

RBIs: 90

Stolen Bases: 8

Average: .303
Gonzalez is ranked as the No. 13 SS and was drafted down around the 14th round. What the heck? He can be in your lineup each and every day in any slot other than catcher and pitcher. He can put up great overall numbers and be the kind of player who can put you over the top in a couple of weeks over the course of the season.
OF Marcell Ozuna, STL
Preseason Position Rank: 15

Average Round Drafted: 4th

Runs: 93

Home Runs: 37

RBIs: 124

Stolen Bases: 1

Average: .312
After two years of virtual anonymity in Miami, Ozuna is now playing for the Cardinals, a team with much more national exposure. With numbers like his, I expect Ozuna to wear a "stud status" tag early in the season. It might be a reach trading for him, but I would at least experiment with the thought. Always remember that some members of your league are, shall we say with kindness, not the sharpest pencils in the box.
OF Andrew Benintendi, BOS
Preseason Position Rank: 17

Average Round Drafted: 4th

Runs: 84

Home Runs: 20

RBIs: 90

Stolen Bases: 20

Average: .271
Benintendi is not exactly a household name as yet, but he can be a true five-category force. He should post another 20-20 seasons with a near-.300 average. Quick aside: I would rather have several 20 SB players with good all-around stats than a Dee Gordon-type, who can steal 60 bags. Gordon's lack of power adds pressure to the rest of your lineup.
OF Nelson Cruz, SEA
Preseason Position Rank: 12

Average Round Drafted: 4th

Runs: 91

Home Runs: 39

RBIs: 119

Stolen Bases: 1

Average: .288
Getting Cruz through a trade could be a stretch, but many surprisingly underrate him in fantasy Since he doesn't give you much position flexibility, you might offer a multi-position guy as part of the deal. That might be a necessary enticement for the other owner to make the move.
Creating trades that are fair and equal (or perhaps slightly in your favor) is a skill that is developed over years. Be sure that your potential trading partners don't see you as a vulture trying to steal players away. Giving that impression is a sure way limit your potential to make trades.
Over the years many readers have contacted me for fantasy baseball advice throughout the season. I look forward to helping you on your journey to win championships this year. You can contact me with any questions or comments at This email address is being protected from spambots. You need JavaScript enabled to view it., follow me on Twitter @mikeinsights, or join me as a member of Couch Tomatoes, my fantasy football discussion group on Facebook: https://www.facebook.com/groups/330237687362965/
Never miss ASL's latest fantasy sports news. Send us an email at This email address is being protected from spambots. You need JavaScript enabled to view it. and list the sports you are interested in (NFL, NBA, MLB, NHL, EPL) to start receiving ASL's newsletter.
Good luck! Have fun!