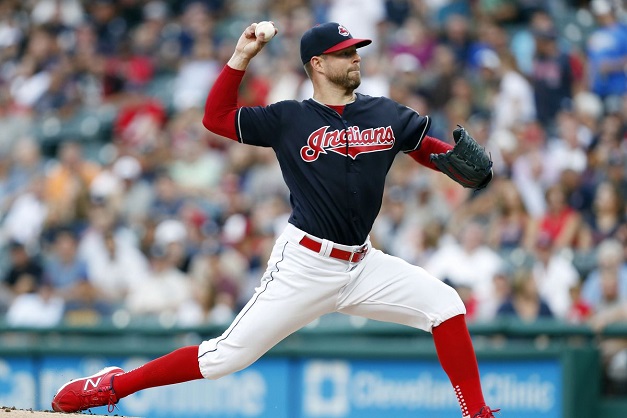 Written by Brian Murphy
27 March 2018
Corey Kluber is an early-second-round pick on average in fantasy baseball drafts, and that lofty position is totally warranted. Over the past four seasons, he has averaged 16 wins, 219 innings, 252 strikeouts, a 2.83 ERA and a 1.02 WHIP. He has finished among the top trio in Cy Young voting in three of those four years. In that other year, he was ninth.
Kluber is great. There is no doubt about that. 
He just isn't his usual self during the early stages of a season.
2014: Kluber posts a 4.14 ERA, a 1.51 WHIP and an 8.5 strikeouts per nine rate through six starts in April. From May 4 on, he wins 20 of 28 starts, posts a 2.13 ERA, a 1.02 WHIP and strikes out 10.6 batters per nine.
2015: Kluber's cold streak extends to May 7 as he loses five of his first seven outings. He is striking out more than a batter per inning, but his ERA is an unsightly 5.04. Then he absolutely dominates, delivering a one-hit, 18-K shutout in his next start. Kluber would win only nine games in 2015, but his ERA over his final 25 starts was 3.10, his WHIP was 0.97, and he K'd more than 10 batters per nine.
2016: It wouldn't be until the start of June when Kluber really turned it on. There were some highlights during his first 10 starts, but he ended May with a 4.15 ERA. In 21 starts from June 5 on, Kluber tallied 14 wins, had a 2.61 ERA and once again upped his K rate by about a batter more per inning compared to his early-season stretch.
2017: It gets doubly tough for Kluber owners as he carries a 5.06 ERA into May and then misses about a month of time due to a back injury. And yet, his performance over the final four months of last season won him the Cy Young Award. Kluber recorded a 1.62 ERA from June 1 on and had a ridiculous WHIP (0.76) and K rate (12.1) through his last 23 starts. 
I'm not sure how to end this article because there are obviously two ways to look at it. If you own Kluber, make sure you stick with him through the lean early days and don't let someone convince you to sell low after April or May.
If you don't own Kluber ... do whatever you can to convince his owner to sell low after April or May. The numbers will be there in the end.


You can follow, ask fantasy questions and yell at Brian on Twitter: @Spokes_Murphy
Never miss ASL's latest fantasy sports news. Send us an email at This email address is being protected from spambots. You need JavaScript enabled to view it. and list the sports you are interested in (NFL, NBA, MLB, NHL, EPL) to start receiving ASL's newsletter.