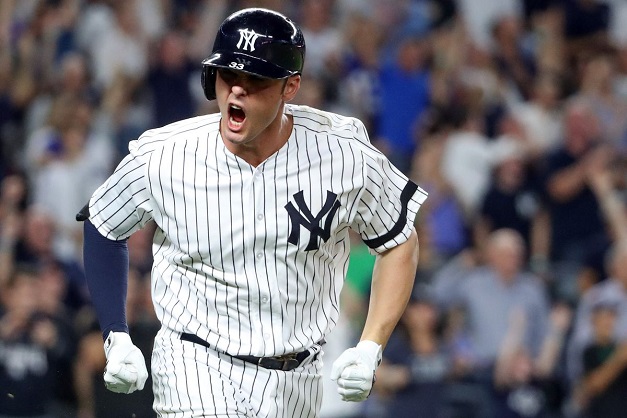 Written by Brian Murphy
22 March 2018
Starting pitcher: Johnny Cueto, San Francisco Giants
I'm willing to label 2017 as a negative outlier for Cueto. Some would scoff at such an idea, but this is a guy who had posted a sub-3.50 ERA and a sub-1.20 WHIP in six straight seasons from 2011-16. Then those marks shot up to 4.52 and 1.45, respectively, last year. It was a season in which Cueto dealt with blisters and a forearm strain. Plus, you can't quantify the impact that the personal matters with his father had on him last spring. Cueto admitted that reporting to camp late in 2017 affected him.
So, wipe the slate clean and expect him to return to his pre-2017 norms, which would make him a top-20 fantasy starter. Yet, according to FantasyPros, he's the 38th starting pitcher listed on its ADP chart and is commonly available in Rounds 11-14.
Catcher: Robinson Chirinos, Texas Rangers
Once you get past the first couple of tiers at catcher, you kind of run into a glut of the same type of player: A slow-footed, low-average slugger. And those players are fine; they have value. But if you're going to wait, wait. Chirinos will be available after pick No. 250 in basically every draft you do -- I got him at pick No. 276 in a draft I did Wednesday -- and he has legitimate 25-homer pop. He may not hit above .250, but at that price point, that's a rather small detail.
First base: Greg Bird, New York Yankees
All of the ink gets spent on Aaron Judge, Giancarlo Stanton and Gary Sanchez. Not enough people are talking about the lefthanded bat that will probably be placed in the middle of that trio on some days. Bird, who is coming off the board between Rounds 12-15 on average, is going to get a hefty share of RBI opportunities, and given his uppercut swing and the short right-field porch in Yankee Stadium, 30 home runs well within range.
Second base: Yoan Moncada, Chicago White Sox
One of the best prospects in baseball for the last couple years, Moncada still isn't making enough contact. However, if he can just get his strikeout rate below 30 percent, he would be a major bargain for fantasy owners in Rounds 12-16. He is going to hit 20 homers and if the White Sox let him run, Moncada has the legs to snag 20-plus bases. So, how about a 90-20-70-20 line from a second baseman in the middle-to-late rounds? 
Shortstop: Marcus Semien, Oakland Athletics
And yes, here's another player who isn't going to help you much in batting average (there seems to be a theme here; this is why I prefer points leagues). But again, can I interest you in a 25-homer, 10-steal shortstop who can be had in the last round of your draft. Don't forget about Semien just because he plays in that wasteland of a stadium out in Oakland. 
Third base: Matt Chapman, Oakland Athletics
Cheap plug! Click this link to see my thoughts on Chapman. They remain basically the same, three weeks later. The fact that he still owns an ADP well above 200 is stupid.
Left field: Gregory Polanco, Pittsburgh Pirates
Polanco was just never healthy in 2017. Shoulder, groin, hamstring, ankle -- he had injuries to all of them. His mediocre stats displayed the impact, but don't forget that he put up 22 homers and 17 steals in 144 games two seasons ago. He is still in his physical prime and as long as he remains physically intact, he could give you a little bit in every category, highlighted by a likely 20-20 season. He is currently the 45th outfielder off the board on average, per FantasyPros.
Center field: Manuel Margot, San Diego Padres
And here is the man right behind Polanco in that ADP chart. Nothing in Margot's hitting profile says we should expect him to hit double-digit home runs again, especially while playing half of his games at Petco Park. But he should steal 25-30 bases while putting up a worthwhile batting average, a couple dashes of power and up to 80 runs atop an improved Padres offense. I'll take that kind of production in the 13th round.
Right field: Mitch Haniger, Seattle Mariners
Haniger's 2017 started and ended well as he turned in a big April and a big September. In the middle, he struggled with injuries. But he still hit 16 home runs in less than 100 games. He can steal double-digit bases well and (surprise!) won't actually hurt you in batting average. Like with Polanco, seems like a lot of people have just forgotten about him. Be happy to get him after pick No. 200 in your drafts
Relief Pitcher: Blake Treinen, Oakland Athletics
I'm not an A's fan, I promise, no matter what this list looks like. It's just that people are bypassing Oakland players when they really shouldn't. For closers, I always wait on saves. A handful of guys will emerge from the masses every year (like Corey Knebel in 2017), so why spend top dollar for some of the early-round closers? If you want a ninth-inning man with fairly stable job security and whom you can grab late, look at Treinen. After a brutal stretch with the Nats last year, Treinen was sent west and posted a 2.13 ERA, a 1.16 WHIP and struck out 42 batters in 38 innings. The A's aren't going to win a ton of games, but Treinen should pick up 25-30 saves while providing plenty of Ks and solid ratios. You can draft him in the 14th round or later.  


You can follow, ask fantasy questions and yell at Brian on Twitter: @Spokes_Murphy
Never miss ASL's latest fantasy sports news. Send us an email at This email address is being protected from spambots. You need JavaScript enabled to view it. and list the sports you are interested in (NFL, NBA, MLB, NHL, EPL) to start receiving ASL's newsletter.