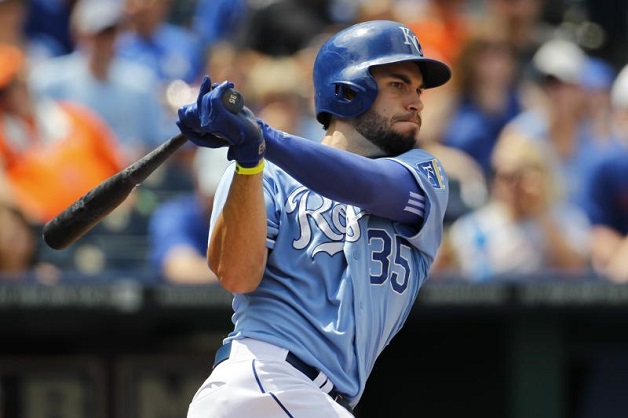 Written by Brian Murphy
20 February 2018
It took until middle-to-late February, but the two best bats remaining in baseball's 2017-18 free-agent class, Eric Hosmer and J.D. Martinez, finally know where the new chapter in their respective careers will begin. The elongated wait must not have been fun, but I suspect a nine-figure contract and getting to skip a few days of spring training make it all worth it. Now, is it worth it for fantasy owners to invest in either player?
Well, yeah. They're good players. But the real question is this: How much does Hosmer's signing with San Diego and Martinez's marriage with Boston affect their values as fantasy draft season heats up? Let's do a quick look into that.
ERIC HOSMER SIGNS 8-YEAR, $144 MILLION DEAL WITH PADRES
Over the past four years, Hosmer has fluctuated between being a league-average offensive player to substantially above average. Last season was Hosmer's best on record as he set or tied career-highs in home runs (25), batting average (.318), OPS (.882) and wRC+ (135). However, I am slightly worried about his odds of repeating 2017. His .351 BABIP last year is due for a correction back to his career norm of .316, which should lower his average. Also, while Kauffman Stadium is no homer haven, Petco Park does suppress home runs a little more, and the only stadium with a worse home run park factor last year was San Francisco's, where Hosmer will play 10 games this season. Of course, trips to Coors Field could offset that. But overall, I would bet the under if you set Hosmer's 2018 projected home run total at 25. And given his high BABIP and ground ball rate (it's been above 55 percent the past two years), I think he will finish his inaugural season as a National Leaguer with a sub-.300 average.
I put Hosmer on the fringe of my top-10 first basemen rankings last week, and that's where he stays now. I'd still rather own his teammate Wil Myers, who will offer more power and speed despite a significantly lower batting average. Myers will also regain his outfield eligibility within the first couple weeks of the season.
J.D MARTINEZ SIGNS 5-YEAR, $110 MILLION DEAL WITH RED SOX
Martinez has been a great hitter for the past four seasons. Maybe you didn't realize that, but it's true. His wRC+ was never lower than 136 during that span. Last year was an anomaly in the power department to some extent -- his 162-game pace was 61 home runs -- and some of his opposite-field homers, in which he leads the league since 2015, will turn into outs due to Fenway's deep right/right-center area. But Martinez is still going to mash. And as a likely everyday DH, his odds of staying healthy have improved; that's really been the only knock on his offensive profile over the past few years. With Mookie Betts, Andrew Benintendi and maybe Xander Bogaerts hitting in front of him, Martinez is going to drive in a ton of runs once again. This signing, which has been months in the making, solidifies Martinez's draft status as a top-35 fantasy player. He's going to put up a .300-35-100 campaign. That feels like a low-end projection.


You can follow, ask fantasy questions and yell at Brian on Twitter: @Spokes_Murphy
Never miss ASL's latest fantasy sports news. Send us an email at newsletter@advancedsportslogic.com and list the sports you are interested in (NFL, NBA, MLB, NHL, EPL) to start receiving ASL's newsletter.