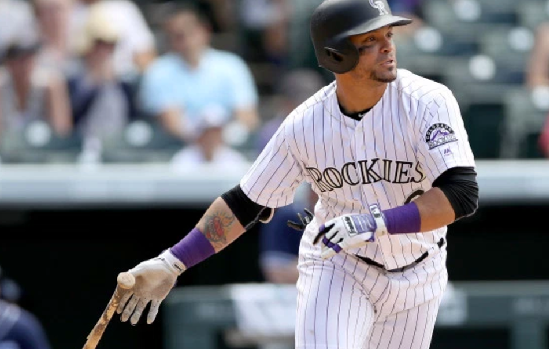 Written by John Adams
20 July 2017
1) OF, Gerardo Parra, Colorado Rockies
I'm a firm believer in riding the hot hand and there is no hotter hand in Major League Baseball right now than Rockies outfield Gerardo Parra. Parra became the eighth player in Rockies history to safely reach base in ten consecutive at-bats. Parra is hitting a blistering .516 during the month of July, driving in 12 runs in just 31 at bats. It's no fluke either, Parra is batting .364 on the season with 8 home runs and 40 RBI's. Don't ask me how a 30-year-old player with a .278 career batting average is killing it this year, but it's probably better not to ask.
2) OF, Tommy Pham, St. Louis Cardinals
And the hits just keep on coming for St. Louis outfielder Tommy Pham who has his safely in eight of his last 10 games and has powered his way to a .373 batting average during the month of July. The 29-year-old Pham has the power to rip the long ball with 12 home runs this season to go hand in hand with his 13 stolen bases. Like Parra, Pham is another player who has just a .271 career batting average who has suddenly found the sleeping pop in his bat. Pham is batting .306 on the season with 38 RBI's and shows no signs of slowing down.
3) 1B, Brandon Belt, San Francisco Giants
Giants first baseman Brandon Belt has cooled off since a very hot start to the month of July, but that doesn't mean he can't keep the magic going this summer. Despite a very pedestrian .240 batting average, Belt has 16 home runs this season and has the potential to hit 30. Belt is still recovering from a mild wrist injury, but still sports a meaty .310 batting average for the month of July. So if you need the home runs and can live with a few too many strikeouts, you might be tempted to take Belt out for a test drive, just don't drive too far.