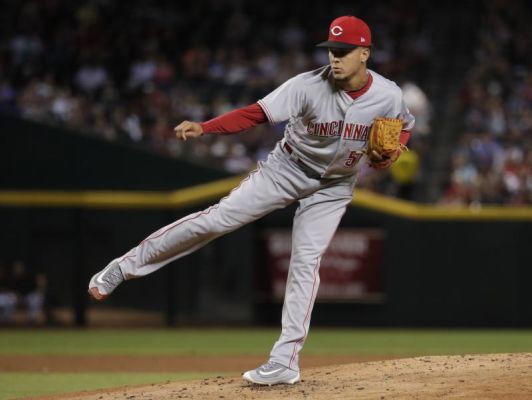 Written by Brian Murphy
13 July 2017
3. Jhoulys Chacin, SP, San Diego Padres
I remember the laughs shared when it was announced that Chacin would be the Padres' Opening Day starter. It was a marker of just how truly wretched the Pads would be in 2017. Sure enough, San Diego is pretty awful, but has anyone noticed what Chacin has done in the past five weeks? Since June 3, he is sporting a 2.44 ERA over seven starts, all but one of which lasted at least six innings. And Chacin hasn't been racking up numbers solely against cupcakes; five shutout frames versus the Dodgers and a strong start at Wrigley Field are included in this run. I don't have a whole lot of faith in Chacin's long-term outlook -- he has been a below-league-average pitcher since 2014 by ERA+ -- but it looks like his next three starts will consist of back-to-back meetings with the hapless Giants followed by the Mets at Petco Park. Might as well hop on this wave.
2. Charlie Morton, SP, Houston Astros
Morton returned from his month-plus stint on the disabled list Friday and broke off six innings of one-hit, one-run ball in Toronto. He received the win as the Astros had given him eight runs to work with before the third inning. Those kinds of outbursts are going to happen with this team, and Houston's starters stand to benefit with plenty of Ws. Morton doesn't always need that kind of support to succeed -- he is striking more than a batter per inning and has a fairly electric fastball-curveball combo -- but it certainly doesn't hurt. With home outings versus the Twins and the Mariners likely next on his docket, look for Morton and the 'Stros to continue their winning ways.
1. Luis Castillo, SP, Cincinnati Reds
If you want to play it safe, definitely take one of the previously mentioned arms. If you want to gamble on some immense upside -- and perhaps suffer through some harsh growing pains -- feast your eyes on Castillo and his 100-mph fastball. He throws a high-80s changeup and a mid-80s slider to boot. Control is an issue -- as it is for almost every young fireballer -- but this 24-year-old shut out the Diamondbacks through 6.2 innings in the desert Saturday and notched a 16:2 strikeout-to-walk ratio in his final 12.1 innings prior to the All-Star Break. His ERA is bound to rise from its 3.13 spot thanks to his absurd 96 percent left on base rate, but the strikeouts will be there through better or worse for Castillo. He is an extremely exciting prospect who is already proving he belongs. He should be owned in every keeper and dynasty league and deserves a sizeable boost to his redraft ownership percentage just for his last couple of outings, at Arizona and a commendable effort at Colorado. Let's see what he does with another tough test this Saturday: at home against the Nationals. 
Want to know which hitters to add this week? Click here.