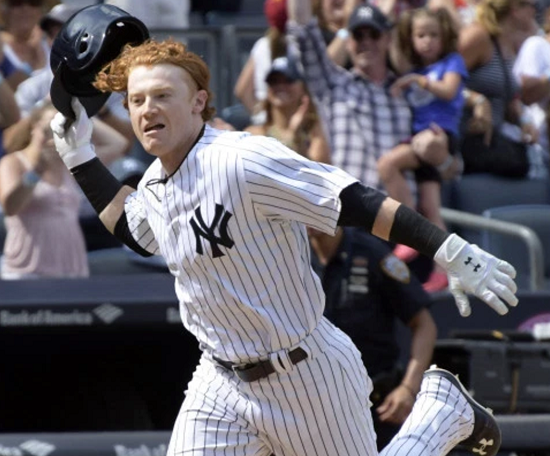 Written by John Adams
12 July 2017
1) OF, Clint Frazier, New York Yankees
The Yankees farm system seems to be the gift that just keeps on giving to fantasy owners. Bombers outfielder Clint Frazier is the real deal and is not a player you can afford to ignore. The sample size is small, but no fantasy owner can ignore the MLB's 17th-ranked prospect. Frazier has three home runs in his first seven games and there will be plenty more where those came from. In just 24 at bats, he's already collected 8 RBI's to go with seven hits and had a three game hit streak going into the All-Star Break. So far, the only drawback for this 22-year-old is his strikeouts, but his power makes him well worth your fantasy investment.
2) 2B, Whit Merrifield, Kansas City Royals
Royals second baseman Whit Merrifield is no sure thing for your fantasy squad, but he does have potential. He's in his second year in the majors and he's improved in most categories. Merrifield steals plenty of bases (14) which is nice, his .281 batting average is good enough and he even has some power with 7 homes runs and 33 RBIs. He's the leadoff man for Kansas City and that provides him with plenty of opportunity. As I said, he's a fill-in player to plug a hole in your fantasy lineup and he could get hot coming into the second half of the season.
3) SS, Tim Anderson, San Diego Padres
Padres shortstop Tim Anderson was a hot add at the beginning of the season, but a nightmare slump in April prompted most fantasy owners to drop him like a hot potato. Then came the month of May when Anderson caught fire batting .319 with four home runs and a steal. He cooled off again in June and has now started to heat up again in July. His .240 batting average is noting to write home about, but he does have 9 home runs and 28 RBI's. If you need some power in your lineup and can deal with a sagging batting average, Anderson is worth a speculative add for fantasy teams who still have a shot at the fantasy playoffs.