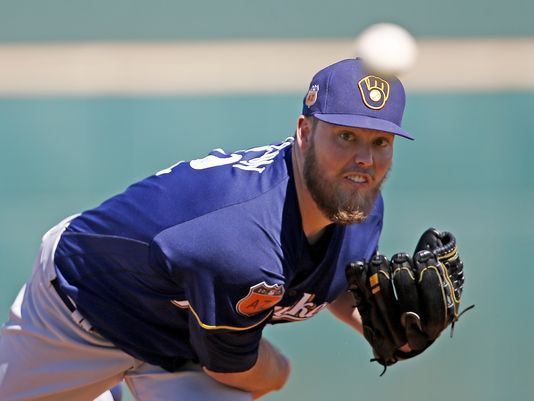 Written by Brian Murphy
08 June 2017
3. Carlos Rodon, SP, Chicago White Sox
If your league's settings were put together properly, you should be allowed to pick up a player who is on the disabled list without having to drop an active player. If that is the case ... do you have a free DL spot? Use it on Rodon right now. He is available in about 60 percent of leagues. Rodon has been on the mend all season long due to bicep tendinitis and is currently working his way through a rehab assignment. The results haven't been anything to write home about, but the results won't matter as long as he feels right. Right now, it looks like he will make his 2017 debut by the end of June. In 2016, his age-23 season, Rodon wrapped up his year by recording a 3.45 ERA over his final 12 starts and striking out more than a batter per inning. The 2014 first-round pick is good enough to at least be the third- or fourth-best starter for your squad.
2a. Jimmy Nelson, SP, Milwaukee Brewers
2b. Chase Anderson, SP, Milwaukee Brewers
There are going to be four players in this top-three list because both of these pitchers need to have higher ownership percentages. They have received boosts lately due to each turning in a quality start this week, but both players are still available in more than 40 percent of leagues. I mentioned Anderson in a pickups column back in April, and yeah, he had a series of below-average outings immediately after I wrote that, but he is rolling right now. He has not allowed a run over his last 21.2 innings. Of course, he won all three of those starts, lasting at least seven innings in each. One of them was a one-hit, 11-strikeout standout performance against the Diamondbacks, whom Anderson is scheduled to face Sunday.
But if I had to choose one of these teammates, I'd take Nelson. He entered his start Wednesday among the top 25 starters in strikeout rate (24.3 percent) and strikeout minus walk rate (18.4). Then he went out against the Giants and gave up just one walk with six Ks over six innings. He notched a quality start and a win. His xFIP going into that game was just 0.04 apart from his ERA, and if you combine that with his .330 BABIP, it's clear that Nelson is not having a fluke run. He looks like a top-25 starter right now.
1. Felipe Rivero, RP, Pittsburgh Pirates
NEW CLOSER ALERT! (maybe)
The Buccos are about ready to make a switch in the ninth inning after Tony Watson blew his fourth and fifth saves of the year on Tuesday and Wednesday, respectively. Wednesday's BS was especially egregious as Watson couldn't hold a four-run lead in the ninth, and the Pirates would go on to lose in extras. He now owns a 4.44 ERA and a 1.52 WHIP. Rivero followed Watson and delivered a perfect inning with two strikeouts. Rivero has been putting up a lot of clean frames this season. He has allowed a grand total of two runs in 31 innings. He also has a 34:6 strikeout-to-walk ratio, and batters have posted a meager .438 OPS against him. Pirates manager Clint Hurdle admitted Tuesday that he and his staff have talked about tabbing Rivero as their closer, and that was before Watson's latest slip. His time should be up.