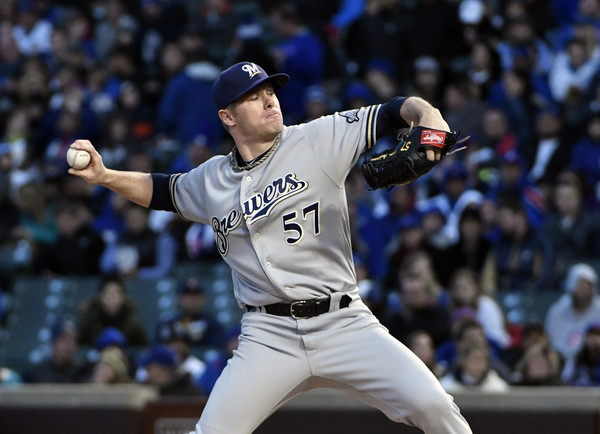 Written by Brian Murphy
27 April 2017
Chase Anderson, Milwaukee Brewers
We are more than three weeks into the season. I understand that you don't want to act too hastily in fantasy baseball; it's a loooooong season. But it's been more than three weeks and some players who are off to hot starts deserve more respect than doubt. Yet, seeing Anderson owned in only half of all leagues is disheartening. He's not Nolan Ryan, but Anderson's 22.9 strikeout rate is very respectable, and his fastball has gained a lot of value this year. His strikeout-to-walk ratio is better than 3:1. Despite matchups against the Cubs and Rockies, he has yet to allow more than two earned runs in any start. He has given up one home run in 24 innings. He is producing more soft contact, more infield fly balls and less hard contact than last year. And this doesn't look like a lot of luck (.273 BABIP, 2.52 FIP). However, Anderson is owned in fewer leagues than Kevin Gausman. What more does he need to do for the fantasy community to show him more love?
Wade Miley, Baltimore Orioles
Full disclosure: I have never been a Wade Miley fan. Yes, he eats innings and strikes some guys out, but he has always been way too hittable for my liking. Well, not so much this year as opponents are batting just .138 against him. He has a WHIP of 1.00 in 26 innings despite issuing 14 walks. Miley's control has never been this erratic, but on the plus side, he has never missed this many bats either. Miley's 11.08 Ks per nine innings ranks 10th in the majors, one spot ahead of Max Scherzer. While the metrics show that he is due for more of a regression than Anderson, you have to take a chance on him as long as he is getting so many whiffs. Just hope he can continue doing that while improving his control a bit. Miley is owned in 51 percent of leagues.
Brandon McCarthy, Los Angeles Dodgers
As long as he is healthy, McCarthy will carry at least some value. That's the story of his career. But hey, he is healthy right now and has been the second-most valuable pitcher in the Dodgers' rotation next to some Kershaw dude. He has struck out 22 batters in 24 innings and has a strong 2.25 ERA and 3.19 FIP. He has thrown three quality starts in four outings. Simply, McCarthy is good right now, and who knows how long that will last? Let him help your team until his body betrays him once again. His next two starts will come against the Phillies and, even better, the Padres. 
Here are a few other pitchers who are owned in more leagues but should be added in all anyway: Dylan Bundy, Baltimore Orioles; Luis Severino, New York Yankees; Robbie Ray, Arizona Diamondbacks; Kendall Graveman, Oakland Athletics (He will be activated off the disabled list Thursday).
To see which hitters you should add, check out John Adams' article.