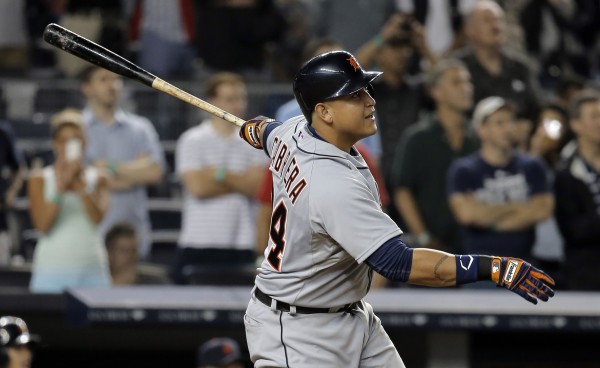 Written by Brian Murphy
01 June 2017
BUY
Miguel Cabrera, 1B, Detroit Tigers
Miggy really has been stinging the ball this year. You just wouldn't know it by looking at his .261 average with only five home runs. But Cabrera entered Wednesday night with a league-high 31.1 line-drive rate. He also owns a 48.8 percent hard-hit rate, which is fifth-best among all swingers. I can't say he'll hit between 35-40 home runs again, but that average is bound to go up very soon. With it, so will Cabrera's RBI totals.
Todd Frazier, 3B, Chicago White Sox
Frazier will never be confused for Cabrera from a hitting standpoint, but his .182 average is much too low, even for him. He is still giving his owners decent power, and although his batted-ball profile looks pretty much the same from last year's 40-homer campaign, he's currently on pace for less than 25 HRs. Don't sell your first-born son for Frazier, but you are going to want to be a part of his inevitable power surge this summer.
Trevor Story, SS, Colorado Rockies
Can you stomach buying another strikeout-prone slugger with a sub-.200 average? Story has more homers than Frazier in more than 20 fewer at-bats, and that power is here to stay. His .197 average certainly won't be, not when Coors Field is his home. With a little more contact -- not too much to ask -- Story will be worth acquiring.
SELL
Corey Dickerson, OF, Tampa Bay Rays
FanGraphs published an interesting read today about what is behind Dickerson's admittedly freakish start. One of the keys? He is hitting .347 despite swinging at a league-high 46.8 percent of the pitches he has seen that were outside the strike zone. This tactic has worked for few hitters this year, such as Avisail Garcia. But there are more cautionary tales than feel-good stories behind Dickerson on that list. You can count Odubel Herrera and Rougned Odor in that former group. It's only a matter of time until Dickerson's wildly undisciplined style stifles his production. 
Jean Segura, SS, Seatle Mariners
Oh, back to the BABIP. It tends to be a crutch for me in my fantasy arguments too often. However, I have no problem leaning on it here. Segura's speed means he is going to have a naturally high BABIP.  But .399? Yep, that's a bit out of whack. Try to sell an owner in your league on Segura's .345 average and his high run potential in the Mariners' lineup. In reality, Segura is a singles-heavy hitter whose success thus far is being supported by an awful lot of baseball luck.
Oh, by the way, Dickerson's BABIP as of Wednesday was .403. 
BONUS BUY
Mike Trout, OF, Los Angeles Angels
I was going to make this an even column with three players in each category, but it was difficult to find that third sell-high candidate that I really believe in. That should tell you a lot about what I think of Miguel Sano's outstanding start.
Soooo ... how about the best player in the game? His value has never been lower, for sure. Really, I don't think it's ever been low. Now that he is set to miss the next six-to-eight weeks, see if you can get a depressed Trout owner to part ways with him. This is a great plan of action if you are currently in first place in your league at 8-0 or 7-1 and can thereby afford to wait for Trout to get healthy. Meanwhile, his current owners are probably scrambling to find ways to fill the MVP-sized void Trout's injury created. They are distraught. They are emotional. They are reactionary. See if you can swoop in and take advantage. A deal for Trout should still include a pretty high price, but it will be worth it when he is carrying your roster to the championship in August and September.