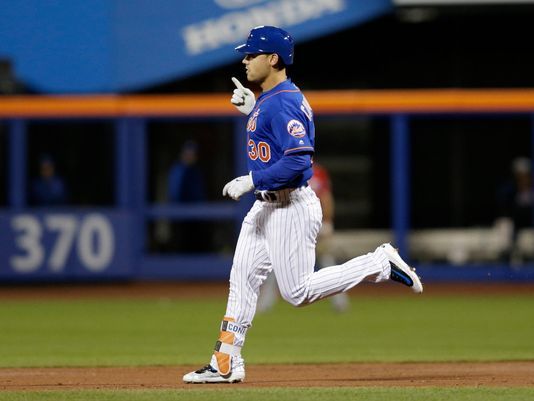 Written by John Adams
27 April 2017
OF: Michael Conforto, New York Mets
Adding Mets outfielder Michael Conforto is a no brainer for fantasy owners. If he is sitting on your wire, drop what you're doing, pick up your phone and add him immediately. The Mets have not managed Conforto well since he came to New York. The Amazings really screwed up last year when they sent him down to the minors. Instead of letting him work through a rookie slump, they rained on his confidence instead.
But this year, not even the Mets can screw this up. Conforto is a stud and he's proving his case every time he comes to bat. He's finally getting playing time because of an injury to Yoenis Cespedes, and he is making the most of it by hitting .361 with four homers and 8 RBIs. There is a risk, because the Mets have been known to make bad decisions, but even they can see that this budding star needs to be in their punchless lineup.
3B: Joey Gallo, Texas Rangers
If you need some serious power in your lineup and can handle the burden of a few extra strikeouts, Rangers temporary third baseman Joey Gallo is your guy. Adrian Beltre is dealing with a lingering calf injury and this is giving Gallo his shot to stay in the Rangers starting lineup. Gallo already has seven dingers and 16 RBIs on the young season and is crushing the ball. He has a .945 OPS and will likely shift to left field when Beltre is finally able to return. Gallo is only 23-years-old and strikes out a ton, but if he can settle down just a bit, he could turn into pure fantasy gold.
DH, OF: Corey Dickerson, Tampa Bay Rays
Corey Dickerson is off to a blazing start this season boasting a .324/.367/.635 batting line in just 20 games. The 27-year-old seems to have carved a place out in the Rays starting lineup starting five of the Rays first seven games. Dickerson also seems to have finally figured out how to hit better against left-handed pitching. If you pick him up, make sure he's playing each night before inserting him into your lineup, because the coaching staff still might bench him against stronger left-handed pitching.