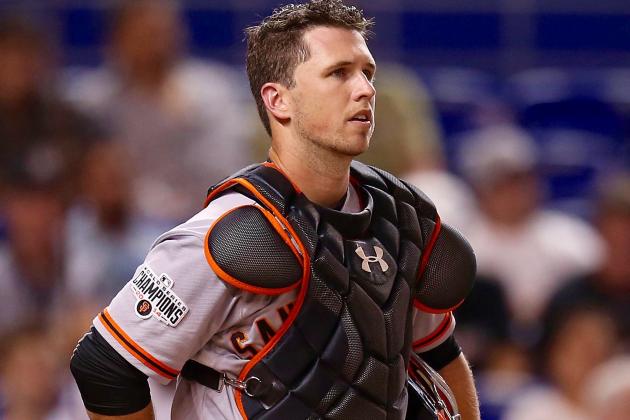 Written by Brian Murphy
23 March 2017
1. Buster Posey, San Francisco Giants
I expect Posey to get closer or top 20 homers this season after last year's relatively disappointing 14. Regardless, the good batting average will always be there, and both 80s RBIs and 80 runs are well within reacch
2. Jonathan Lucroy, Texas Rangers
Many will put the Yankees' Gary Sanchez here, but I value Lucroy a tad more for his track record. Maybe he won't repeat his career-high 24 HRs from 2016, but his production should be stable across the board in a dangerous Rangers lineup.
3. Gary Sanchez, New York Yankees
The phenom, I can't quibble with you if you draft Sanchez first at this position. His upside is absolutely unmatched. He might smash 30 home runs, which a majority catcher hasn't achieved since 2011. However, he likely won't hit .299 again, and I just want to see how the rest of the league adjusts to him. And how he is able to adjust back. 
4. Wilson Contreras, Chicago Cubs
I will probably never draft because I think the gap between the top three and No. 4 is larger than No. 4 through No. 10. But Contreras is an intriguing player because of his youth, offensive potential and surrounding parts. He is a high-average catcher who will be playing every day in the National League's best lineup. 
5. J.T. Realmuto, Miami Marlins
Unlike the players above him on this list, Realmuto's bat doesn't possess a lot of pop. But what he does better than anyone on this list is steal bases. And if a decent batting average with double-digit steals and HRs is something you're interested in, Realmuto is your guy.
6. Salvador Perez, Kansas City Royals
Perez is turning more into the all-or-nothing players later on this list. Maybe his body has been worn down by playing every day behind the plate, but he is no longer an batting average asset. You're basically hoping for 20-homer power and a slight rebound in average. Otherwise, he probably won't provide many draft dividends.
7. Evan Gattis, Houston Astros
At least you know what you're going to get from Gattis: 25-30 HRs, a batting average hovering around .250 and a whole lot of strikeouts. Thanks to Houston's incredibly short left-field porch, Gattis will continue to give fantasy owners plenty of power.
8. Yasmani Grandal, Los Angeles Dodgers
Again, it's all about the HRs with Grandal. But because he's only 28, he has a real shot of obtaining 30 and that's what puts him here.
9. Russell Martin, Toronto Blue Jays
Hey, look! It's another catcher who could give you 20 home runs, 60 runs, 70 RBIs and a negative batting average. This is why you wait to draft a catcher after that top trio. The group that follows is largely similar.
10. Wellington Castillo, Baltimore Orioles
Castillo has already played in a friendly hitter's park with the Diamondbacks. Now let's view how he plays at Camden Yards, another great park for right-handed bats. He should be yet another source of 20 homers. If he could copy last season's .264 average, that would be a bit of a bonus. The men listed 7-9 in this article probably won't get to that mark.
HONORABLE MENTION: Yadier Molina, St. Louis Cardinals; Brian McCann, Houston Astros; Stephen Vogt, Oakland Athletics.
Previously: Top 10 First Basemen