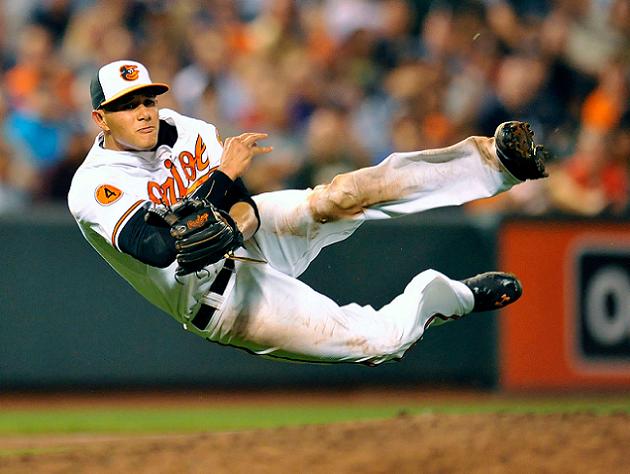 Written by Brian Murphy
09 March 2017
1. Nolan Arenado, Colorado Rockies
At a position where there are four legitimate first-round commodities, there is some debate over who is No. 1. Kris Bryant is right there, but I'll favor the Rockies' stud because, while both are massive run producers, he makes more contact and is a stronger bet for a high average.
2. Kris Bryant, Chicago Cubs
Bryant has shown some basestealing ability. The possibility of double-digit steals with all of his power should make fantasy owners everywhere salivate. 
3. Manny Machado, Baltimore Orioles
Entering his sixth major league season, Machado won't turn 25 until July. He's already great and the best may be yet to come. Shortstop eligibility certainly helps. Like Bryant, it remains to be seen if he'll be a factor on the bases. Machado went from 20 steals to zero between 2015 and 2016.
4. Josh Donaldson, Toronto Blue Jays 
Still a solid player, but I think Donaldson is clearly fourth in this elite quartet. His current calf injury doesn't bother me, but the departure of Edwin Encarnacion does. I think teams will find it easier to pitch around him.
5. Kyle Seager, Seattle Mariners
You know what you're going to get from Corey's older brother: 25-30 homers, 85-90 runs, perhaps 100 RBIs, a .270 batting average and a few steals. Consistency is not a bad thing, especially when the numbers are stellar across the board. Seager also hasn't missed more than four games in any of the previous four seasons.
6. Adrian Beltre, Texas Rangers
Although he turns 38 next month, Beltre is still an All-Star-level player. His power surge (32 homers last year) probably won't be replicated, but he will always provide a high batting average and plenty of RBIs.
7. Todd Frazier, Chicago White Sox
Frazier's low BABIP last year (.236) signals that he should hit significantly better than .225 in 2017. If he can just get back up to .250, fantasy owners will happily take it as long as he continues to offer 40-homer pop and 15-20 steals.
8. Matt Carpenter, St. Louis Cardinals
I'm putting Carpenter here even though it looks like he will be St. Louis' first baseman this season. Like Seager, he is solid if not spectacular. However, he is a notch below the Mariners' third basemen in the run production department.
9. Evan Longoria, Tampa Bay Rays
Longo had a tremendous -- and slightly surprising -- 2016, clubbing a career-high 36 HRs. If he continues to hit more balls in the air (his flyball rate took a six-point jump last year), perhaps he can repeat. But I think a measure of regression is more likely.
10. Anthony Rendon, Washington Nationals
Just stay healthy, Anthony. If so, he feels like a lock for a 80-20-90-10-.270 line. And that's conservative.
HONORABLE MENTION: Alex Bregman, Houston Astros; Maikel Franco, Philadelphia Phillies; Justin Turner, Los Angeles Dodgers; Jake Lamb, Arizona Diamondbacks; Miguel Sano, Minnesota Twins.
Previously: Top 10 First Basemen