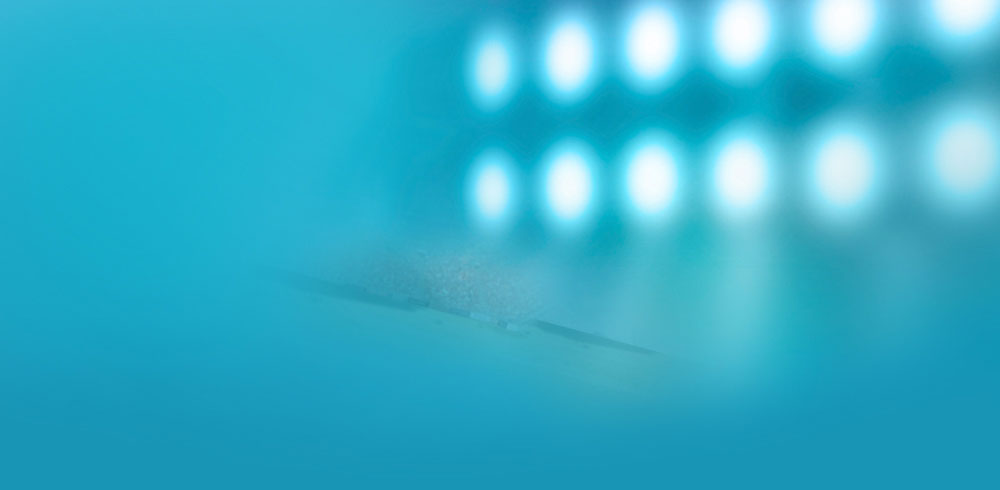 Coming Back Soon!
THE MACHINE

- Beta

for Drafts, Lineups, Waivers & Trades
Lock In Your Discount Price Now!

Powerful draft, sit start, waiver wire, and trade analyzer software
Guidance based on season-long weekly projections
All the tools you need from your fantasy draft thru your playoffs
Auto-setup synced to your league for your draft and in-season guidance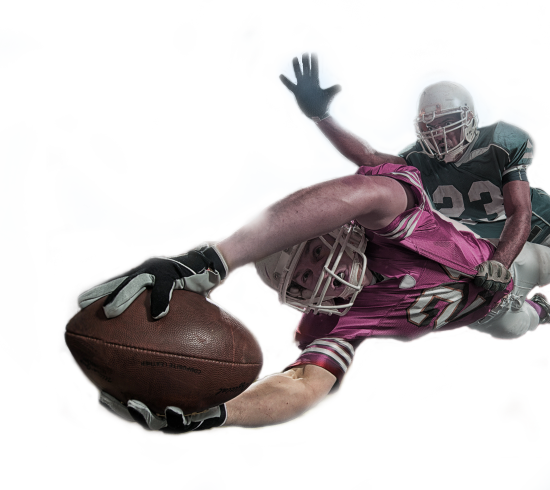 Supports ESPN, Yahoo, CBS Sports and MyFantasyLeague
Changes & Status Update
This Is A Pre-Order
---
The eventual price of The Machine for Drafts, Lineups, Waivers and Trades will be $5.49/month.
By purchasing now, you lock in a lower monthly price perpetually as long as you don't cancel your subscription.
ASL is anticipating having the in-season features running for this football season and the regular redraft function in time for the NBA season.
Projections And Additional Teams Are Separate
---
You get three team slots with your subscription. Additional team slots will be $1.99/month additional.
Projections for The Machine are going to be sold separately. You must buy projections for The Machine to function.
The Machine will support NFL, NBA, MLB and NHL. By selling projections separately, you can pick and chose the best set for your needs.
ASL plans to provide a wide variety of projection providers for you to pick from.
Currently Fantasy Football Metrics (FFM) is the only committed provider. FFM will provider projections for over 100 fantasy football stats including IDP. FFM has not yet communicated its pricing. When we know FFM's price, we will it post here.
Schedule Of Features
---
As features become available the monthly subscription rate goes up for new subscribers, but you stay locked at the current rate.
Here is our estimated schedule:
- Lineup Recommendations: July 31, $3.25/month
- Waiver Recommendations: Aug 31, $3.99/month
- Trade Functions: Sept 14, $4.75/month
- Draft (e.g. for NBA): Sept 30, $5.49/month
Feature descriptions in the other tabs are based on the previous version of The Machine, which was the top-selling and most popular app in CBS App Central from 2012 thru 2014. Actual features are anticipated to be about the same or better, and The Machine will support NFL, NBA, MLB and NHL.
* ASL reserves the right to modify the aspects of product and content with equivalent or better value.
The Ultimate Draft Tool using Win-Based Math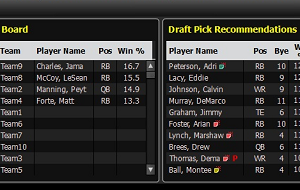 Draft Recommendations
---
Provides real time recommendations automatically synced to your fantasy draft
Adapts to your in-season matchups, player bye weeks and playoffs based on weekly projections and your overall win probability
Shows draft analyzer top ten picks to make your draft decisions easy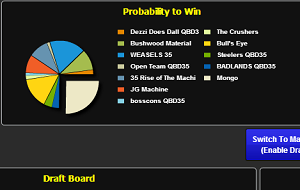 Math Focused on Winning
---
Customizes to your league scoring and roster rules
Builds an injury resistant roster based on injury probabilities
Shows no mercy – takes advantage of opponents' mistakes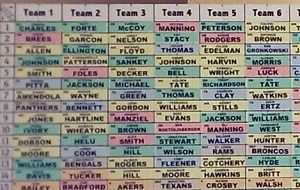 Offline Draft Recommendations
---
Syncs to internet leagues; quick setup for manual leagues
Easy drag-and-drop from free agent tables to draft board
Convenient player search and pick back-out
Provides powerful draft analyzer advice while you have fun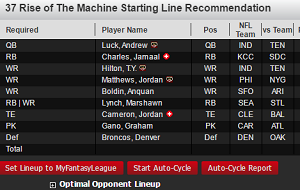 Sit Start Analyzer
---
Get your best lineup based on your blend of expert projections
Easily explore the impact of judgment-call sit start decisions
See how your lineup compares to your opponent's lineup
Submit your sit start decision with a single click*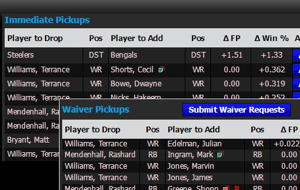 Waiver Wire Recommendations
---
Prioritize advice to help your team this week, in the future, or for both
Generate full waiver wire recommendations customized for your league's rules
Submit single add/drop or full waiver wire rounds with a single click*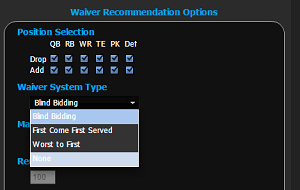 Full Waiver System Support
---
Directly supports over a half dozen types of systems, including rounds, groups (RT Sports), waivers (CBS Sports), and first-come first served
Generates FAAB and blinding bidding buck recommendations based on value, scarcity and week of season
Shows add/drop value for this week's lineup and overall win probability
*Single-click Lineups is only available for MyFantasyLeague *Single-click Waivers is only available for MyFantasyLeague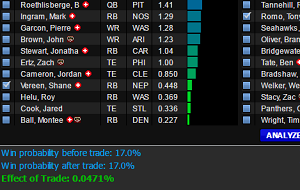 Trade Analyzer
---
Receive instant analysis of trade offers based on win probability
Quickly explore and decide on proposals and counter offers
Master the art of trading with Trade Analyzer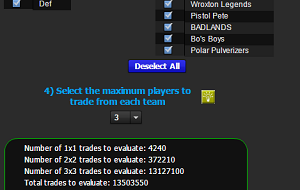 Trade Finder
---
Set which players to trade away and positions to trade
Set teams to trade with and whether to search through 1x1, 2x2 or 3x3 trades
Evaluate millions of potential trade ideas based on win-based math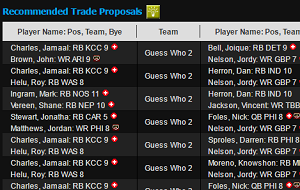 Trade Offer Recommendations
---
Finds the best trades with every team in your league based on complimentary needs
Sorts by most helpful to your team or likeliness to be accepted
Propose trades with a single click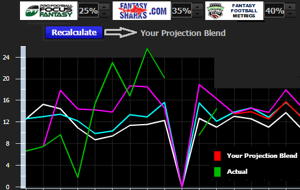 Projection Blending
---
Choose your own blend of expert projections
View season-long trend charts
See how your fantasy points are calculated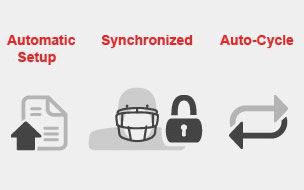 Advanced League Integration
---
Sets up automatically, supporting IDPs and 100+ scoring rules
Synchronizes to current rosters, free agents and locked players
Sets your lineups in all leagues with a single click*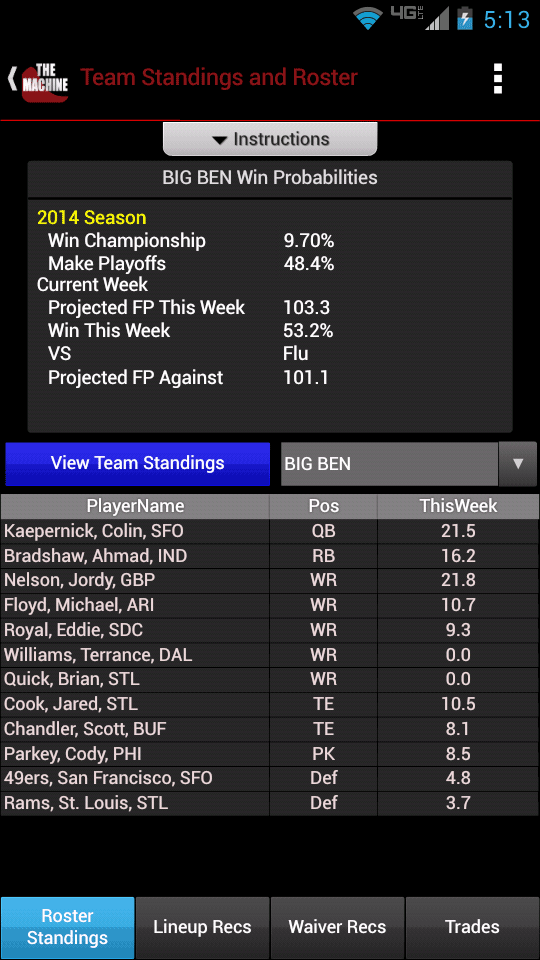 Mobile Friendly
---
*Single-click Lineups is only available for MyFantasyLeague *Single-click Waivers is available for MyFantasyLeague *Auto-Cycle is available only for MyFantasyLeague
Product Footer GetStarted
This section of the article is only available for our subscribers. Please click here to subscribe to a subscription plan to view this part of the article.