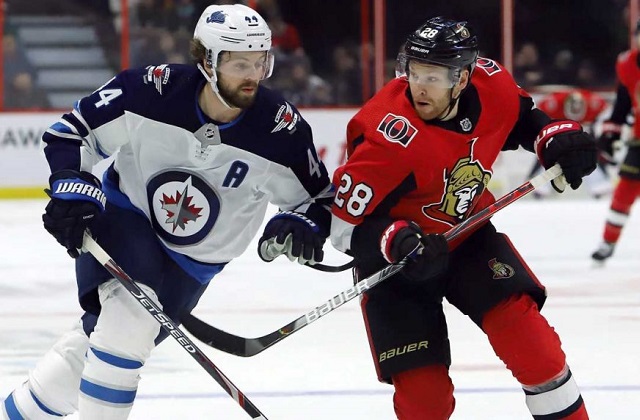 Written by Todd Lewys
23 April 2020
Josh Morrissey, star defenseman for the Winnipeg Jets, says he can hardly wait for the NHL season to resume.
"We were playing great hockey before the season was suspended (on March 12)," said the 6', 195-pound rearguard, referring to the Jets' three-game win streak, the last win coming on March 11 against the Edmonton Oilers. "We'd worked really hard to put ourselves in position to make the playoffs. It was difficult to stop playing, but the coronavirus outbreak is one of those scenarios that's out of your control."
That said, the Calgary native - who was selected 13th overall in the first round of the 2013 NHL entry draft - hopes play will resume at some point in the near future, perhaps mid-summer.
"I think we (as a team) would love to have the opportunity to finish off the season. Coming back to play would not only be great for us and our sport, but it would also mean things are getting better."
Provided the NHL does return to finish the regular season, the teams that make the playoffs will have to hit the ice running, so to speak. In other words, playoff-bound teams that find their form the quickest are the ones who would position themselves for a long playoff run.
Here's the rub: although COVID-19 disrupted the 2019-20 NHL season, it inadvertently gave injury-plagued teams a window in which key players could recuperate and be healthy by the time the puck (hopefully) drops in July or August.
Teams like the Jets - who finally had a relatively healthy defensive corps for the first time all season when play was suspended - and Tampa Bay could benefit from the disruption.
In the case of the Bolts - who were also hot just before teams were told to go home - star winger Steven Stamkos should be ready to return for the second round of the playoffs. Stud defenseman Victor Hedman - who's been nicked up all season - should also be healthy if and when play resumes.
The same could be said for the Pittsburgh Penguins, who'd seen their defense ravaged by injury. Standout rookie John Marino had just returned, while fellow rearguard Justin Schultz had also recently returned to action.
Not only that, but the Pens were also benefitting from a healthy Evgeny Malkin and resurgent Sidney Crosby. Provided that Crosby and Co. were able to find their mojo soon after play gets under way, they would certainly be viewed as a serious Cup contender.
Another prime example is the Colorado Avalanche. Just prior to the cessation of play, star centre Nathan MacKinnon was expected to be out one to two weeks with a lower body injury; he should be good to go if and when action resumes.
Conversely, injuries sustained shortly after the resumption of play could also derail a team's quest to lay hold of Lord Stanley's Mug. Fact is, when you jump directly into playing after a long layoff - or all too brief training camp - the likelihood of injury increases.
That could hurt teams like Edmonton, Colorado and Vancouver. All three teams depend heavily on their stars; if Connor McDavid or Leon Draisaitl went down (heaven forbid both) went down, the Oilers would likely be hooped. Same goes to Colorado, who, although deeper, still rely mightily on MacKinnon, Gabriel Landeskog and Mikko Rantanen to carry the team offensively.
Teams such as St. Louis and Boston, which rely on strong team play, might not be hurt as badly by injuries, though Boston would be hurt by an injury to Brad Marchand, Patrice Bergeron or David Pastrnak, the trio that comprises their potent top line. The loss of goalie Tuuka Rask would also damage the Bruins' chances of returning to the Stanley Cup final.
Finally, there's goaltending. It would be a blow if the Blues lost Jordan Binnington; same for the Jets, with Connor Hellebuyck enjoying a Vezina Trophy-caliber season in Winnipeg.
The upshot here? Whoever wins their respective fantasy pool will undoubtedly be the one who best judges which teams will hit the ice ready to go - and who picks teams that avoid incurring injuries to star players.
Hopefully, things will get better. That will give Morrissey and his fellow players a chance to finish their season, and those involved in NHL fantasy drafts to pull the strings they need to finish on top!