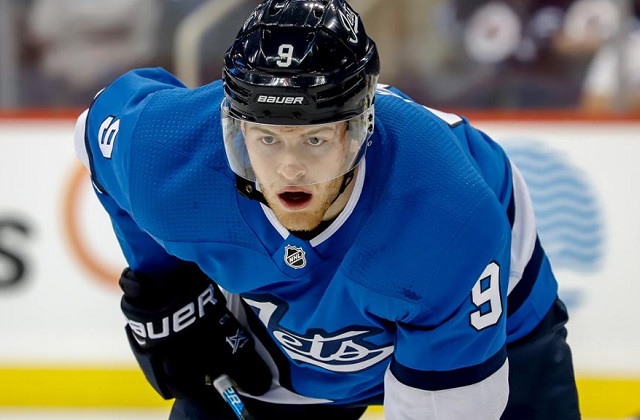 Written by Todd Lewys
11 February 2020
Andrew Copp, C, Winnipeg Jets
Arguably the Jets' best all-round player, the 25-year-old native of Ann Arbor, Michigan, is finally coming into his own.
Playing up and down the line-up due to injuries, the 6' 1", 206-pound center has put up 21 points in 49 games, many of them spent checking the other team's top lines.
With plenty of ice time taking a regular shift and killing penalties, Copp is playing well. He will add to his offensive totals as coach Paul Maurice leans on him during the Jets' bid to make the playoffs.

Teuvo Teravainen, LW, Carolina Hurricanes
While teammates Andrei Svetchnikov and Sebastian Aho get more attention, the quiet, unassuming Teravainen has let his stick do his talking.
In 55 games, the highly-skilled left winger has quietly racked up 54 points - nearly a point per game.
Expect the 25-year-old Finn to eclipse the 70-point plateau by season's end; 80 points is within the realm of possibility.

Dillon Dube, C, Calgary Flames
After marinating in the minors for a good part of the year, the 21-year-old native of Golden, British Columbia has found his game at the NHL level.
His 13 points in 31 games is deceptive, as his minutes were limited early on.
He's now getting a regular shift, which means the 5'11", 187-pound center could average close to a point per game in Calgary's final 25 games.

Jake Virtanen, RW, Vancouver Canucks
Without question, the 23-year-old native of Langley, British Columbia struggled in his first few seasons with the Canucks.
Then, he put up 25 points last year, showing that he could be a useful player. In 56 games this year, the 6'1", 226-pound centre has already amassed 31 points - a new career high.
He's ready to do the same in goals, too. Barring injury, he should finish with 40 points or better.

Jakob Silfverberg, RW, Anaheim Ducks
The 29-year-old native of Gavle, Sweden, has put up solid numbers with the Ducks despite the team's offensive struggles.
In 51 games, the 6', 208-pound winger has recorded 32 points. Look for him to finish in the vicinity of 45 points by the time the season comes to a close.

Robert Thomas, C, St. Louis Blues
Thomas - who impressed during the Blues' Stanley Cup run last season - has continued to show his fine play was no accident.
In 51 games, the 20-year-old native of Aurora, Ontario has recorded 33 points.
With his ice time increasing, expect his point totals to increase correspondingly as his great vision and soft hands start to come to the fore. He's a good bet to put up 40 to 45 points.

Brady Tkachuk, LW, Ottawa Senators
Big and rugged at 6'4", 212 pounds, Tkachuk is steadily developing into one of the NHL's best young power forwards.
Thus far, he's tallied 31 points in 55 games on a rebuilding Sens squad.
By the time all is said and done, he should come close to matching last year's point total of 45 as he logs lots of ice time over the next 25 games.