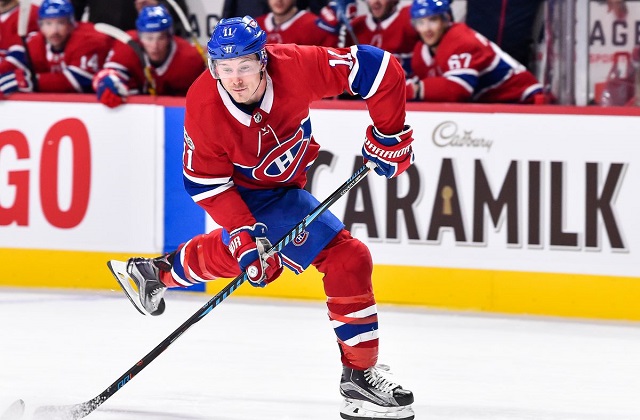 Written by Todd Lewys
06 December 2019
Take a close look, and you'll find that every NHL team has a gifted grinder - a hard working, heart-and-soul type player who can not only grind, but contribute on the scoresheet.
Brendan Gallagher, Montreal Canadiens
The hard-nosed winger is in fine form this year, having put up 21 points in 28 games on an offensively challenged team. He's on schedule for 50 or better.
Phillip Danault, Montreal Canadiens
Gallagher's work ethic must be rubbing off on Danault, who's noticeably upped his game. In 28 games, he's recorded 21 points. Like Gallagher, he's getting plenty of ice time, so he should be good for better than 40 points.
Tom Wilson, Washington Capitals
On any given night, there's a distinct possibility that the rugged winger can record a Gordie Howe hat trick: a goal, assist and a fight. Thus far, Wilson has scored 20 points in 30 games; he's also a plus eight. At his current pace, he should eclipse 50 points.
Anthony Beauviller, New York Islanders
With 17 points in 26 games, the 22-year-old winger is already just 11 points shy of the 28 points he amassed last year, and is only 19 points off his career high. The native of Sorel-Tracy Quebec is getting lots of ice time, has coach Barry Trotz's trust and is poised to score over 40 points.
Calle Jarnkrok, Nashville Predators
The 28-year-old Swede is making his mark in Nashville this year. In 27 games - averaging nearly 16 minutes of ice time per night - he's put up 18 points in 17 games. No longer just a role player, Jarnkrok could well reach the 50-point plateau if he continues on his current pace.
Roope Hintz, Dallas Stars
Just 23 years old, the 6'3", 220 pound Finn is just coming back off an injury. Fast, skilled and gritty, he's scored 11 times and added two assists in 22 games to date. If he stays healthy, he should be good for somewhere between 35 and 45 points on the year.
Jack Roslovic, Winnipeg Jets
After showing flashes of brilliance in his first two years in the league, the 22-year-old native of Columbus, Ohio has found a semblance of consistency. Given more ice time, he's responded with 12 points in 28 games and seems to be gaining confidence with every passing game. There's a good likelihood he'll finish the year with 35 to 40 points.
Andrew Shaw, Chicago Blackhawks
Averaging over 14 minutes of ice time per game in his second stint with the Blackhawks, the 28-year-old Shaw can be counted on to compete every night. That means he will be a consistent net front presence, and will pick up his fair share of points. With 10 points in 28 games, he's on schedule to post 30-plus points.
Derek Ryan, Calgary Flames
As a third line centre last year, the speedy Ryan surprised everyone by putting up 38 points - the same number he'd scored the year before in Carolina. While he - and the Flames - are off to a slow start, expect the 32-year-old to rack up 30 points by the time the regular season comes to a close.
These players are just the tip of the iceberg. Scour NHL rosters, and you should be able to find a few gifted grinders who can add some extra scoring punch to your fantasy line-up.