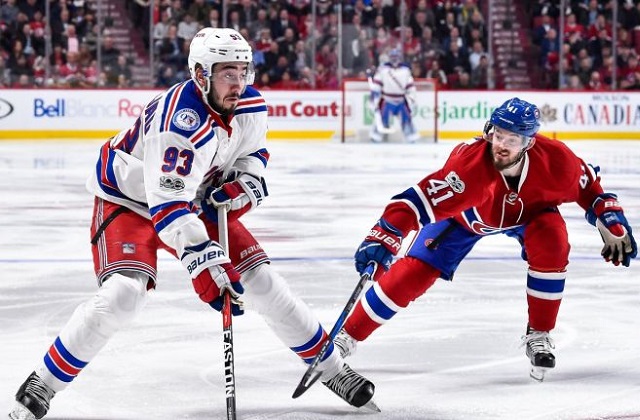 Written by Todd Lewys

24 October 2019

While there's no question that making NHL Fantasy Draft picks is a highly strategic task that's more complicated than it appears, early round picks are relatively straightforward.

That's because perennial studs like McDavid, Crosby, Kucherov, Stamkos, Marchand, Draisaitl, Burns, Karlsson, Price and Bishop are no-brainer selections, as are a raft of other talented players that can be chosen higher up.

The key to doing well, however, lies in mid-to-late round selections - and player pick-ups that are necessitated by injury or sub-par performance.

Here are some players who might represent good pick-ups - that is, if someone else hasn't already snagged them up on the sly.


Forwards

Mika Zibanejad, New York Rangers
In seven games, Zibanejad has put up 11 points - a continuation of a quietly productive 2018-19 season. Plenty of ice time and time on the power play will help him increase his point totals this year.

J.T. Miller, Vancouver Canucks
Acquired from the Tampa Bay Lightning in the off-season, Miller has been a revelation in Vancouver. Benefitting from more ice time, he's recorded 10 points in nine games. While that's a torrid pace, expect him to score 40 points or better this year.

Nick Schmaltz, Arizona Coyotes
A role player with Chicago earlier in his career, Schmaltz was shipped off to the desert, where he's blossomed into a key contributor, recording 9 points in eight games. Expect this trend to continue.

Anthony Mantha, Detroit Red Wings
The big winger scored a career-high 25 goals last year, following that up with a strong performance at the World Hockey Championships. In 11 games this season, he's got 7 goals and 4 assists. He will surpass the 50-point mark this season barring injury.

Nikolai Ehlers, Winnipeg Jets
Ehlers - who went through an injury-plagued season last year - has come back strong. He hit the weight room in the off-season to bulk up, is healthy and is faster than ever. Look for him to put up 20-plus goals and at least 50 points.

Travis Konecny, Philadelphia Flyers: Undersized but gritty, Konecny has put up 10 points in seven games thus far. With an expanded role and greater responsibility, he will be a consistent mid-level point producer with 40 points, maybe more.

Defense

Ryan Ellis, Nashville Predators
For years, the 5'10', 180-pound Ellis was overshadowed by Roman Josi and P.K. Subban. With Subban gone to New Jersey, Ellis has picked up ice time and points. His 12 points in 9 games is no mirage. A great pick-up if still available.

Oscar Klefbom, Edmonton Oilers

Battling injuries most of last season, Klefbom struggled. He's now healthy and back on his game, having amassed 9 points in 10 games. Playing on the Oilers' number one power play unit with McDavid and Draisaitl will only help him pile up the points.

Rasmus Dahlin, Buffalo Sabres
No sophomore slump here. So far, Dahlin has racked up 10 points in 10 games played. He's rapidly progressing into one of the NHL's top rearguards and is on pace to record over 40 points.

Dougie Hamilton, Carolina Hurricanes
At age 26, the 6'6", 229 pound Hamilton may have finally found the consistency he lacked in Boston and Calgary. Hamilton is on pace to exceed his career high of 50 points (Calgary, 2016-17).

Neil Pionk, Winnipeg Jets
The former Rangers defender has quietly excelled in Winnipeg, putting up 7 points in 11 games. Averaging over 20 minutes and spending plenty of time on the power play, Pionk won't make Jets' fans forget Jacob Trouba, but he will hit the 30-point plateau or better.



Goaltenders

Darcy Kuemper, Arizona Coyotes
After putting in a solid 2018-19 season subbing for injured 'Yotes starter Antti Raanta, the 6' 6" Kuemper was signed to a two-year contract extension with an annual average value of $4.25 million.
He's rewarded management by posting a 1.68 goals against average (GAA) and .944 save percentage in six games this season. That's no fluke; Kuemper is for real.

Robin Lehner, Chicago Blackhawks
Some were wondering if the Swede's 2018-19 resurgence with the New York Islanders could be largely attributed to coach Barry Trotz's air-tight defensive system.
Seems the answer is a resounding no. Thus far, Lehner - who was signed as a free agent by the Blackhawks this past off-season - is sporting a 1.94 GAA and .943 save percentage on a team that allowed a ton of goals last year.

Carter Hutton, Buffalo Sabres
Hutton - who showed flashes of brilliance last year - is benefitting from playing behind a better team in 2019-20.
His GAA is a sterling 1.65, save percentage an impressive .943. Those numbers might climb a bit over the course of the season, but look for a GAA of 2.15 and save percentage of .920-plus by season's end.

Jacob Markstrom, Vancouver Canucks
At long last, the big Swede is coming into his own. Last year, he firmly established himself as the Canucks' starter. This year, he's sporting a 2.15 GAA and .933 save percentage despite playing on a young, inexperienced team.