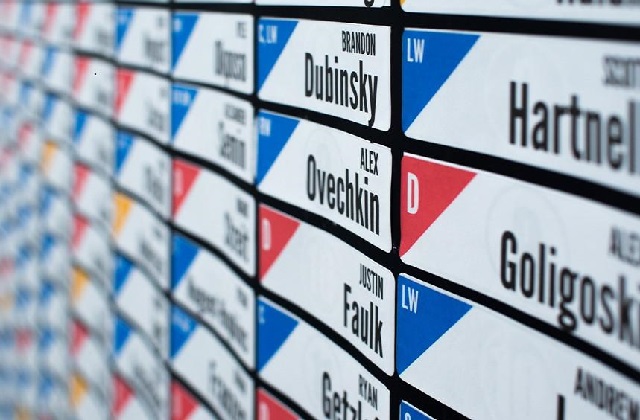 Written by Robert Backus
22 October 2019
At the end of the draft your expectations are flying high as everyone will tell you that you swung for the fence and hit a home run with your draft. Now it is time to review and see if in fact you hit that home run or you swung and missed. Here are some key factors when reviewing your players and what next steps should be. This will help you move forward and make quick and educated decisions on what you should do.
Top line players: Look at your top line players and see if their status changed. You have to ask - how does a top line player's status change? Look at his minutes YTD. Is his average time on the ice the same as last year? This is key - did the team add a high end free agent to take up some minutes. These lost minutes mean less time on the ice that can produce points. Have his line mates changed? This affects chemistry and production. If a top line player is playing with younger or less skilled players that could mean production is down. Has the team gone down in skill, system change or overall point production? This also plays into less productivity from top end players. Last thing is injuries. Indirect or direct. What happens to that player on your roster if he is hurt or a line mate is hurt? All things you need to focus on for your players that can make or break your team.
Mid -Level players: Is the player you selected really the player you thought he was? Look back at his past two years of production and did you select him based on those numbers and is he producing? Has the team changed in the past two years? Has age caught up and the draft was by past production. Is he a free agent that has not found his chemistry with his new team?
Goalies: Quality goalie evaluation is the key to success in most leagues. Look at the team in front of your goalie, have things changed from the past? Different coaches bring different systems. Does the league you're in hit you with Goals Against, do you get hit with points lost for losses? How many goalies do you have on your roster? All questions you need to ask yourself.
Be Truthful to yourself: Don't play with your heart vs playing with your best team going forward. It is easier to make changes now then in mid-season as Trades and Waiver wire will not be valid options come Jan/Feb


Here are my suggestions for next steps once you evaluate your team:


Be honest and truthful.
Trade: Use this player to try and see if another person in your league still thinks highly enough to trade for him and then look at what you need to strengthen your roster. In some cases find the sucker that wants this player, put him on your trade block and see what you can get in return.
Hold and stay the course: Will this player bounce back and get out of his slump. Risky but maybe this is the best option at this point but again be truthful to yourself.
Use the waiver wire: If no trade is there then look to see what is available and cut bait and pick up someone else.
Cutting bait may seem like the hard thing to do but every Fantasy player has to make tough decisions. You have to choose what direction to go. Good luck and go Bar down with your team.