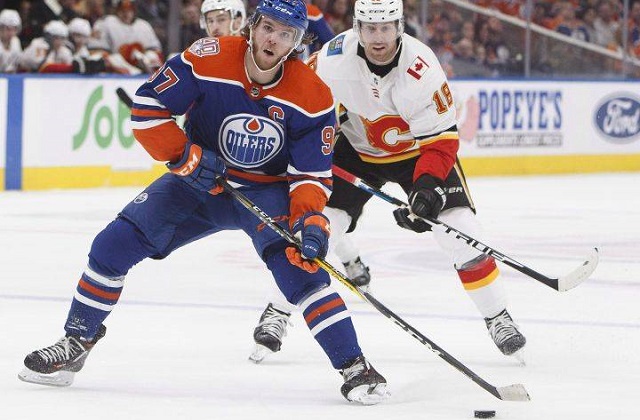 Written by Todd Lewys
10 October 2019
Without fail, the stellar early-season play of several NHL players ranks as a pleasant surprise to both their teams - and those involved in fantasy drafts. Here are some players you might want to add to your fantasy roster for extra scoring depth.
James Neal, W, Edmonton Oilers
Last year was a frustrating season for the veteran sniper in Calgary. In 63 games with the Flames, the 6' 2", 212 pound native of Whitby, Ontario scored only seven goals, prompting many experts to wonder if the 32-year-old was washed up.
The Flames were thinking the same thing when they dealt Neal to the Edmonton Oilers for another struggling veteran, Milan Lucic.
Turns out, Neal's struggles were just an aberration. In three games this season, he's scored six times, including a four goal outburst against the New York Islanders on October 8. Neal is back on form, and would be a savvy pick to bolster your roster's offensive numbers.
Neal Pionk, D, Winnipeg Jets
Acquired from the New York Rangers in exchange for D Jacob Trouba, many people - Jets fans and hockey observers alike - thought that Jets' GM Kevin Cheveldayoff had received little in return for the Jets stud defender.
How wrong they were! In four games, the 6', 186 pound native of Hermantown, Minnesota has put up three points and is logging over 20 minutes of ice time per game. A subtle player, Pionk is sound in his own end, makes a great first pass and has great offensive instincts. Based on his fine early season form, he should tally around 40 points this season.
Ilya Mikheyev, RW, Toronto Maple Leafs
When the Leafs signed Mikheyev as a free agent in the off-season, few people took note.
Well, people are taking note now. The 6' 3", 195 pound winger - he hails from Omsk, Russia - has turned heads with his strong early-season play.
In four games, Mikheyev has displayed great speed, strength and unexpectedly refined offensive skills. He's recorded three points in four games, and looks to be solidifying a spot in the Leafs top-nine forwards. That consistent ice time could translate into a 30-plus point season.
Anthony Mantha, RW, Detroit Red Wings
Last year, Mantha put up 48 points in 67 games on a struggling Red Wings squad.
Now, at age 25, the 6' 5", 234 pound power forward - he was the Wings' first round draft pick (20th overall) in the 2013 NHL Entry Draft - is starting to deliver on the promise he showed in junior.
In just three games, he's notched five goals and two assists for seven points. Based on his last two years, Mantha is on pace to surpass that career high of 48 points. Expect him to put up better than 50 points in 2019-20.
Andrei Svechnikov, RW, Carolina Hurricanes
As an 18-year-old rookie, Svechnikov - who checks in at a surprisingly big 6' 2", 195 pounds - recorded 37 points in 82 games. His gritty play in the playoffs was also impressive.
He's started the 2019-20 season where he left off, recording six points (all assists) in four games. His high compete level, soft hands and excellent on-ice vision will continue to improve as he gains experience and confidence. Look for the native of Barnaul, Russia, to exceed 40 points this year as he flies under the radar in one of the NHL's most obscure markets.
Rasmus Dahlin, D, Buffalo Sabres
Just 19, the Sabres' first round 2018 draft pick (first overall) is quietly establishing himself as one of the league's premiere defenseman.
The lanky Swede - he goes 6' 3" and weighs in at 193 pounds - compiled 44 points in his rookie year, impressing with his offensive savvy, sound defensive skills and overall poise. With five points in his first three games, he's on track to record 50 points or better this year on an offensively talented Sabres squad.