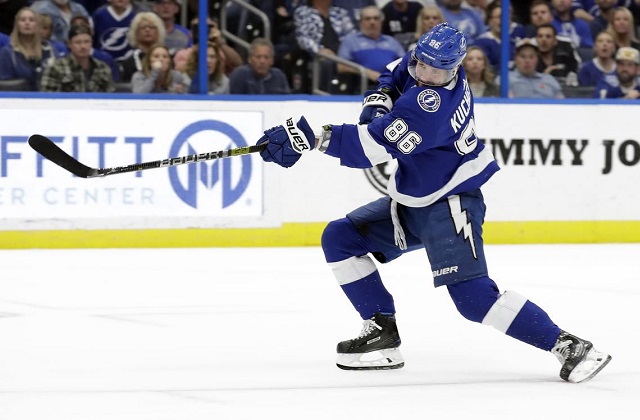 Written by Robert Backus
01 October 2019
Hockey fans it's that time of year again. The puck drops on October 2nd and its time to look at your fantasy draft for the 2019/2020 season. Going into the season lets start by looking at the studs and duds heading into your draft and looking at where I project them to land.
Skaters
Studs: Let's define this group as the player who produces and can take your team to the promised land. Five players come to mind in this category.
Kucherov, Nikita
This player year after year just continues to produce and he is a guy who won't go number one in the draft. But if I had the first pick I would make him my number one choice. Playing for Tampa Bay and the high level high wheeling talent makes him my number one pick. Projection in the draft is top 3.
McDavid, Connor
What else can be said about this player besides the best player in the world right now. Number 1 pick in most drafts and its hard to find any fault. One thing to note is that Connor is coming off an injury which could sway some from taking him # 1 overall. Projection in the draft top 2
Crosby, Sidney
"Sid the Kid", as he is known, is a truly consistent player who defies the aging factor and just an overall talented hockey player. Projection is top 5
MacKinnon, Nathan
Nathan MacKinnon could be one of the most talented players in the fantasy world. He plays all roles from 5 on 5 to powerplay and penalty kill. He will log a lot of minutes throughout the game and will be the go to guy for Colorado again this year. His upswing is unlimited and a guy who will be a top 10 pick and if he slips to you in the 6 to 10 range you have a definite stud on you hands. Projection 4 to 10
Matthews, Auston
This talented player is in for a huge year, last year in just 68 games he had some impressive numbers 37 goals and 36 assists for a total of 73 points. He had some injuries last year and if healthy he may be the first Toronto Maple Leaf player to hit 100 points since Doug Gilmour back in 1993. Key to Austin this year is the fact he will be on his shooting side during the powerplay which means he will be scoring at will with his strong shot. We all know what Alex Ovechkin has accomplished with his Power play one timers and this year Austin Matthews will score 50+ goals for the Toronto Maple Leafs. Projection top 10
Duds: Lets define this group as a player who is on the decline and although the name is well known you should stay away.
Kessel, Phil
Phil moves to the desert this year to start a new chapter and fans it's going to be a short story for this player. In the past he has always put up some strong numbers but this year stay away. His supporting cast has always helped him and this year he will not see much of a supporting cast. In fact, he will be matched up against some top Defenseman on the other side so goals are going to be reduced this year. Projected draft would be Round 3-4
Radulov, Alexander
Alexander Radulov will find himself moved down in the lineup this year for the Dallas Stars with the addition of Joe Pavelski and Corey Perry both acquired as free agents for Dallas this year. I see Alexander's power play time being reduced and ice time as well. I don't see anything but downside for him this year so please watch when you take him in your draft. Projected to go Round 4-5
Doughty, Drew
Drew was once know as a top 5 defenseman in the league. The Kings have been on the decline for the past few years and this year is heading in the same direction. Drew is still a solid player but will not put up the numbers he once did and in fact the minus side of his game will increase due to the talent around him. At best Drew is a 5 or 6 round pick in your draft.
Goalies
Goalies are always a risky pick in the draft.
Studs: Here is a quick look at my stud goalie picks
Vasilevskiy, Andrei Project Late Round 1 early round 2
Price, Carey Project Late Round 2 Early round 3
Andersen, Frederik Projected Early Round 3
Duds: Goalies to stay away from
Holtby, Braden Late 8 Round Pick
Smith, Mike Late 7- Early 8 Round Pick
Rask, Tuukka Late 8- Early 9 Round Pick
Hockey fans enjoy your draft and watch for my weekly articles as the season progresses.