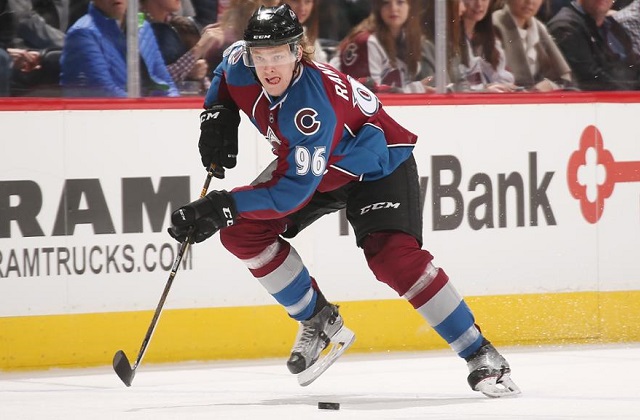 Written by Todd Lewys
24 September 2019
Less than two weeks from the start of the 2019-20 NHL season, four restricted free agents (RFA's) remained unsigned.
That total would have been five, but the Tampa Bay Lightning just signed RFA centre Brayden Point to a three-year bridge deal worth $20.25 million, or $6.75 million per season.
Like Point, the other four RFA's are high-end talents..
Last year, each player, including Point - who had a break-out season with 92 points - made significant offensive contributions to their respective teams. Avalanche winger Mikko Rantanen recorded 87 points, Calgary winger Matthew Tkachuk amassed 77 points and Winnipeg wingers Patrik Laine and Kyle Connor put up 66 points and 50 points respectively.
The fact that these four premium young players remain unsigned so close to the start of the NHL season is unsettling not only for the teams they've played for, but for fantasy draft participants, as well.
Why is their potential absence on opening night so significant?
Simple.
As much as each team will say another player will have an opportunity to step up and contribute, it's next to impossible to replace all that skill.
Take the speedy Point, for example.
Had he not come to terms with the Lightning, the reigning President's Trophy winner would have doubtlessly missed his speed, powerplay presence (20 goals last season) and underrated defensive skills. That level of well-rounded play is always bound to be missed, even on teams as deep as Tampa Bay.
The same goes for the Flames' Tkachuk, who's essentially a bigger version of Boston's talented Pest Extraordinaire, Brad Marchand.
In a nutshell, Tkachuk is a disturber who can score. That's a rare combination of talents - to be able to draw penalties, and then make the other teams pay by scoring or setting up a goal.
Should he remain unsigned long-term, the Flames - who would be a much softer team without Tkachuk in the line-up - will miss his grit, tenacity, superb vision and soft hands. Offensive production could suffer more than the Flames would like to admit should he take his time to come to terms on a new deal.
The story is much the same with Rantanen.
Arguably the driving force on the Avalanche's top line (with centre Nathan MacKinnon and winger Gabriel Landeskog), the big, talented Finn is looking for a big raise. If he sits well into the regular season (RFA's must sign a contract before December 1; if they don't, they must sit for the remainder of the year) MacKinnon and Landeskog's production is bound to suffer.
Meanwhile, the Jets stand to suffer the most.
Not only would Winnipeg lose 116 points and 64 goals, but they would also lose a combined 26 power play goals. Further, they would lose a potential game-breaker in Laine, who can score in bunches at any time.
And they would lose the consistency of Connor, who brings incredible speed, elusiveness and sweet hands to the table on a nightly basis.
At this point, the question is, to draft or not to draft Rantanen, Tkachuk, Laine or Connor.
If they sit, you stand to lose significant top-end production. If they sign late, they may struggle to produce as Toronto's William Nylander did before signing a last-minute deal last year. Those lost points can make the difference between winning and losing, so beware.
Other young stars to look for on draft day include Ottawa D Thomas Chabot, Dallas' D Miro Heiskanen, Avalanche D Cale Makar, Devils C Jack Hughes, Rangers' W Kappo Kakko, Blackhawks' forwards Alex DeBrincat and Dylan Strome and Arizona forward Clayton Keller.