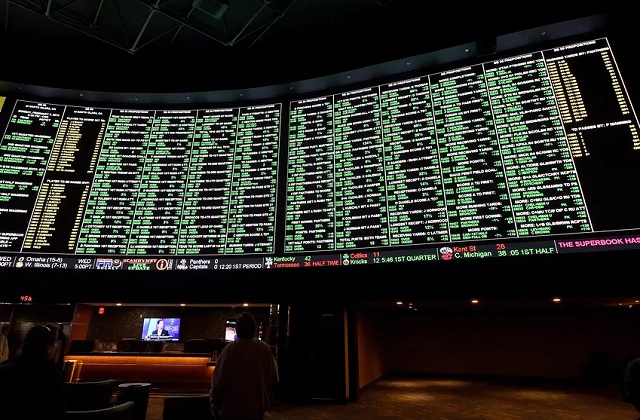 Written by Ben Muell
29 July 2019
The guys who run the Las Vegas sportsbooks know a thing or two about sports, considering they helped build a mecca of a city in a desert. And while back in the day odds making was a bit whimsical, today betting odds are set though precise modeling and information gathering.
With so much on the line from the moment a number goes up (far far more than you, me, or any talking head on TV), they have to ensure their predictions, for lack of a better word are accurate. This makes their Initial Lines a data point worth taking into consideration when starting our fantasy football analysis.
Also Vegas is actually risk averse and entices us to bet both sides (sneaky devils) to ensure they are a winner but also mitigate losses.
So they have to be accurate as well as play it safe. How can this help us win our fantasy football league?
First, to a certain degree, from the initial odds we can determine what Vegas thinks the implied probability an outcome will occur. Second, since Vegas plays it safe they change their betting odds. Therefore, from the line movements, we can see what the market of sharps and squares alike think will happen.
Looking at this year's Super Bowl odds, we can gather which teams Vegas things might have a strong season. From there we should ask, 'what would have to happen for (insert team) to make the playoffs?' To still be playing on February 2, 2020 in Miami which players would have to ball out to get them there? Next, should we be buying or selling these chances and players based on our own opinions and information?
To get started, how accurate has Vegas been over the past twenty years (yes, it's a small sample size. Too small to glean trends from but its all we got). Since 2000...
- The pre-season favorite makes it to the Super Bowl about half the time but usually losses it
- The pre-season odds for Super Bowl winners have ranged from +600 (2018 Pats) to +6000 (2001 Pats)
- +1400 seems to be a sweet spot for both making it to and winning the big game
So using this info as a starting point, I've taken the average Super Bowl odds from 11 sports books and broken
the league down into five categories.
The Bad...
I know I said +6000 was the line, but I'm going to hazard a guess that anyone at +4000 or higher won't be winning. Don't place your money on the following 12 teams and some of their players
- Carolina Panthers (+4811) 2.04% Implied Probability of Winning the Super Bowl
- Oakland Raiders (+6132) 1.60%
- Tennessee Titans (+6486) 1.52%
- Denver Broncos (+6577) 1.50%
- New York Jets (+7109) 1.39%
- New York Giants (+7473) 1.32%
- Detroit Lions (+8291) 1.19%
- Buffalo Bills (+8736) 1.13%
- Arizona Cardinals (+8955) 1.10%
- Washington Redskins (+9409) 1.05%
- Cincinnati Bengals (+11045) 0.90%
- Miami Dolphins (+16045) 0.62%
We more or less know what these teams will provide us. Studs like Christian McCaffery and Saquon Barkley and well that's about it. There are a few other solid guys: AJ Green (injured), Le'Veon Bell (we think), Antonio Brown, the Lions WR tandem of Marvin Jones and Kenny Galloway, Phillip Lindsay, the (Las Vegas) Raider's workhorse Josh Jacobs.
But like the odds of winning the Super Bowl the chances these guys becoming "league winners", based on where you will draft them, are slim or none. Pass on them in the draft or wait until they become value picks.
The Favs…
Next, there are four teams with odds under +1000 that are probably locks to make the playoffs. All the guys on these potent offenses are already on our radar.
- New England Patriots (+693) 12.62% Implied Probability of Winning the Super Bowl
- Kansas City Chiefs (+790) 11.24%
- New Orleans Saints (+853) 10.49%
- Los Angeles Rams (+890) 10.10%
Target early and buy...
Sure winners: Patrick Mahomes, Goff, Brees, Alvin Kamera, Todd Gurley (don't care if he's nicked up), James White, whoever Andy Reid starts at running back, Michael Thomas, the trio of Rams' wide receivers, and Kelcee.
Raffle tickets for the likes of: Kansas City WRs, the Saints #2 WR, all the backup running backs and tight ends because these teams will score and we want a part of the action.
The Sweet Spot...
This tier is made up of six teams that fall around the sweet spot number of +1400.
- Indianapolis Colts (+1353) 6.88% Implied Probability of Winning the Super Bowl
- Chicago Bears (+1372) 6.79%
- Los Angeles Chargers (+1400) 6.67%
- Cleveland Browns (+1417) 6.59%
- Philadelphia Eagles (+1524) 6.16%
- Green Bay Packers (+1793) 5.28%
Here's where we need to start using our heads. We know that some of these guys will be playing football in January and we could definitely see them all playing in February.
First, Aaron Rodgers has to bounce back right? So getting in on Green Bay wide receivers just makes too much sense. Plus their defense is vastly improved, so Aaron Jones should have a whole bunch of carries to close out games.
Next, the Colts, Chargers, and Eagles are full of wide receivers that can ball. So instead of trying to figure out which one we need to pick, just buy the whole passing game and draft their QBs: Andrew Luck, Phillip Rivers, and Carson Wentz. Save the WRs for a daily fantasy stack if they don't fall to you in a cushy spot. The running back this group can't be ignored because they all could be potential 'league winners'. Melvin Gordon (pending his hold out - I say, dude get your money) is as consistent a running back there is. Nab him up if he slips. Marlon Mack, if he becomes more involved in the passing game (like at all) can be a top ten back. Even Nyheim Hines has some James White potential catching passes out of the back field. Finally, the Eagles RBs. There are a bit tough to parse out but like the Pats there's value here. One guy will catch passes and another tote the rock. We want to own the guy that catches passes because this offense flows through Wentz and this guy will have a more defined and consistent role.
Finally, what do we do with the hype behind the Bears and Browns? Interestingly enough, Jeff Davis, the Head of Trading for Caesars Entertainment, noted on the Early Odds podcast that they have taken the most and second most money on Chicago and Cleveland to win the Super Bowl. Here Chicago is no surprise. Their fan base likes to bet heavy on 'Da Bears' each year. Plus their D took the league by storm last year, so Vegas would have started with lower odds to play it safe. And with all the hype surrounding Cleveland this off-season (as proven by the wagers), Vegas has to play it safe again.
So we know the odds are suppressed but by how much? Too much so that we should pass on Baker and the gang? Or the running back situation in Chicago? With so many questions caution is advised. Maybe pair these picks with some safe choices.
The Hedges & Leans...
This leaves us 8 teams with decent enough odds of +2000 to +4000 to win the Super Bowl.
- Pittsburgh Steelers (+2121) 4.50%
- Dallas Cowboys (+2357) 4.07%
- Minnesota Vikings (+2566) 3.75%
- Seattle Seahawks (+2884) 3.35%
- Atlanta Falcons (+3136) 3.09%
- Houston Texans (+3181) 3.05%
- Jacksonville Jaguars (+3450) 2.82%
- Baltimore Ravens (+3514) 2.77%
Now we have to ask ourselves what needs to happen in order for these teams to make the playoffs or to win it all? Why should we be buying in? What should give us pause? We're going to have takes and bias for most of these guys but just LOOK at all these juicy daily fantasy QBs and WRs stacks!
Pittsburgh
Reasons to buy them to make the playoffs and make a run at the Super Bowl:
- The well oiled offense (Big Ben, JuJu, James Conner, a #2WR TBD, and ole Vance McDonald with other replacement parts waiting to be slotted in) can shoot it out with anyone in the league.
Reasons to avoid:
- The competition in the division is too tough and Ben Big takes a step back without the best receiver in the league. JuJu struggles versus man coverage.
Dallas
Reasons to buy:
- The new offense installed by Kellen Moore in a New Orleans-esg sense just feeds Zeke and Cooper because they are unstoppable. Dak plays like 'MVP Cam' and the defense, who was pretty good against the run becomes ball hawks (yes, I'm suggesting to target Dallas' D).
Reasons to avoid:
- Zeke still get's his but Dak and Cooper don't make the jump. Their odds to win the Super Bowl are inflated due to Cowboy nation's wallet and hubris. They certainly have a shot at the division title but they at best are 5th in the NFC.
Minnesota
Reasons to buy:
- We love Diggs and Thelion but but hate Kirk, why? If Kirk, improves his touchdown percentage even marginally he's got MVP potential.
Reasons to avoid:
- The division is tougher and they focus on running the ball more. Contrary to popular belief, running the football does not win you games. So while Dalvin Cook has a nice season. The offense becomes less dynamic and they can't shoot it out with Green Bay, score on Chicago, and while they should probably beat the Lions regardless, those games should be tougher.
Seattle
Reasons to buy:
- Russ continues to play lights out and at the end of the year were left thinking that he's the new era-apparent to Tom Brady as the "guy who always gets it done."
Reasons to avoid:
- Russ is running for his life behind yet another terrible line and the Carson/Penny combo can do anything.
Atlanta
Reasons to buy:
- First, the injury riddled D is better. The rookie linemen fit right in and the offence clicks as they feed Freeman and Julio finally scores all the touchdowns he's ever missed out on.
Reasons to avoid:
- I can't really find a reason to avoid them. Just that maybe they make strides but are still one year away as the NFC South as a whole is very competitive. Even then they are probably involved in shootouts each week.
Houston
Reasons to buy:
- Rattling off 9 straight wins was a sign of things to come. Deshaun Watson is able to support 3 startable wide receivers Lamar Miller quitely has a good season.
Reasons to avoid:
- With injury concerns already popping up all over the place, they get off to a slow start and find themselves paying catch up all year. Will Fuller stops scoring touchdowns after 8 catches because Watson can't throw from his back or is broken in half behind the worst offensive line in the league.
Jacksonville
Reasons to buy:
- I put this on the lower end of happening but if it does then Lenorad Fournette will lead the league in rushing and tight end Geoff Swaim will come from nowhere to be a fantasy stud.
Reasons to avoid:
- The defense regresses further and Nick Foles turns into a very expensive pumpkin.
Baltimore
Reasons to buy:
- The Ravens win the division because the defense is the best in football. Lamar is RG3 circa 2012 and is unstoppable when throwing deep. In this situation, Marquise 'Hollywood' Brown's foot is ok and is turned loose down field. Mark Ingram starts as a 3-down back, since John Harbaugh is slow to trust unproven running backs but rookie Justice Hill ends up 'Kamara-ing' Ingram later on in the season.
Reasons to avoid:
- They sneak into the playoffs as a good but not great wild card team. But just like Flacco, Lamar never has anyone to throw to because of injury issues or the wishbone triple option like offense.
The Wild Cards...
I have two wild cards…
- San Francisco 49ers (+3136) 3.09%
- Tampa Bay Buccaneers (+7014) 1.41%
I'm including San Francisco in this wild card group because I think their odds are suppressed due to the heavy action Vegas is seeing on them. A 3-win team turning it around and winning the Super Bowl just sounds like too much of a swing. But last year the hodgepodge of 49ers QBs was actually decent week-to-week. So you'ld think a full season of Jimmy Garoppolo and Kyle Shanahan together can work some magic. In that case, Dante Pettis might lead the league in catches. George Kittle on the other hand actually doesn't blow up because there's more help at wide receiver. But the stable of running backs are able to produce no matter who's on the field. In a Bill Belichick-esq fashion I think we love and hate owning these guys because each does a bit of everything.
Finally, its a contract year for Jameis Winston and he should be thankful that Bruce Arians will have him chucking it deep a lot. Also outside of Kansas City. there might not be a collection of WRs, TEs, and QB with as much upside as there is in Tampa. If Evans or Goodwin are WR1s or OJ Howard takes off then Winston has to as well. At running back, I think this would mean someone pops up from nowhere to become 'this year's Phil Lindsay'. My guess, North Dakota State's Bruce Anderson.
Both are unlikely to go all the way. But crazy stuff happens, a la Alfred Morris or the 2000 Rams. So you never know. One thing is for sure, Vegas will get richer. Just hope that you are also on the winning side.