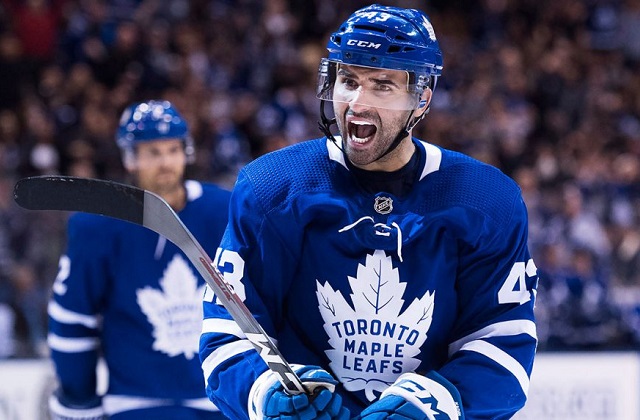 Written by Todd Lewys
05 July 2019
So far, NHL free agency has yielded over 100 signings and over $600 million in new contracts. Here's how all that player movement will affect NHL Fantasy Draft rosters when the NHL season gets underway in October. ASL's Todd Lewys looks at the winners and losers in free agency.
Winners
Colorado Avalanche
As good as the Avs were last year, they figure to be even better in 2019-20. The addition of forwards Nazem Kadri, Joonas Donskioi and Andre Burakovsky will make Colorado deeper and more potent up front. With Phillip Grubauer taking over in net and a blue line filled with talented puck moving defensemen, the loss of D Tyson Barrie and G Semyon Varlamov will be negligible. With Nathan MacKinnon, Mikko Rantanen and Gabriel Landeskog poised to terrorize opposing defenses and a deep, talented forward pool, the Avs are going to score a lot of goals. Lots of great forward and defense picks here.
New Jersey Devils
After missing the playoffs last year, the Devils have positioned themselves to push for a playoff spots with the addition of first overall pick Jack Hughes, stud defenseman P.K. Subban and power forward Wayne Simmonds. Hughes and Simmonds will join the likes of Taylor Hall, Nico Hischier and Kyle Palmieri up front, while Subban will shine in moving the puck to his talented forward group and on the power play. It's a given the Devils will be more potent offensively. Question is, can Mackenzie Blackwood and Corey Schneider keep pucks out of the Devils' net?
Chicago Blackhawks
To the surprise of many, the Blackhawks pushed for a playoff spot last year in what was deemed a rebuilding year. With Patrick Kane and Jonathon Toews leading the way and Alex De Brincat and Dylan Strome recapturing the magic they showed in their junior hockey days, Chicago was much better than expected. The free agent signing of Robin Lehner should solidify things in net, while the re-acquisition of gritty forward Andrew Shaw and addition of first round prospect (third overall) Kirby Dach - a big, talented centre who looks like he could become another Ryan Getzlaf - should strengthen the 'Hawks forward ranks. In short, Chicago should score more goals and be better defensively in 2019-20 - and push for a playoff spot.
Dallas Stars
An already talent-laden line-up featuring names such as forwards Jamie Benn, Tyler Seguin, Alex Radulov, and defensemen Jon Klingberg and Miro Heiskanen has been bolstered by the free agent signings of high-scoring character forwards Joe Pavelski and Corey Perry. The Stars figure to be more potent up front and just as stingy defensively with big Ben Bishop returning for another season between the pipes.
Toronto Maple Leafs
Granted, the Leafs lost a talented, gritty centre in Nazem Kadri and are due to lose gifted offensive defenseman Jake Gardiner in free agency. That said, Toronto got a great offensive defenseman back for Kadri in the form of Tyson Barrie (not to mention a good two-way forward in Alexander Kerfoot). Barrie will be a great complement to Leafs' star defenseman Morgan Rielly, guaranteed. Provided the Leafs re-sign Mitch Marner - it should happen - Toronto will fill the net in 2019-20 with so many skilled forwards in the fold. Freddie Andersen should be solid in net once again, though the addition of a solid back-up would make him even better.
Losers
Columbus Blue Jackets
To his credit, 'Jackets GM Jarmo Kekalainen went all-in at the 2019 NHL trade deadline, acquiring high-scoring centre Matt Duchene. At the same time, he choose to keep pending free agents Sergei Bobrovsky and Artemi Panarin. Well, goalie Bob just bolted to Florida, LW Panarin signed a lucrative long-term deal with the New York Rangers and Duchene took full advantage of his free agent status by signing with Nashville. The Blue Jackets now have huge holes to fill in net, at centre and at left wing. The signing of forward Gustav Nyqvist won't do much to stop the bleeding. Look for the Blue Jackets to be a shadow of the playoff dynamo they were this past spring.
Calgary Flames
After flaming out in the first round of the playoffs, the Flames needed to address shortcoming in net and at forward. All they did was sign former Edmonton netminder Cam Talbot, who's slated to share time in net with restricted free agent David Rittich. Meanwhile, Calgary's forward group, while talented, appears to lack grit, and their defense isn't nearly as good on the ice as it looks on paper. The Flames will be hard-pressed to repeat their 107 point performance from 2018-19 and could struggle to make the playoffs. In short, Gaudreau, Monahan, Giordano and company could be in trouble.
Pittsburgh Penguins
With high-scoring winger Phil Kessel and D Olli Maatta gone and D Kris Letang rumored to be on the trading block, the Pens are no longer a Stanley Cup contender. With few good puck-moving defensemen left on the roster, all-world forwards Sidney Crosby and Evgeni Malkin will find it difficult to generate offense. While the free agent signing of winger Brandon Tanev added speed and grit, he's no goal scorer, something Pittsburgh desperately needs. And if injury-prone starting goaltender Matt Murray can't find a way to stay healthy, the Pens could potentially be a low-scoring, low-budget outfit that can't keep the puck out of their net.
Winnipeg Jets
Few teams can survive the loss of three starting defensemen, and the Jets don't figure to be an exception. Gone are minute-eating defensemen Jacob Trouba, Tyler Myers and Ben Chariot. The Jets also lost gritty, speedy winger Brandon Tanev to the Pittsburgh Penguins, a deletion that will weaken their forecheck and penalty killing. Restricted free agents Patrik Laine, Kyle Connor, Neal Pionk and Andrew Copp are expected to re-sign - good news. The bad news is that the Jets are counting on young players to fill the holes left by their free agent losses - D Neal Pionk, who was acquired from the Rangers for Trouba, D Tucker Poolman, D Sami Niku and forwards Kristian Vesalainen and Mason Appleton. With more young talent in the line-up, the Jets could struggle both offensively and defensively, making for a team that could struggle to make the playoffs. Forwards Blake Wheeler, Kyle Connor and Mark Scheifele figure to remain solid fantasy draft picks, but the jury is out on players such Laine; D Josh Morrissey should up his offensive numbers. Goaltender Connor Hellebuyck will also need to return to his 2018-19 form for the Jets to be competitive.
The key thought when forming your fantasy rosters for the coming NHL season? Take a close look at every roster, as some once-powerful teams are in decline, while previous also-rans are on the rise.