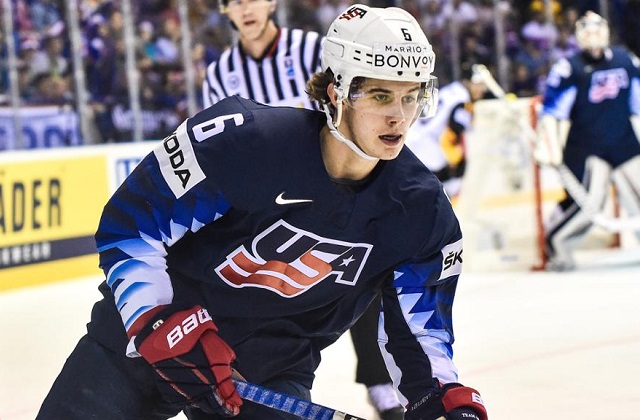 Written by Todd Lewys
27 June 2019
The balance of power is changing in the NHL.
Several factors are driving that change.
First, one of the deepest NHL entry drafts in recent history provided bottom-third teams with talented young players that can be immediately plugged into their line-up, providing an immediate infusion of skill and depth.
Second, several trades - with teams shedding salaries to clear salary cap space under a lower than expected salary cap of $81.5 million U.S. - have seen a number of high-caliber players change teams.
Third, the annual NHL free agent frenzy is due to take place on July 1. Expect more name players to change teams, and more blockbuster trades to happen.
Once all the dust settles, an already changed landscape figures to change even more - one in which perennial NHL powers figure to be replaced by new ones due to all the dramatic player movement.
In turn, that movement will affect how fantasy draft rosters are assembled, as the addition and subtraction of players from certain teams can affect individual point production as well as overall scoring - and a team's ability to keep the puck out of their net.
Here's a look at what happened during and after the the recent NHL Entry Draft, which took place in Vancouver from June 21 to 22. Some teams came out clear winners, while others were clear losers. And that's just the tip of the iceberg with so many more moves to come.
- The New Jersey Devils drafted USA U-18 centre Jack Hughes first overall. Hughes is projected to be a top scorer and joined Taylor Hall, Kyle Palmieri and former first-round pick Nico Hischier up front. The Devils then acquired talented offensive defenseman P.K. Subban from the Nashville Predators. Suffice it to say the Devils' offense will have a whole lot more punch in 2019-20.
- In an attempt to open up cap space to sign a slew of restricted and unrestricted free agents, the Winnipeg Jets traded stud defenseman Jacob Trouba to the New York Rangers for defenseman Neal Pionk and the 20th first-round pick in this year's draft (Finnish defenseman Ville Heinola). Forwards Nikolai Ehlers ($6 million cap hit) and Mathieu Perreault ($4.1 million cap hit) are projected to be on the way out via trade to open up the cap space needed to sign key restricted free agents Patrik Laine and Kyle Connor. Several UFA's also need to be resigned: D Ben Chariot, F Brandon Tanev and F Andrew Copp. Top-four D Tyler Myers - a popular free agent - is likely to sign elsewhere. In short, the Jets may be on the decline.
- The Pittsburgh Penguins traded talented defenseman Olli Maatta to the Chicago Blackhawks, and are supposedly shopping high-scoring D Kris Letang. With little depth on their back end, it's likely that Sidney Crosby, Evgeni Malkin and Phil Kessel - provided the latter isn't traded - won't be nearly as productive as they've been in past campaigns. The Pens are a team on the decline.
- Meanwhile, the aforementioned Blackhawks are a team on the rise. At the draft, Chicago took offensively gifted centre Kirby Dach third overall, and followed that up by acquiring D Calvin de Haan from the Carolina Hurricanes. With Patrick Kane, Jonathon Toews and emerging stars in Alex DeBrincat and Dylan Strome, the Hawks figure to be a much higher-scoring squad - and far better on the defensive side of the puck - in 2019-20.
- Likewise, the Florida Panthers are expected to be much better next season, and that improvement is expected to come via the free agent route. They are said to be intent on signing two talented Russians: scoring machine Artemi Panarin, and all-world goaltender Sergei Bobrovsky. If they're successful in bagging the pair, they will immediately be better at scoring goals and keeping pucks out of their net.
- Immediately after signing pending UFA defenseman Erik Karlsson to a long-term deal with an average annual value of $11.5 million U.S., the San Jose Sharks traded another very good defenseman, Justin Braun, to the Philadelphia Flyers, to clear cap space. The Sharks may also lose solid forward Joonas Donskoi in free agency, and captain Joe Pavelski and centre Joe Thornton may not be back. Those holes could be hard to fill, hurting San Jose's chances to take another run at the Stanley Cup.
- Finally, the Philadelphia Flyers got stronger with the acquisition of Braun and underrated centre Kevin Hayes. With Carter Hart starting in net and F Nolan Patrick due for a breakout year, the Flyers figure to be much better once the NHL's regular season starts in October.
In short, the next week or two should be intriguing with so many key players changing teams.
All those additions and subtractions will have to be considered when you're assembling your team rosters during your NHL fantasy draft, as all the changes are due to change the balance of power in the NHL in a significant way.
Stay tuned for the next update!