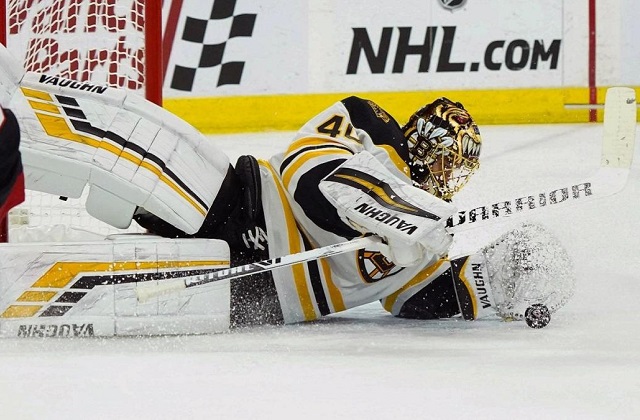 Written by Todd Lewys
21 May 2019
At this point - with the Boston Bruins in the Stanley Cup final and the St. Louis one win away from joining them - you might want to call the NHL playoffs a tale of two goaltenders.
First, there's Boston's Tuukka Rask.
After a rather ordinary regular season (at least by his lofty standards, where a goals against average (GAA) of 2.48 and save percentage of .912 was considered to be subpar), the 32-year-old Finn has found his game in the playoffs.
In 17 games, Rask has put up a GAA of 1.84 and a save percentage of .942. Both are mind-blowing stats.
And it's not like the Bruins are playing air-tight defense in front of him.
Yes, they've played well, but there have been instances where, had Rask not made several big saves to keep the score tied or the deficit to one goal, the Bruins may not have been in a position to methodically carve out a win.
But that's playoff hockey, where teams usually go only as far as a hot goaltender can carry them.
That's certainly been the case with the man who's been minding the crease of the St. Louis Blues, 25-year-old Jordan Binnington. That said, he's carried the Blues in a different way than Rask has carried the Bruins.
As Binnington's stats show, he hasn't been nearly as stingy as his Boston counterpart.
While his 2.44 GAA and .912 save percentage are solid, they're nothing to rave about. Of late, he's given up five goals in a game twice against the San Jose Sharks. For the uninitiated, that's a lot of goals to give up at playoff time, where 2-1 and 3-2 games are the norm.
Where Binnington has shone, however, is in his ability to rebound after a bad game. In a word, he's been resilient.
After allowing five goals against the Sharks in game one of the Western Conference Final, he allowed only two in a game two win. Then, after giving up another five in a loss in game three, he came back to shut out San Jose in game four.
He then followed that up by blanking the Sharks 5-0 in game five to help put the Blues up 3-2 in the series, just one win shy of something that was unthinkable as they languished at the bottom of the NHL's standings in January: playing for the Stanley Cup.
Although Rask's and Binnington's methods have differed, the end result - provided the Blues oust the Sharks to set up a rematch of the 1970 Stanley Cup Final between Bobby Orr's Bruins and Glen Hall's Blues - will be the same.
Both goaltenders will have led their respective teams to within four wins of winning it all. Two teams that are mirror images of each other, each defined by gritty team play and great goaltending, will go at it, and go at it hard.
In the end, who will backstop their team to the title: the intense, efficient Rask, or the resilient, unassuming Binnington?
Stay tuned to find out.