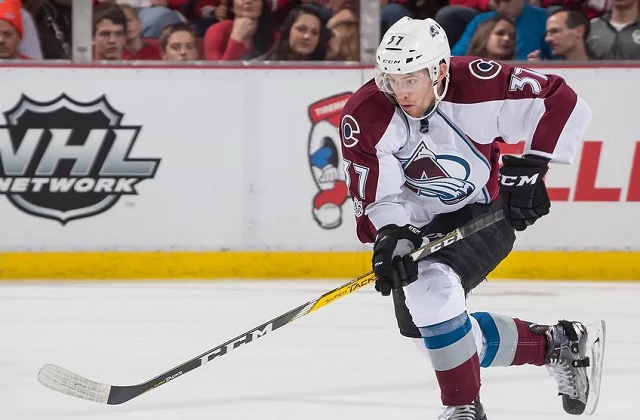 Written by Todd Lewys
08 May 2019
In the wake of Colorado Avalanche star Nathan MacKinnon being shut down in game 5 of the Avs' second round NHL playoff series against the San Jose Sharks, it was obvious that Colorado would need greater contributions from its second and third lines to avoid elimination in game 6.

Avs' forward J.T. Compher responded in a big way in game 6, contributing two goals and an assist in what was surely his best game as a pro.

After MacKinnon's linemate, Gabriel Landeskog, scored 2:32 into overtime to lift Colorado to a 4-3 win, Compher told NBC's Pierre Maguire that he knew he had to step up.

"The guys on the first line play a lot of minutes and are being checked closely," he said. "I'm just glad I was able to contribute."

While Landeskog's OT winner propelled the Avalanche to a game 7 showdown in San Jose Wednesday night, it was Compher's sterling effort that was the difference. With tight checking and little room to move, stars can't be expected to carry teams every night.

Make no mistake about it: the teams that advanced to the second round have been successful because they're getting contributions from everyone.

In the west, the St Louis Blues, Dallas Stars, Avalanche and Sharks would not be where they are without secondary scoring. Compher is just one player who's stepped up.

Take St. Louis, for example. After an injury-plagued regular season, Blues' winger Jaden Schwartz has been a force in the post-season, scoring two game winners and taking pressure off the likes of Ryan O'Reilly and Vladimir Tarasenko.

Likewise, veteran winger Mats Zuccarello, who was acquired at the NHL trade deadline from the New York Rangers, has contributed in a mighty way to the Dallas Stars' playoff run. With 10 points to date, he's eased the scoring burden on stars Jamie Benn, Tyler Seguin and Alex Radulov.

Meanwhile, a well-balanced offensive attack has been the key to the Carolina Hurricanes advancing to the Eastern Conference final against the Boston Bruins.

While leading scorer Sebastian Aho has been his usual high-scoring self with nine points, D Jacob Slavin (11), and forward Teuvo Teravainen have recorded 9 points; D Dougie Hamilton has also contributed 7 points, with four others adding 6 points apiece. Little wonder the 'Canes are four wins away from advancing to the Stanley Cup final.

Their opponent in the Eastern Conference final, the Bruins, has authored a similar playoff story.

As per usual, Boston's top line has been dominant. Brad Marchand has recorded 13 points, David Pastrnak 11 and Patrice Bergeron 8. Their scoring prowess has been complemented beautifully by forwards David Krejci (10 points) and winger Charlie Coyle (8 points). Defensemen Torey Krug and Charlie McAvoy have chipped in with 6 points each.

The story is much the same with the San Jose Sharks, who have six players with eight or more points and another four with six. Their opponents in Wednesday night's game 7 in the Shark Tank, the Avalanche, have eight players with six points or better, with usual suspects Nathan MacKinnon and Mikko Rantanen leading the way with 13 points each.

And look at the low-scoring Dallas Stars. Benn, Seguin and Radulov all have over 10 points. At the same time, Zuccarello has stepped up along with D Jon Klingberg (9 points) and rookie LW Roope Hintz (8 points).

Says here whoever gets the best secondary scoring in game 7 between the Blues and Stars - and the game 7 match-up between the Avs and Sharks - will advance to the Western Conference final.

The moral of this year's playoff story?

Well-balanced secondary scoring is the key to advancing, perhaps all the way to the Stanley Cup Final. And the team that gets the best secondary scoring in that winner-takes-all series will be the one that hoists Lord Stanley's Mug come late May or early June.