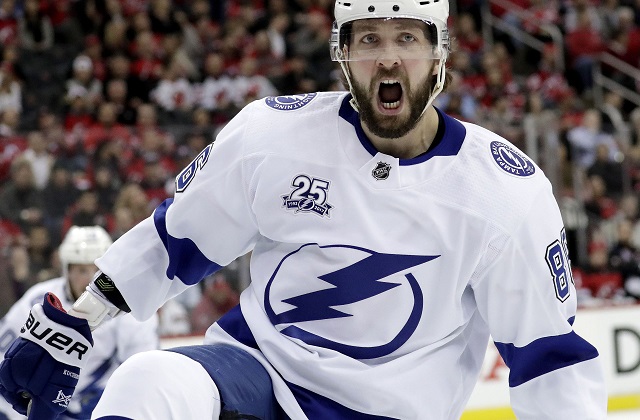 Written by Todd Lewys
29 March 2019
As the NHL playoffs approach, it's important to note which teams are trending well, and which teams aren't.
Why's that? Simple. If a team is playing well, displaying a good blend off offense, defense and, of course, solid-to-stellar goaltending, they could go on a long playoff run. Conversely, if a team has secured a playoff position but has been struggling (or dealing with a rash of injuries), they could be ripe for an early exit.
Here's a look at which teams appear to be trending up or down with the 2018-2019 NHL playoffs less than two weeks away.
On The Upswing: Boston Bruins, Dallas Stars, New York Islanders, Pittsburgh Penguins, St. Louis Blues, Tampa Bay Lightning
Boston Bruins
Over the past month-and-a-half, the Bruins have been one of the hottest teams in the NHL.
One of the reasons for that is excellent team balance. The Bruins are sound defensively, dynamic on offense, and have two solid, experienced netminders in Tuukka Rask and Jaro Halak. With sniper David Pastrnak back in the lineup, smooth-skating rearguard Torey Krug due to return from injury soon, and good secondary scoring, Boston is playing a gritty, opportunistic game that's made for the playoffs.

Dallas Stars
With consecutive road wins over the Winnipeg Jets and Calgary Flames, limiting the two Western Conference offensive powerhouses to just three goals in two games, Dallas' tight-checking style is tailor-made for playoff action.
Most importantly, goaltender Ben Bishop is enjoying a Vezina Trophy-quality season with one of the lowest goals against averages (GAA) in the NHL. At the same time, the Stars' offense has come alive, with Alexander Radulov, Tyler Seguin and Jamie Benn leading the way after a slow start.
Provided Bishop's nagging groin injury isn't serious - he pulled himself from the game in Calgary at the halfway point after tweaking it for the second time in less than a month - Dallas could be a handful (hello, Winnipeg Jets) come playoff time with their sound defensive style.
New York Islanders
Let's call it right now: Islanders head coach Barry Trotz for NHL Coach of the Year. After losing star centre John Tavares, whose departure was supposed to be a mortal blow to the Isles, Trotz installed a system that focused on sound defense and teamwork.
Evidently, everyone bought in. The Isles defense has been stellar and scoring has been balanced. The result? A shot at the Metropolitan Division title and a playoff berth, the Isles' first in years. New York could ride that teamwork and solid goaltending farther into the playoffs than anyone expects.
Pittsburgh Penguins
No, it isn't a re-run. Sidney Crosby is hot, Evgeni Malkin is waking up, Phil Kessel is scoring again, Justin Schultz is commanding games from the blueline and goalie Matt Murray is once again making highlight-type stops at key moments in games. Put that all together, and the Pens are battling for the Metropolitan Division title with the Washington Capitals and New York Islanders.
Provided defenseman Kris Letang's latest injury isn't serious, who along with Schultz are the kingpins on Pittsburgh's blueline, it's hard to bet against Crosby and Co. making another run for the Cup.
St. Louis Blues
After a brief stall following a team-record 11-game winning streak, the Blues are once again playing inspired hockey. Now just four points out of the top spot in the Central Division, the Blues could well take top spot from the Jets at the wire. No one wants to play the Blues in the first round.
And who could blame prospective Central Division opponents? With Jordan Binnington in net, a score-by-committee offense and an underrated defense, St. Louis could author more than one upset special.
Tampa Bay Lightning
The Bolts continue to roll along despite having secured the President's Trophy for top team in the NHL regular season long ago.
With the NHL's leading scorer, Nikita Kucherov, and two other players scoring over 90 points, sniper Steven Stamkos and speedy centre Braden Point, Tampa Bay is both lethal and deep on offense.
As for their defense? It's only one of the best in the league with Victor Hedman, Ryan McDonagh and the underrated Anton Stalman manning the back end.
Oh, and if they slip up, all-world goalie Andrei Vasilevskiy is there to bail them out with timely, out-of-this-world saves. Enough said.
On the Downswing: Calgary, Columbus, Nashville, Toronto, Winnipeg
Calgary Flames
Of late, the Flames have been flaming out, with inconsistent goaltending and sporadic offense being the culprits.
If Mike Smith and David Rittich continue to struggle in net, Calgary's prolific offense will be hard-pressed to make up for that deficiency against tight playoff checking.
Timely saves and opportunistic offense are the keys to playoff success. At this point in time, the Flames have neither. That could serve as the harbinger of a frustrating first-round exit.
Columbus Blue Jackets
When the Jackets traded for Matt Duchene and Ryan Dzingel at the NHL trade deadline, it looked as if they had the potential to be a playoff force.
Instead, with the likes of playmaker extraordinaire Artemi Panarin and all-star goaltender Sergei Bobrovski still in Columbus blue, the Jackets have fizzled. Once in a playoff spot, they've faded. Now, they're in a battle for a wildcard spot with Montreal and Carolina. With their playoff hopes fading, the Jackets will need to reel off five or six wins to secure a playoff spot.
Sadly, that isn't likely to happen.
Nashville Predators
While last year's President's Trophy winners haven't been horrible this year are still in the hunt for the Central Division title with six games remaining. However, they're not the same team they were in 2017-18.
Pekka Rinne, last year's Vezina Trophy winner, has been good, but not great in net. He's still showing the propensity to let in the odd bad goal, an issue that dogged him in last year's abbreviated playoff run.
Meanwhile, the Preds' offense has struggled. Overall team speed isn't the same, and production from their defense (a key to last year's success) is down.
Without question, Nashville is still a dangerous team. However, they will have to get all phases of their game in synch to go past the second round, something they have yet to do with a handful of regular season games remaining.
Toronto Maple Leafs
Simply put, the Leafs are a mess. Though their record is still very good, they've been letting in a ton of goals - 23 in one four-game stretch - and have been inconsistent on offense.
While the return of defensemen Travis Dermott and Jake Gardiner might bolster their back end, Toronto is a team beset by a host of issues.
Can their talented young group play tighter defense and score goals when it matters under playoff pressure? We'll soon find out.
Winnipeg Jets
The Jets are an enigma. One night, or sometimes even two nights in a row, they look like one of the NHL's elite teams, as evidenced by decisive back-to-back wins against Nashville and Las Vegas earlier this year. With their speed and precision, they can be one of the most difficult teams in the NHL to play against. On other nights, when they get lazy and make giveaways at a mind-blowing pace, they lose to teams they should easily beat.
No one knows which team will show up on a given night: the quick, opportunistic squad that can be a nightmare to play against, or the lazy, turnover-prone collection of sluggards that looks more like a cellar-dweller than one of the NHL's elite teams. If the Jets don't find their true identity in the next six games, they stand to lose to a hungrier, less-talented team (the Dallas Stars?) in the first round.
To advance to the second round and beyond, a team needs to be prepared to focus and pay the price, something the Jets have failed to do far too often during the regular season.