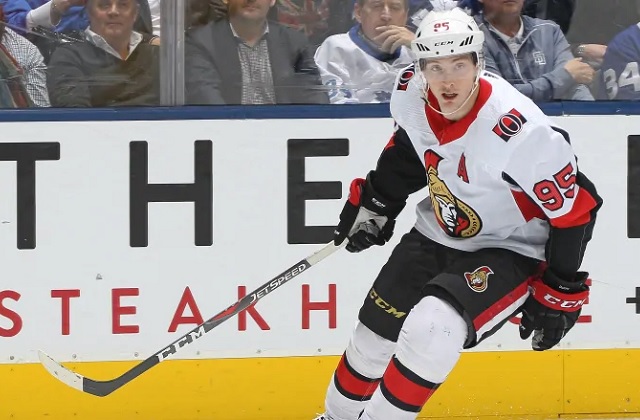 Written by Todd Lewys
02 March 2019
It's now five days after the NHL trade deadline, which means it's time to assess which teams improved their chances to not only make a run for the Stanley Cup, but to remain contenders for years to come.
As is the case on deadline day, some teams made great strides, some regressed - and others stayed in neutral. Here's a breakdown of the day's winners, losers and also-rans.
Winners
Columbus Blue Jackets
Expected to be sellers at the deadline with sniper Artemi Panarin and goaltender Sergei Bobrovski due to become unrestricted free agents (UFA's) at season's end, the Jackets instead opted to keep them for a playoff run.
Then, much to the surprise of everyone, they snagged both centre Matt Duchene and winger Ryan Dzingel from the Ottawa Senators.
They also acquired rugged defenseman Adam McQuaid and netminder Keith Kinkaid, McQuaid to add toughness and Kinkaid to serve as back-up to Joonas Korpisalo after he signs with another team in the off-season.
The unexpected additions may have transformed the Blue Jackets from an also-ran into a serious Stanley Cup contender.
Winnipeg Jets
It was known far and wide that the Jets were looking for a forward or two to add depth at center and on the wing to fortify themselves for another deep playoff run.
Once center Matt Duchene was snapped up by Columbus, the Jets then went to option B, 6'5" Rangers centreman Kevin Hayes.
Then, with the asking price for Senators' winger extraordinaire Mark Stone - who also happens to be a Winnipeg native - too high, the Jets brought back center Matt Hendricks from the wilds of Minnesota to add character and toughness and versatile winger Par Lindholm from Toronto to add depth up front.
Jets' GM Kevin Chevaldayoff then addressed their needs on defense by acquiring both Nathan Beaulieu and Bogdan Kiselevich  from the Buffalo Sabres to add depth to a back end depleted by injuries to regulars Josh Morrissey, Dustin Byfuglien and Joe Morrow.
Known for his well-balanced game - Hayes is good both offensively and defensively - the Jets are hoping the Massachusetts native will have the same effect on the team as center Paul Stastny had last year when he was a key cog in Winnipeg's deep playoff run.
Nashville Predators
Bitter rivals of the Jets in the NHL's Central Division, the Preds knew they had to answer the Jets' acquisition of Hayes.
Their first move was to swap promising young winger Kevin Fiala for Minnesota winger Mikael Granlund. Then - a mere 15 minutes before the expiration of the deadline - the Preds pried rugged winger Wayne Simmonds out of Philadelphia.
Mired in an offensive slump, Nashville is counting on Granlund to improve production on the wing, and looking for Simmonds to add some grit and toughness in the corners and in front of the net.
If both players play up to their potential - and the Preds rediscover their hard-to-play-against ways - then they could well advance to the Stanley Cup finals this time around.
Losers
Calgary Flames
Despite enjoying a banner season, they're second overall in the NHL behind only the near-invincible Tampa Bay Lightning, who are nearing 100 points with more than 15 games to play - the Flames have only one weakness: their goaltending.
Both starter Mike Smith and backup David Rittich have been wildly inconsistent all year: brilliant in one start and brutal the next. Hence, Calgary general manager Brad Treliving had to be looking for a goaltender.
Well, seems he either couldn't find one, or felt that the veteran Smith - who's been very good over the past few weeks - had one more playoff run left in him.
He'd better hope that's the case.
If Calgary's goaltending goes off the rails in the playoffs, the Flames' potent offense may not have enough firepower to overcome sub-par goaltending.
Toronto Maple Leafs
After acquiring defenseman Jake Muzzin from the L.A. Kings well in advance of the trade deadline, all the Leafs could muster was bringing in prospect C/W Nic Petan from Winnipeg for winger Par Lindholm.
Said to be looking for another defenseman - perhaps a right-hand shot in the form of Hurricanes' blueliner Brett Pesce - Toronto GM Kyle Dubas decided to stand pat, a move that may prove costly. Seems that D Jake Gardiner - who logs over 20 minutes a game - may be out long-term with back issues.
And if starting goalie Freddie Anderson gets hurt, the Leafs will have to turn to either Michael Hutchison or Garrett Sparks in net. While both are competent netminders, neither inspires thoughts of them backstopping the team to a deep playoff run, especially with the Boston Bruins and Tampa Bay Lightning in the way.
Pittsburgh Penguins
Perennial Cup contenders with the likes of Sidney Crosby, Evgeni Malkin, Kris Letang and goalie Matt Murray, the Penguins have struggled to find consistency all season.
At times, they've looked like Stanley Cup contenders, at others, pretenders. It's been just that bad at times.
Yet, hope springs eternal. When Crosby and company sniff the playoffs, they come alive and ratchet up their game. With that in mind, Pittsburgh GM Jim Rutherford went out and got towering winger Nick Bjugstad and C Jared McCann from Florida in an attempt to bolster offensive production.
That move has yet to pay off. And while Bjugstad and McCann have struggled to fit in, the injury bug hit the Pens' defensive corps, with Letang and Ollie Maatta going down.
Rutherford's response? A trade for veteran defenseman Erik Gudbranson and journeyman D Chris Wideman.
Should the Pens make the playoffs - and that isn't a given - they're unlikely to go far this year due to injuries and an inconsistent, patchwork roster.
Staying the Course
Tampa Bay Lightning
Stamkos, Kucherov and company have been tearing up the NHL all year long, so why mess with a good thing?
As long as the Bolts get good goaltending from Andrei Vaslivesskiy and they play their game - being leaders of the overall standings has proven to be curse to many President's Trophy winners in the past - it's likely that Tampa will be playing hockey well in to May, possibly early June.
New York Islanders
The hands-down surprise of the NHL after losing star center John Tavares to Toronto in free agency in the off-season, the Isles have played inspired hockey under new head coach Barry Trotz.
That said, the Isles made no major moves in goal or on defense at the trade deadline. Will they be good enough - as is - to go deep come April? Stay tuned, but the answer is likely no.
Also-Rans
Ottawa Senators
Fans of the Sens were understandably downcast on February 25.
And they could be excused for feeling blue, as they lost their top three scorers on that fateful Monday: star winger Mark Stone, high-scoring centre Matt Duchene and speedy winger Ryan Dzingel.