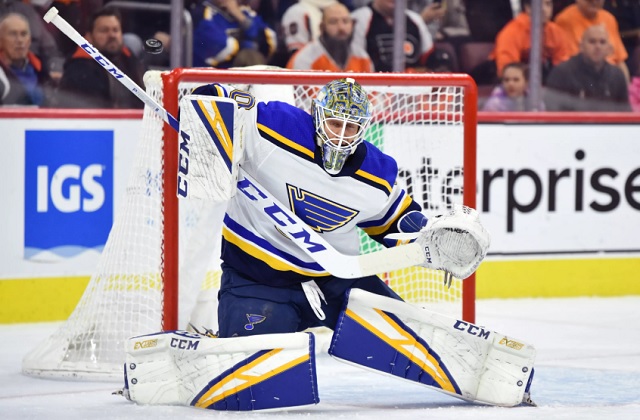 Written by Todd Lewys
22 February 2019
ASL's Todd Lewys has identified these five new generation goalies that are helping their teams climb in their run to the playoffs. Perhaps they can also help your fantasy hockey team in your run to the playoffs.
Jordan Binnington, St. Louis Blues
To say Jordan Binnington's game was trending well before he was called up to the St.Louis Blues from the AHL's San Antonio Rampage would be an understatement.
In 16 games with the Blues' NHL affiliate, the 6'1", 174-pound Richmond Hill, Ontario native - who the blues selected 26th overall in the third round of the 2011 NHL Entry Draft - had put up some impressive numbers in the form of a 2.08 goals against average (GAA) and .927 save percentage.
Noting those gaudy numbers, the Blues called up Binnington, hoping he would carry his fine play over to the NHL - and provide some consistent goaltending, something starter Jake Allen had been unable to supply so far this season.
The Blues got that and more.
In 17 games, the 25-year-old Binnington has shone, putting up an 13-1-1 record with four shutouts, a stellar 1.60 GAA and a sterling .937 save percentage.
That lights-out play sparked a team-record 11-game winning streak, which has put the Blues back in the playoff hunt.
Just prior to the New Year, the Blues were well out of the playoff picture. Now, they occupy a wildcard spot and are climbing rapidly in the NHL's Western Conference standings.
Granted, 17 games is a small work sample. But if Binnington leads the Blues into the playoffs, St. Louis may well have - at long last - found a dependable number one netminder.

Carter Hart, Philadelphia Flyers
For years, the Flyers have struggled to find a bonafide starter in goal.
The 2018-19 season has - at least until the arrival of Carter Hart - been no exception.
After getting sub-par goaltending from the likes of Brian Elliott, Michael Neuvirth and the recently-traded Anthony Stolarz (banished to Edmonton for another goalie, the enigmatic Cam Talbot), the Flyers - likely feeling they had nothing to lose - called up prospect Carter Hart rom their AHL affiliate, the Lehigh Valley Phantoms.
In 18 games, Hart - a former standout with the WHL's Everett Silvertips and Team Canada at the World Junior Hockey Championships) - had put up a 3.05 goals against average (GAA) and .902 save percentage. Solid, but not spectacular.
Since coming to Philly, the 6'2" native of Sherwood Park Alberta has been solid - and flat-out spectacular in most of his starts. In 21 games, Hart has shown the promise that prompted the Flyers to draft him 48th overall in the 2016 NHL Entry Draft with a GAA of 2.67 and an outstanding .920 save percentage.
Displaying great anticipation and tremendous lateral movement, Hart has done what Flyers' management had hoped he would do: give the team a chance to win every time he stands between the pipes.
Although it's early, it looks as if the Flyers may have finally found their man in net.

Mackenzie Blackwood, New Jersey Devils
At 22 - at least by NHL standards - Mackenzie Blackwood might be considered a late bloomer.
However, after honing his skills with the Devils' AHL affiliate in Albany for several seasons, Blackwood was called up earlier this season as an injury fill-in.
He hasn't disappointed in the 13 games he's played.
Using his size and surprising athleticism to his advantage - Mac Black is a big goalie, at 6'4", 225 pounds - he's posted impressive numbers in the form of a 2.37 and .926 save percentage.
This augers well for the Thunder Bay, Ontario native, an OHL standout who the Devils picked 42nd overall in the second round of the 2015 NHL Entry Draft. With former starter Cory Schneider now in his mid-30's and back-up Keith Kinkaid nearing his 30th birthday, the Devils are looking their goaltender of the future.
Based on his body of work thus far, the future in the New Jersey net may now - or at the very least, next season - reside in the ultra-competitive Blackwood.

David Rittich, Calgary Flames
As most hockey fans know, goalies are, well different.
Predictably, David Rittich of the Calgary Flames fits that mold.
Seems the 26-year-old native of Jihlava, Czechoslovakia has a pre-game ritual that requires his goaltending coach to fire two pucks off his head for good luck the morning of every game he starts.
Apparently, it works.
In 31 starts this season, Rittich has recorded 20 wins against just 5 regular time losses and 5 overtime losses. And while his 2.66 GAA and .911 save percentage aren't all that stellar, it must be remembered that the Flames are an offense-first team.
Consequently, Rittich - and his battery-mate, veteran 'tender Mike Smith - have been left to fend for themselves on countless occasions.
Fortunately for his teammates, Rittich has stood in the gap and bailed them out with his never-say-die style. The quick, intensely competitive Czech is never out of a play, and has recorded several highlight reel saves this season.
After biding his time in the minors, Rittich has established himself in Calgary, and figures to be a fixture in net for the Flames for many seasons to come.

Casey DeSmith, Pittsburgh Penguins
Suffice it to say, every NHL team needs a dependable back-up to spell off their starter.
And, if necessary, that dependable back-up may have to step in and hold the fort until a team's starter returns from injury.
Casey DeSmith - a 27-year-old native of Rochester, New Hampshire - has filled both roles for the Pittsburgh Penguins this year.
And has filled them very, very capably.
Pressed in to service to cover for starter Matt Murray twice this year, DeSmith has been rock-solid in the Pittsburgh goal, putting up a 2.82 GAA with a splendid .915 save percentage in 33 games.
Known for his calm, economical style, the 6', 181 pound DeSmith has shown he's comfortable either as a back-up, or shouldering the load that comes with being a starter.
That versatility - and his knack for consistency - figures to serve him well in the years ahead; the Pens recently showed confidence in DeSmith, signing him to a well-deserved contract extension.
Questions, comments, send me an email at This email address is being protected from spambots. You need JavaScript enabled to view it.