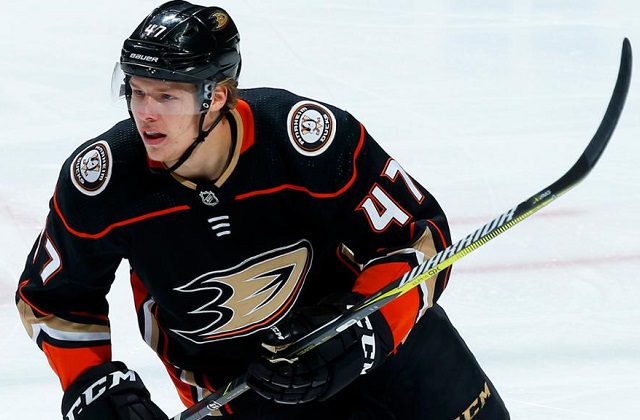 Written by Todd Lewys
08 February 2019
For some reason - perhaps their quiet efficiency or the market they play in - a number of very good NHL players tend to get overlooked by fans and experts alike.
Yet, they are highly-regarded by their peers - the players they compete against on a nightly basis in the world's best hockey league.
Here are six players that would be snapped up in a heartbeat by any NHL team, should they be made available - something that's not bound to happen any time soon.

Hampus Lindholm, D, Anaheim Ducks
The 6' 3", 211-pound native of Helsingborg Sweden - Anaheim's first-round pick, sixth overall, in the 2012 NHL Entry Draft - has been a model of consistency since his rookie season in 2013-14.
Over his six seasons with the Ducks, Lindholm is a plus 85 and has put up 162 points.
When healthy, he can be counted on to log over 20 minutes per game, and put up between 25 to 35 points (his career high is 34 points in 2014-15).
A strong, smooth skater, he's a good puck mover and his size, strength and long reach make him tough to play against. At the same time, his excellent feel for the game allows him to know when to jump into the play on offense.
Conservative by nature - Lindholm's first instinct is to take care of his own end - he could put up bigger point totals, but is content to pick his spots. He's a dependable, low-risk player that coaches love.
Yet - largely because he plays on the West Coast, where games start later at night, after most games are nearly over - his strong, intelligent play goes largely unnoticed. Were he on a team in New York, Toronto - or even Los Angeles - Lindholm would be much-better-known without a doubt.

Ryan O'Reilly, C, St. Louis Blues
Over his 10-year NHL career, the 27-year-old O'Reilly has been saddled with the misfortune of playing with mediocre to just plain-bad teams.
Despite playing on so-so squads in Colorado and most recently in St. Louis - and the awful Buffalo Sabres from 2015-16 to 2017-18 - the 6' 1" native of Clinton, Ontario has put up 472 points in 700 NHL games as of this writing.
Thus far in 2018-19 with the struggling Blues, O'Reilly has piled up 50 points in 49 games. That high-level of production has him on a pace to easily break his career high of 64 points, a total he notched with the Avalanche in 2013-14.
Known for his prowess in the face-off circle - he's taken key face-offs for every team he's played for, including Team Canada in the World Hockey Championships - O'Reilly plays with grit, is a fine playmaker and can put the puck in the net 20 to 25 times per season. He's also solid defensively.
Overall, there are no holes in his game, which is why he was so coveted by the Sabres, and more lately the Blues.
Now, the Blues - who are in rebuilding mode - need to surround him with better players so he can realize his full potential. Stay tuned - there's more to come.

Aleksander Barkov, C, Florida Panthers
You'd think that a 78-point season and nomination for the Lady Byng Trophy (for gentlemanly play) would have made the 23-year-old Barkov a household name.
Sadly, that's not the case.
Known for his well-rounded game, the 6' 3", 213 pound centreman, though well-respected by his peers, remains an under-appreciated because he plays in Florida.
Yet, Barkov has amassed 296 points in 379 career games - a very creditable total for a player who has played on mediocre teams for six seasons.
Despite playing on another below-average Panthers squad this year, Sasha - who possesses a smooth, strong skating stride and a pillowy-soft pair of hands - has recorded 49 points in 50 games. Entering the prime of his career, Barkov only figures to get better.
Provided Florida management surrounds him with better players, his numbers could well reach the elite level of 80 to 90 points per year.
Should Barkov put up an 80-plus point year this season, he is sure to become a known commodity, a supremely talented player who genuinely deserves the to be recognized as one of the NHL's elite centremen.

Mikael Backlund, C, Calgary Flames
After dealing with numerous injuries during the early part of his career, Calgary's first-round draft choice in 2007 (24th overall) has been a paragon of consistency over the past six seasons.
In that span, he's put up 241 points, an average of nearly 44 points per season - and he has 30 games left to play this season.
Once the 2018-19 season ends - the 6-foot, 200-pound native of Vasteras, Sweden is on pace for 45 to 50 points - will have taken that average up to nearly 45 points per season, not bad for a player known more for his defense than offense.
Truth be told, the dependable Backlund comprises a good part of the glue that holds an offensively-talented Flames squad together.
While offensive whizzes such as Johnny Gaudreau, Sean Monahan, Elias Lindholm and Matthew Tkachuk do their thing on a nightly basis, Backlund plays a stable - and deceptively gritty - two-way game, keeping offensively-gifted opponents in check while contributing offensively on a regular basis.
Only 29 years old and in his prime, Backlund figures to be a fixture at centre for the Flames for many years to come, quietly putting up 40-plus points per season while playing a sound two-way game.

Justin Schultz, D, Pittsburgh Penguins
When the 6'2", 193-pound Schultz signed with the Edmonton Oilers as a free agent in 2012 - he couldn't come to terms with the Anaheim Ducks, who drafted him in the second round (13th) in the 2008 NHL entry draft - his signing was seen as a major coupe by NHL insiders.
An intelligent, offensively-gifted blueliner, he'd starred at the University of Wisconsin for four seasons, putting up 34 goals and 91 points in his last two seasons with the Badgers.
He then carried his strong offensive play over to Edmonton's AHL affiliate in Oklahoma at the start of 2012, recording 48 points in 34 games. At that point, he was called up to the big club, where he continued to excel, producing 8 goals and 19 assists in 48 games.
After that, the Edmonton native's productivity steadily declined over the next three seasons, his confidence eroded by playing on a horrible Oilers squad.
When he was traded to Pittsburgh midway through the 2015-16, Schultz was regarded as something of a reclamation project by the Penguins. Schultz - playing in a more structured defensive system surrounded by a deeper talent pool - rediscovered his game, recording eight points in 18 games, along with a plus seven rating; he'd been a minus 22 in Edmonton, with only 10 points in 45 games.
The following season (2016-17), Schultz found his stride.
Displaying the composure and offensive savvy that had made him such a hot prospect, he put up 51 points in 78 games. Along with Kris Letang, he anchored a mobile Pittsburgh defense that fed the likes of Sidney Crosby and Evgeny Malkin. Ultimately, the Penguins won their second-straight Stanley Cup. Schultz was a major contributor, just as he'd been 2015-16.
Although his stats declined last season - Schultz recorded 27 points in 63 games with a plus 22 rating - he is capable of putting up 40-plus points when healthy.
Limited to four games this season due to an ankle injury, Schultz is due to return to the Pens' line-up shortly. Expect him to return to his sound, offensively-gifted form - and help Crosby & Co. take another run at the Stanley Cup.

Brian Little, C, Winnipeg Jets
Over his 12-year career with the Atlanta Thrashers/Winnipeg Jets franchise, Little has put up 509 points in 807 games.
Yet, the 6', 191-pound Edmonton native has remained relatively anonymous. Playing in a pair of relatively obscure markets could be one reason for that; the other could be simply that he is the consummate team player.
A versatile player who can play centre or wing, Little is content to slot in wherever he's needed. Once plugged in, he goes out and plays a robust 200-foot game that's equal parts defensive detail and offensive flair. If Jets' coach Paul Maurice asks Little to do something, he will do it - and do it well.
Without complaining, the former OHL standout plays up and down the Jets' line-up, using his speed, tenacity and offensive guile to be a line's driving force. He can also kill penalties, win key face-offs and is a workhorse on the Jets' second power play unit.
With 34 points in 53 games so far this season, Little is poised to score his 300th career goal, while recording yet another season with 40 points or more. He's a consistent, dependable player that any team in the league would love to have in their line-up.
This email address is being protected from spambots. You need JavaScript enabled to view it.