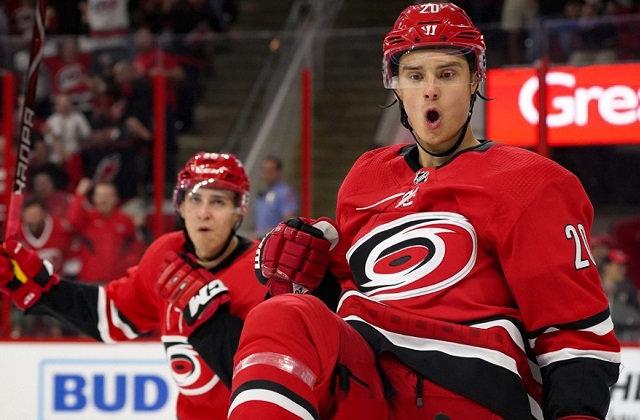 Written by Todd Lewys
27 January 2019
Sebastian Aho, C, Carolina Hurricanes: Now 21, the 6-foot, 176 pound centre has progressed steadily since his rookie season in 2016-17. He recorded 49 points in his first NHL campaign, then followed it up with 65 points last year. At the halfway point of the current season, Aho - a great playmaker with a sneaky-hard shot - has put up 57 points. At his current pace, he is threatening the 90-point plateau. Should he accomplish that feat, he will establish himself as one of the NHL's elite centres. If Aho played in a mainstream market like Toronto, New York or Montreal, the talented Finland native - who also possesses plenty of grit - would be much-better-known.
Josh Morrissey, D, Winnipeg Jets: It may have taken awhile - Morrissey spent the better part of two seasons refining his game with the Jets' AHL affiliate, the Manitoba Moose before becoming a regular in the 2016-17 season - but the Calgary Native, who the Jets picked 13th overall in the first round of the NHL draft, is now arguably the Jets' most consistent blueliner. Playing with Jacob Trouba, the 6-foot, 195 pound Morrissey now logs 20-plus minutes each night, shutting down opposing teams' top lines while moving the puck smartly with his trademark tape-to-tape passes. A gifted offensive defenseman coming out of junior, Morrissey had to work on his defensive game to stick at the NHL level. With that part of his game now sound, he's jumping in to the play more, something that has translated in to improved offensive numbers: 26 points in 46 games. At this pace, Morrissey is poised to crack the 40-point mark - and gain increasing consideration in Norris Trophy balloting.
Oliver Kylington, D, Calgary Flames: As if the Flames weren't deep enough on defense, Kylington - an early-season call-up from Stockton of the AHL - has added to Calgary's abundance of riches on the backline. A dynamic skater, the 6-foot, 183-pound native of Stockholm, Sweden, spent two seasons honing his game in Stockton. As the season has gone on, Kylington has increasingly gained the trust of coach Bill Peters, playing more minutes and being used in key situations; he's even earned some time on the Flames' potent power play. In 26 games, the left-handed shooting rearguard has put up five points, and is gaining confidence with each passing game. In time, Kylington could be a 30 to 40-point player. His emergence may make veteran defenseman T.J. Brodie expendable at the trade deadline, or in the off-season.
Timo Meier, RW, San Jose Sharks: It's difficult to call a 22-year-old a late bloomer, but it would appear that Meier - a 6-foot, 210-pound right-winger who was picked ninth overall in the first round of the 2015 NHL entry draft - is starting to blossom. Proof of that is Meier's point total: 49 games into the season, he's already put up 46 points, which is a full 10 points higher than the 36 points he recorded in 81 games last season. Should he continue to play at this high level, the native of Herisau, Switzeland, could well amass more than 80 points, positioning himself as one of the Sharks' go-to players moving forward.
Miro Heiskanen, D, Dallas Stars: While it's exceedingly rare for a 19-year-old - especially a defenseman - to shine at the NHL level so early on, Heiskanen has managed to do so. Although he isn't huge - the native of Espoo, Finland checks in at 6',1", 185 pounds - the left-handed shooting defender plays a smart, economical game. Displaying a maturity beyond his years, Heiskanen never tries to do too much. Yet, he also has the ability to read the play an know when to join the rush. His sound instincts and excellent mobility have helped him record 20 points in 49 games - a fine feat for a first-year defenseman under the gage of 20.
Build the best lineups with the power of The Machine for Daily Fantasy Sports 
Rasmus Dahlin, D, Buffalo Sabres: Suffice it to say, the 6',3" Dahlin is living up to the hype that accompanied being the first overall pick in the 2018 NHL entry draft. While not overly imposing at 190 pounds, Dahlin hasn't been pushed around in his rookie season. That's evidenced by a plus-minus rating of plus 6, impressive for an 18-year-old. His offensive totals have also been equally impressive, as the native of Lindkoping, Sweden, has recorded 26 points at the season's halfway mark. It looks like the unflappable, highly-skilled - and surprisingly gritty - Dahlin is destined to establish himself as a fixture in Norris Trophy voting as he and the talented group of players surrounding him in Buffalo mature in the coming seasons.
Kyle Connor, LW, Winnipeg Jets: Playing on a team with two of the game's elite forwards - Jets captain Blake Wheeler and uber-talented centre Mark Scheifele - it would be easy for the speedy left-winger to be overlooked. However, Connor excelled in 2017-18, putting up 31 goals and 57 points. This year - despite a slow start - the former college standout has 38 points in 48 games. Most importantly, he is heating up, splitting time between the Jets top and second lines and killing penalties. No longer always with Scheifele and Wheeler, the Jets' 2015 first-round pick (17th overall) is showing he can drive a line with his speed and skill - and be lethal on the penalty kill when an offensive chance presents itself. On his current pace, the 22-year-old Connor will eclipse the 60-point mark. That will set him up for a bright future in Winnipeg - and a hefty pay raise as an upcoming restricted free agent.