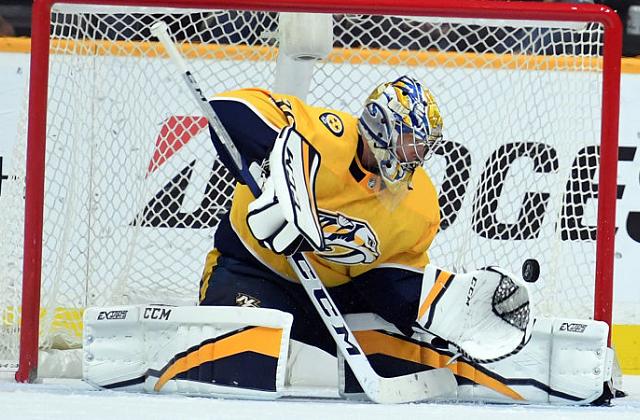 Written by Robert Backus
15 November 2018
What is the strategy around choosing your Goaltender?
For Dynasty or season-long leagues, you build your strategy around the long grind of the season, but in daily leagues you need to balance the risk versus reward theory.
Here are the simple questions with no simple answer:
1) Do I choose my team from the net out and pick the obvious choice?  Costs can range from 8700 to 9500 for high range goalies. 
2) Do I build my roster and then be stuck with the goalie I can afford? Costs can range from 7000 to 8000 for low end goalies. 
3) Do I look for the middle of the pack goalie and pay the price from 8100 to 8600 and hope he provides the win and secures me some needed points?
The Answer is YES to all of the questions. 
So let me help you with some advice and strategy around all three methods.
Choose the top goalie by price, what I mean by that is more sites such as Fan Duel will list the goalies by salary and the site deems what he is worth.  Most times that is correct but what I like to do is look at the salary of the top 5 goalies which can range between 500 to 1000 dollar difference. 
Take those top 5 goalies and look at these three factors and understand why they are that high. 
1) The team he plays for, if the team is a top team in the league then there is a great chance of getting a win. 
2) The team he is facing, remember facing a lot of shots is good because most leagues goalies get points for making saves so facing a team that does not create a lot of offense is a risk because a goal means your goalie will lose points and if you don't have shots and saves then it is hard to make up points.
3) Most important check the goalie for streaks, is he on a winning streak?  Is he on a losing streak?  Home or away?  All of these go hand in hand to taking the top Goalie.
If you decide to leave the goalie to the last pick and really focus on your position players then chances are your salary remaining to take a goalie will be in the 7000 to 8000 range.  You really need to look at these goalies and your choices will be one to three to choose from and chances are they are back-ups and just playing to give the starter a rest.  The good news with that is less options means its very difficult to over think. 
Choose the goalie based on these two main facts, saves and the team he plays for.  You will accumulate points based on the number of saves and if by chance your goalie plays for a top team and is the back up then you can really hit a diamond in the rough.
You want to choose a starting goalie based on value of the salary cost, this value can help you win your league for the night so really focus on the key values of the goalie.  Is the goalies team playing a bottom place team?  Is the team your playing coming off a game the night before, Did your team come off a win or loss?  All of these points need to be reviewed and processed while you are choosing your goaltender.
Build the best lineups with the power of The Machine for Daily Fantasy Sports
Here is a look at goaltenders I would focus on for Thursday ( one from each strategy method ).
Top Goalies based on price:
Pekka Rinne and Andrei Vasilevskiy both in the 9000 to 9200 range then you have three goalies at 8700 to 8800 with Frederik Anderson, Devan Dubnyk and Sergei Bobrovsky.  Those are my 5 to choose from.  Here is what I am looking at, did they play the night before, who are they facing as an opponent, is the team on a winning streak and playing well, what are the chances of getting a shutout.  My choice for this group is Sergei Bobrovsky.  
Bargain basement goalie based on lowest budget as my roster is stacked with higher cost players. My choices are Brian Elliot, Craig Anderson and Thomas Greiss.  Again lower end goalies but focus on these factors.  Who and where they are playing, home ice means a lot for these goalies.  Streaks, are they on one, did they win the last game they started.  Based on this I choose Craig Anderson.
Good goalie at the right cost.  You will have a wide variety of goalies to choose from so I will not name them all but give you my pick and why. Martin Jones.  8400 is his cost and he is worth every dollar.  Why Jones when facing the high powered Toronto Maple leaf team you ask?  San Jose will look to control the play by keeping puck possession in their favor.  Toronto comes off a 5-1 easy victory against the Kings but now face a Sharks team looking to bite.  I see this game being a lower scoring game 3-2 or 3-1 in favor of the Sharks.  Even if the Sharks lose, Jones will face 30 plus shots so he will still provide a good return.
Remember this as you choose your goalies so make the right play and SAVE your fantasy team on a night by night basis.