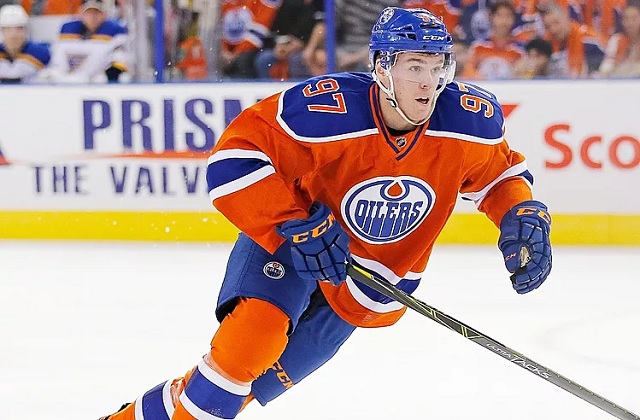 Written by Robert Backus
08 November 2018
We spend all summer and pre-season looking forward to draft night and when it's over, we all feel like we are going to grab the win and cash in. Then we start asking ourselves in November "Why did I draft that guy?" So here is a look at my top players that you should keep, sell or trade-for.
Connor McDavid: Enough said if you drafted him first overall, then you are not disappointed. His average ice time is the highest in the league for a forward he sees all the Power Plays, Penalty kills and 5 on 5.  MUST KEEP
Nathan MacKinnon: After a great season last year, he is following that up with a great start to the season. Colorado is a great offensive team and plays a run and gun type of system, so points will continue to pile up for Nathan as the season goes on.  MUST KEEP
Build the best lineups with the power of The Machine for Daily Fantasy Sports
Patrice Bergeron: 14 years in the NHL and he continues to shine. Bergeron and his teammates thrive on puck control and that leads to goals in the NHL.  You can't score if you do not have the puck and the Boston Bruins control the play and face off in the circle more than 65% of the time. Line mates and chemistry is another strong model for this team and it shows.  MUST KEEP
Sidney Crosby: Is arguably the best or one of the best players of all time, but those times may becoming to an end. Not necessarily on the ice, but as a member of your fantasy team. Crosby is still an elite player, but his stats are falling and this may be the best time to trade him for other needs on your team. Yes, trade and use his name as the key player to get your roster up in depth or for multiple players.  The market will still be hot so pull the trigger.  TRADE
Auston Matthews:  Matthews started the season as the hottest player on the ice and now is on the IR with a shoulder injury.  His return date looks to be in late November or early December.  As a Leaf fan, it pains me to say this, but Trade him, his value is still high and he will produce points, but the fear of injury is high and it will take him a few weeks to regain his strength back.  Take advantage of a weaker team in your league and make a move to bolster your roster by moving this elite player.  TRADE
Erik Karlsson: Karlsson is a player with a long history of being a top scorer among defenseman.  Again a name known to everyone, so get ready to play, "Lets make a deal." His potential when the trade went down was very high, but the return on investment is low.  His ability to move the puck is still great, but he is not finding the same grove he had in Ottawa. Being a former captain and now going to a team with multiple veteran leaders is really a downgrade for Erik.  Time to move on. TRADE
Brayden Point: Point is a skilled hockey player that is not well known yet. He's a player if you could work a trade out for is simply going to help your team.  He plays on a team with a lot of skill, speed with a great team environment.  Make the move and trade for Brayden.  ACQUIRE 
Max Domi: Unlike his father Tie Domi, Max brings a skilled game to the ice.  He has the leadership role with Montreal and is on a point per game streak right now.  Max can help you round out your lineup and you should be able to pick him up for a reasonable price.  ACQUIRE
Thomas Chabot: Who you say?  Yes, Thomas is playing on a very weak Ottawa team, yet he is putting up Norris type numbers for a defenseman.  Will his production continue and the answer is no, but he will continue to see large minutes of playing time. He is certainly worth the investment, which really could be minimal.  ACQUIRE
Henrik Lundqvist: This goalie has seen his better days and if you have him on your roster, it was probably a draft pick you would like to have back and you probably drafted him based on his years past of good play and playing on a better team. DROP
Sergei Bobrovsky: Here is another goalie that was projected to have better numbers then he has now.  I truly believe that Sergei will be moved at some point during the season, so if he is on your roster keep him as he might find himself on a better team come the new year. HOLD FOR NOW
Enjoy the week and look for my next article next time on ASL.
Never miss ASL's latest fantasy sports news. Send us an email at This email address is being protected from spambots. You need JavaScript enabled to view it. and list the sports you are interested in (NFL, NBA, MLB, NHL) to start receiving ASL's newsletter.