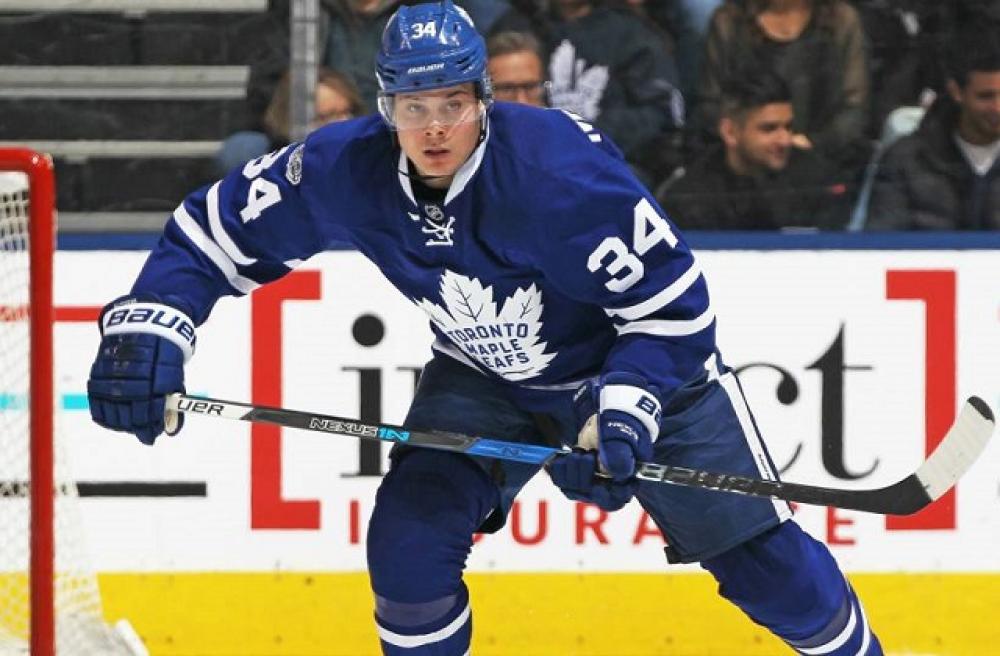 Written by Robert Backus
23 October 2018
Let's get right into the hot topics so far two weeks into the season. Scoring, Scoring and more Scoring seems to be the trend as teams are focusing on offense and letting the goalies face 30 to 40 shots per game. Overall this leads to fantasy scoring like we have never seen it before.
Here are my observations so far as you should be looking to get as many players into your lineups as often as you can.
Offense
The Toronto Maple Leafs went out in the off-season and signed home town John Tavares to add to a young core of talent which includes Auston Matthews, Mitch Marner and Morgan Rielly. So far this team is leading the league in scoring with these three players at the top scoring list, led by Auston Matthews. I highly recommend that you try to position as many of these players as possible into your lineups. Keep in mind all four are on the top power play unit.
The Boston Bruins are another team led by veteran players and some youth to go with it. The usual personal are nothing but exceptional on a night-by-night basis so try to also fit as many of these players into your lineups as you are able. Patrice Bergeron, Brad Marchand and David Pastrnak are a deadly combination and when these three players are clicking it seems to me that Boston is a favorite to win the Stanley Cup this season.
The Nashville Predators are an elite team with talent all over the ice. Led up front by Ryan Johansen and Filip Forsberg and on the back end with P.K. Subban and Ryan Ellis.  This team is also stacked with talent and is a favorite to lead the Western Conference.
The Winnipeg Jets are a team who can beat you with finesse and scoring or just pound you down like the Dallas Cowboys Offensive line blocking for Emmitt Smith back in the 1990's.  Blake Wheeler, Patrik Laine and Mark Scheifele led the charge up front while the mean and steady Dustin Byfuglien patrols the blue line. This is another team to watch as they can score with the best of them.
Goaltending
In this league, scoring is at the front of the line but with that said there are a few teams who focus on defensive play. Here are three teams to watch based on their opponent, when selecting your goalie:
The Montreal Canadians have one if not the best goalie in the league in Carey Price. Montreal has less talent than a lot of other teams so when they play the focus is on hard work, pressure and defense first.
Another team to watch for is the New Jersey Devils. This team plays with high energy and is one of the best skating and puck possession teams in the league. Commitment to defense first and countering with Superstar Taylor Hall is the way they play.
The Tampa Bay Lightning are the last of the top three teams in the Eastern Conference. Tampa Bay probably has the best overall talent in the league, both up front and on the blue line, then you add Andrei Vasilevskiy between the pipes and you have a combination that truly is a coach's dream.
So hockey fans, as you build your rosters keep all of these things in mind and enjoy the games. As you head into this weekend here are a top few under the radar buys:
Kasperi Kapanen, Toronto Maple Leafs
Tomas Tatar, Montreal Canadians
Wayne Simmonds, Philadelphia Flyers
Jakob Silfverberg, Anaheim Ducks
Enjoy the games and watch for next weeks' Top D 
Never miss ASL's latest fantasy sports news. Send us an email at This email address is being protected from spambots. You need JavaScript enabled to view it.and list the sports you are interested in (NFL, NBA, MLB, NHL) to start receiving ASL's newsletter.