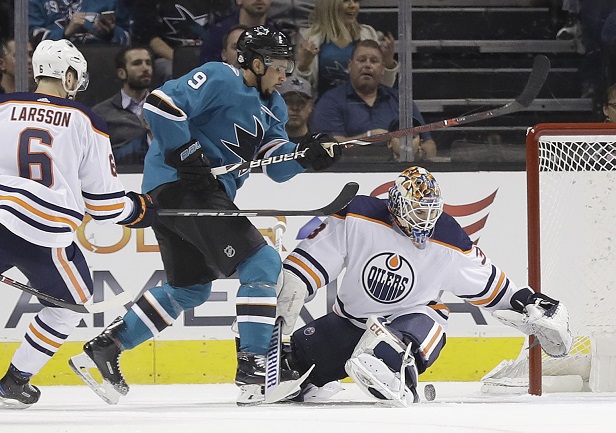 Written by Robert Backus
01 March 2018
NHL fans, another trade deadline day has come and gone. Today, we are going to look at a few players that have been traded and how their new opportunities will affect their fantasy value. Here are the top three players to watch as the season comes down to the final month.
Evander Kane, San Jose Sharks
Kane has always had the great ability to skate and produce points, but his downfall is his attitude. My personal opinion is that this trade makes Kane a stronger player as he is now playing on a team full of strong veteran players. Motivation is always something Kane has lacked, but there are two major points that should turn him into a better player. First off, he is playing for a contract and is now on a better team going forward which means he should be able to produce points and help his cause in securing his next contract.  The other factor is San Jose is currently a playoff squad -- although they are only four points clear right now -- and Kane, after coming over from the moribund Buffalo Sabres, will thrive in a more competitive situation. Kane played on the first line in his first game with the Sharks. He played just over 16 minutes and produced two assists.
Tomas Tatar, Vegas Golden Knights
Las Vegas was seen at the beginning of the year as a team that would be just another expansion team and would load up on experienced players through the draft with the intention of using those players to trade at the deadline in order to build for the future. Well, Las Vegas made a splash and traded away future picks to the Detroit Red Wings for Tatar, and this could help the Golden Knights excel in the playoffs. Tatar brings some skill and scoring as he has notched 16 goals and 12 assists this season.  Look for him to see time on the power play and be a critical part for Vegas moving forward.
Paul Stastny, Winnipeg Jets
Stastny was traded from the St. Louis Blues to the Jets in what might have been the most surprising deal of deadline day. Paul is having a really good year, totaling 13 goals and 29 assists in 64 games. Winnipeg, already having a huge amount of talent, just improved its already strong team. Stastny had a goal and an assist in his Jets debut and his point total will grow during the last 20 games with Winnipeg. Paul will be put on a line with Patrik Laine, which could benefit both players. Winnipeg, in my opinion, is now the top dog in the NHL and the front-runner to win the Stanley Cup.
Enjoy the games and get these three players into your lineups going forward.


Never miss ASL's latest fantasy sports news. Send us an email at This email address is being protected from spambots. You need JavaScript enabled to view it.and list the sports you are interested in (NFL, NBA, MLB, NHL, EPL) to start receiving ASL's newsletter.