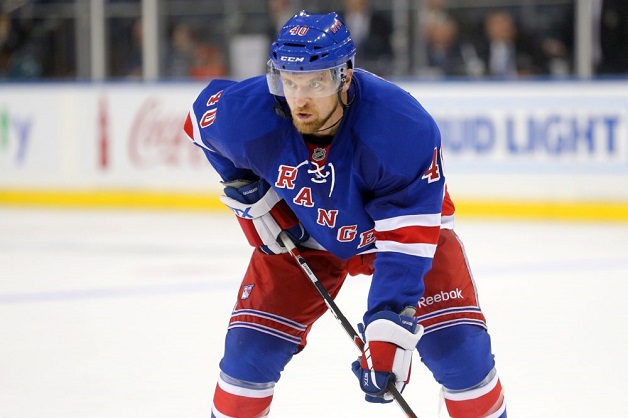 Written by Robert Backus
15 February 2018
Hockey fans, we are looking at an 11-game schedule tonight, and my focus is on what I think is always the biggest challenge in playing daily fantasy hockey: Choosing the right fringe players to fill out your roster. In fantasy hockey, picking the superstars or key players is easy, but finding those unearthed gems becomes a skill.  Third- and fourth-liners, fringe players, supporting cast, grinders, checkers, whatever you call them, you need to find the guys who can get the unexpected goal or assist to put you over the top. Here are my picks that I think can help you fill out your rosters for the right price tonight. All of these prices come from FanDuel.
FORWARDS
Michael Grabner, New York Rangers
At $4,600, Grabner could be a steal tonight. Michael has exceptional speed, kills penalties and 23 goals on the season. He is at the front of trade rumors and is showcasing himself for other teams. The fact that the New York Rangers are playing the New York Islanders, who are the bottom of the league in scoring defense, also makes this a great play.
Craig Smith, Nashville Predators
This player has a value of $4,900, 16 goals and 31 points in 54 games. Smith usually fills the bottom two lines but is on the Preds' second power-play unit and moves up to the second line during games.
Alex Tuch, Vegas Golden Knights
Alex averages 15 minutes per game and has 10 goals and 25 points. He averages more than two shots per game and is someone to like tonight at just $3,600.
Kevin Labanc, San Jose Sharks
Labanc averages 15 minutes per game and sees time on San Jose's top line. He has tallied 31 points -- including seven goals in 52 games and costs $4,100.
SLEEPER FORWARD
Zach Aston-Reese, Pittsburgh Penguins
Zach, who costs $3,400, has played just five games but has two goals, an assist and is playing on the top line with Sidney Crosby.  Any players who skate alongside Sid the Kid have potential whenever they are on the ice. Make sure Aston-Reese's spot on that top line is for certain before you lock him onto your roster tonight.
DEFENSEMEN
Matt Dumba, Minnesota Wild
Matt carries a $4,500 price tag along with 10 goals and 31 points in 56 games. He's a pretty solid pick for the value.
Nate Schmidt, Vegas Golden Knights
Nate has a value of $4100 and averages over 21 minutes per game.  Nate has 4 goals and 22 assists so far this year and averages 2 block shots per game.
SLEEPER DEFENSEMAN
Noah Hanifin, Carolina Hurricanes
Noah, who costs $3,800, averages more than 18 minutes and more than two shots on net per game. He has also notched an impressive seven goals and 19 assists this season.
Enjoy the games and may your players light the lamp tonight.

Never miss ASL's latest fantasy sports news. Send us an email at newsletter@advancedsportslogic.com and list the sports you are interested in (NFL, NBA, MLB, NHL, EPL) to start receiving ASL's newsletter.