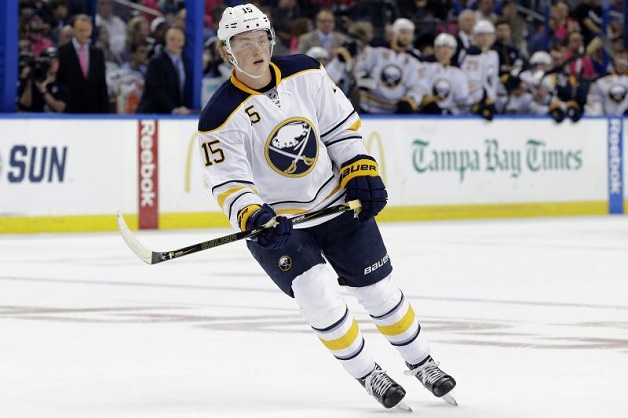 Written by Robert Backus
08 February 2018
Tonight is time for big players to shine as I see some high-scoring games. That is my focus today: Big-time players that produce fantasy points. Let's get down to the top players and high-scoring games to watch. I'll present you with players at two different pricing tiers. For forwards, Tier 1 players cost $7,000 and more, via FanDuel. Tier 2 players cost less than $7,000. For defensemen, Tier 1 players cost more than $5,000. Tier 2 players are under $5,000.
The Buffalo Sabres host the New York Islanders.  Neither team plays any defense, so this game is going to light up the scoreboard like the sun in the desert. Key tier 1 players include Sabres center Jack Eichel and Islanders center John Tavares. For tier 2, look at winger Evander Kane and center Ryan O'Reilly from Buffalo, and wingers Josh Bailey and Anders Lee from New York.
The Nashville Predators travel to Ottawa to take on the Senators. Nashville is coming off a tough game Wednesday, a shootout loss to the Toronto Maple Leafs. Nashville plays a highly intense forechecking game, looking to create turnovers and get their top four defensemen to jump up into the play to create offense. Look for this game to light the lamp often. Top-tier players for Nashville include defensemen P.K. Subban and Roman Josi. Defensemen Ryan Ellis is a strong tier 2 player. Neither team has top-tier forwards to play, but Nashville's Craig Smith and Kevin Fiala, and Ottawa's Mike Hoffman and Zack Smith. represent some quality second-tier options.
The Dallas Stars travel to Chicago to take on the Blackhawks. This one has all the makings for a high-scoring game as well. Chicago is starting to look older, and the amount of hockey that players such as Duncan Keith, Patrick Kane and Jonathan Toews have played over the past seven years is crazy. With long runs in the playoffs year after year, world championships and Olympics, the body starts to wear down at some point. Chicago's goaltending is mediocre at best these days, so I will look for Dallas to take advantage.  However, the Stars are another team that's difficult to get a read on. Their leaders are forwards Jamie Benn and Tyler Seguin. For Dallas to win, those two usually have to have points on the board. I think they will hit the scoreboard tonight, so get one if not both into your lineup. A tier 2 player to watch on the blue line tonight is Dallas' Esa Lindell from Dallas. Playing with top defenseman John Klingberg has helped this young player, so Lindell may be the best value play available tonight.
The last game I will focus on pits the Philadelphia Flyers hosting the Montreal Canadiens. In past years, you would look at this game and think Philadelphia may have a tough time scoring on superstar goalie Carey Price. But not tonight. Montreal defenseman Shea Weber is out, and that's a huge loss against a Flyers offense that will be bringing the speed and skill to the inexperienced Montreal defense. Everyone knows what is happening in Philadelphia today: It's Super Bowl parade day! The Flyers will carry that emotion to the ice and produce a huge game tonight. Top plays for Philadelphia include center Sean Couturier, winger Jakub Voracek and defenseman Ivan Provorov. A tier 2 option would be winger Wayne Simmonds. For Montreal, winger Brendan Gallagher is a sneaky tier 2 player.
Others to watch tonight:
TIER 1 FORWARDS ($7,000+)
Vladimir Tarasenko, St. Louis Blues
Mikael Granlund, Minnesota Wild
Viktor Arvidsson, Nashville Predators

TIER 2 FORWARDS (<$7,000)
Reilly Smith, Las Vegas Golden Knights
Jordan Eberle, New York Islanders


TIER 1 DEFENSEMEN ($5,000+)
Shayne Gostisbehere, Philadelphia Flyers
Jared Spurgeon, Minnesota Wild


TIER 2 DEFENSEMEN (<$5,000)
Jeff Petry, Montreal Canadiens


TIER 1 GOALIES ($8,500+)
Devan Dubnyk, Minnesota Wild
Mike Smith, Calgary Flames


TIER 2 GOALIES (<$8,500)
Brian Elliott, Philadelphia Flyers


Enjoy the games and may your fantasy picks light up the scoreboard tonight.

Never miss ASL's latest fantasy sports news. Send us an email at newsletter@advancedsportslogic.com and list the sports you are interested in (NFL, NBA, MLB, NHL, EPL) to start receiving ASL's newsletter.