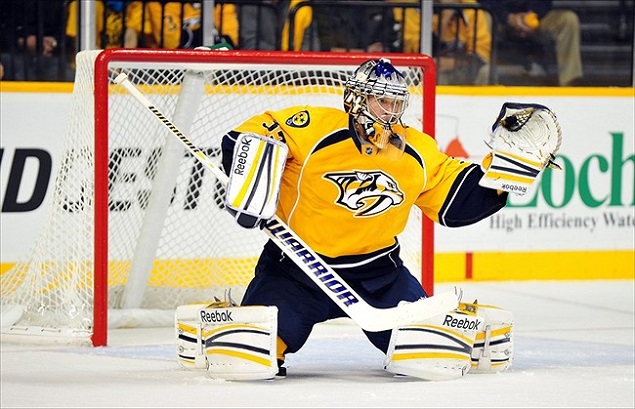 Written by Robert Backus
01 February 2018
Good day, hockey fans and welcome to February. The NHL is coming into its final stretch for teams looking to make that playoff push. It's also time for teams to decide if they are a buyer or a seller since the trade deadline hits Feb. 26. Near the end of this article, I will provide a look at the current rumors and give you my insight.
The featured game for Thursday features the Central-leading Winnipeg Jets hosting the Pacific-leading Las Vegas Golden Knights. No one would have thought that Vegas would be leading its division in February, let alone making a push for the playoffs in their expansion year. Vegas continues to play solid, structured hockey and there are no superstars or passengers on this team. Every player has bought into the system and has something to prove to their past teams that left them exposed in the expansion draft last year. Vegas has already tied the record the most wins and points by an expansion team (33 and 70, respectively) and 33 games still remain in their remarkable season.
The Winnipeg Jets, on the other hand, are also having a solid season and living up to expectations with 30 wins of there own. Winnipeg is dealing with the injury bug to a few key pieces; Mark Scheifele and Jacob Trouba are both out of the lineup and yet the team continues to play strong hockey. Blake Wheeler and Patrik Laine are leading the forwards while Tyler Myers is coming into his own and solidifying the defensive zone. This battle of division leaders should be a fast-paced, grind-it-out game as both teams look to take advantage of the spare scoring opportunities they get. I see this game being very close and low scoring, even going into overtime. This has playoff material written all over it and should be the best game on the schedule tonight.
Here are my key fantasy plays for tonight's schedule. Value is the key word tonight as teams fighting injuries look to some bench players to step up. I will provide the big-ticket, consistent players as well as the tier two and tier three value options. The prices used come from FanDuel
GOALIES
Pekka Rinne, Nashville Predators, $8,600; He is the big-prize goalie as the Predators host the L.A. Kings.
Karl Lehtonen, Dallas Stars, $7,700; Lehtonen is the value play as the Stars go into Arizona to face the Coyotes.


WINGERS
Tier One Players
Jamie Benn, Dallas Stars (at Arizona Coyotes), $7,800
Patrick Kane, Chicago Blackhawks (at Vancouver Canucks), $8,500


Tier Two Players
William Nylander, Toronto Maple Leafs (at New York Rangers), $6,200
Gabriel Landeskog, Colorado Avalanche (vs. Edmonton Oilers), $6,200


Tier Three and Value Players
Tyler Toffoli, L.A.Kings (at Nashville Predators), $5,800
Vladislav Namestnikov, Tampa Bay Lightning (at Calgary Flames), $5,900


CENTERS
Tier One Players
Steven Stamkos, Tampa Bay Lightning (at Calgary Flames), $8,400
Blake Wheeler, Winnipeg Jets (vs. Las Vegas Golden Knights), $7,300
Auston Matthews, Toronto Maple Leafs (at New York Rangers), $7,800


Tier Two Players
Aleksander Barkov, Florida Panthers (at Buffalo Sabres), $7,000
Sean Couturier, Philadelphia Flyers (at New Jersey Devils), $7,200

Tier Three and Value Players
Bo Horvat, Vancouver Canucks (vs. Chicago Blackhawks), $5,700
Jonathan Drouin, Montreal Canadiens (at Carolina Hurricanes), $5,600


DEFENSEMEN
Tier One Players
P.K. Subban, Nashville Predators (vs. L.A. Kings), $5,800
Erik Johnson, Colorado Avalanche (at Edmonton Oilers), $5,200


Value Players
Darnell Nurse, Edmonton Oilers (vs. Colorado Avalanche), $4,700
Andy Greene, New Jersey Devils (vs. Philadelphia Flyers), $3,700

TRADE RUMORS
It is being reported that the New York Rangers are in sell mode, but I do not see it that way right now. The Rangers sit three points out of a playoff spot and although the Rangers are getting older, they still have strong enough pieces to make the playoffs and potentially upset someone in the first round. If the Rangers make moves to kick off a rebuild, look for them to do it at the draft. 
The Montreal Canadiens are well out of the playoff race and could be active on or before the deadline. However, they really don`t have the assets to make deals unless they involve goalie Carey Price or defenseman Shea Weber. Price would be a risky move but would net the biggest return. That type of deal does not happen at the deadline but at the draft. Weber is an interesting piece for a team looking to make a serious run at the Stanley Cup. He would net a good return but his age (32) and eight years remaining on his contract are hurdles. If Montreal is looking to deal Weber, they would have to settle for a first- or second-round pick as well as a tier-two prospect since teams will be wary of that contract. 
Ottawa will not be trading superstar defenseman Erik Karlsson. He has just one year left on his deal, and no team will give Ottawa what it is looking for in a return, especially since Dion Phaneuf could be in play if he agrees to waive his no-trade clause. His contract runs through the 2020-21 season.


Never miss ASL's latest fantasy sports news. Send us an email at newsletter@advancedsportslogic.com and list the sports you are interested in (NFL, NBA, MLB, NHL, EPL) to start receiving ASL's newsletter.