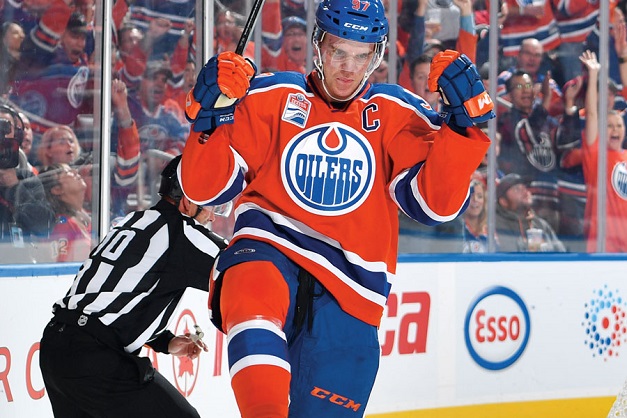 Written by Robert Backus
12 January 2018
We are looking at five games on the schedule tonight. The highlight game features the Chicago Blackhawks (21-16-6) hosting the Winnipeg Jets (26-11-7). The balance of tonight's schedule is as follows: Vancouver traveling to Columbus; Calgary visits Florida; Washington heads to Carolina; Edmonton at Arizona.
We have a rematch of last night's game where Carolina went on the road to defeat Washington. Calgary and Columbus played last night as well, so some teams could be tired from their travels, which means the third period could see more scoring than usual.
I will break down these games and give you some players to watch. 
WASHINGTON CAPITALS AT CAROLINA HURRICANES
Washington is looking to bounce back from last night's loss. This rematch could see more scoring than last night's 3-1 victory for Carolina. Both teams will be a little tired and Washington will be starting backup goalie Philipp Grubauer. Cam Ward between the pipes for Carolina. My bold prediction has Washington winning this game, 5-3. 
Fantasy plays for Washington: Evgeny Kuznetsov and Alex Ovechkin both hit the net tonight with power-play goals. Defenseman John Carlson should register two assists as the power play will be the story of tonight's game. 
Fantasy plays for Carolina: Look for Jeff Skinner to utilize his speed and get on the board.
CALGARY FLAMES AT FLORIDA PANTHERS
Calgary is coming off a huge win last night over Eastern Conference leader Tampa Bay, and I see Calgary keeping that momentum rolling against Florida. The Panthers played on Tuesday night and notched a big win over St. Louis in a high-scoring game. I see this game being a low-scoring affair with Calgary triumphing 3-1 or 3-2.
Fantasy plays for Calgary: Calgary's backup netminder, David Rittich, is expected to play tonight in this second half of a back-to-back for the Flames. Florida will look to keep Calgary's high-flying forwards off the board, so a defensive game plan is in play. There's not a lot of fantasy value here, but look for defensemen Dougie Hamilton and winger Matthew Tkachuk to grind out some points. Tkachuk could bang in a goal.
Fantasy plays for Florida: The Panthers will look for their top line to hit the scoreboard, but they could be shut out tonight.
VANCOUVER CANUCKS AT COLUMBUS BLUE JACKETS
Columbus is coming off a 3-1 loss last night in Buffalo. Meanwhile, Vancouver has been waiting to play since Tuesday. Columbus head coach John Tortorella probably did not sleep well and will have his team either ready to play or terrified to see what happens if they lose tonight. This game should start off with a very high pace as Columbus looks to impress its coach. If the Canucks can withstand the first period, they could come out with a win. However, I can't see that happening as Columbus will come out flying, open a lead in the first, expand it in the second and then hold on in the third.
Fantasy plays for Columbus: This game could be a really fun watch for fantasy owners as Columbus pots five goals. Look for the Blue Jackets' supporting defensemen to have big games and for winger Artemi Panarin to hit the board. You may also see some third-period points from Boone Jenner. 
Fantasy plays for Vancouver: For the Canucks to be successful, Daniel and Henrik Sedin will need to get some power-play time. Regardless, this game goes to Columbus.
EDMONTON OILERS AT ARIZONA COYOTES
Edmonton has been nothing but a huge disappointment, which has brought about discussions on coaching changes, GM changes and player movement. The Oilers head to Arizona tonight, and this may be the game that Edmonton needs to break out of its three-game losing streak. I predict another high-scoring game with Edmonton coming out on top. 
Fantasy plays for Edmonton: Center Connor McDavid, of course, is front and center, and look for Milan Lucic to help out as well. Goalie Cam Talbot had a good game against Nashville on Tuesday so look for him to be steady tonight and get a win in the desert.
Fantasy plays for Arizona: The Coyotes are young and still looking for an identity but will not be able to keep up with Connor and Edmonton tonight.  
WINNIPEG JETS AT CHICAGO BLACKHAWKS
This is the big game of the night. Winnipeg is the better team right now and riding with a three-game win streak. Chicago is coming off a 2-1 loss to Minnesota from Wednesday. If the Blackhawks want to set a tone for 2018, tonight is the night for them to take control and start moving up in the standings. A loss means this could be a long second half for Chicago which may turn the Blackhawks into sellers at the February trade deadline and signal the beginning of a rebuild.
The Jets continue to have success using both their speed and skill to control games while the backend really dominates the puck. This could be a low-scoring, puck control game as it sets up as a playoff-type matchup. Chicago does not want to get into a run-and-gun game.
Fantasy plays for Winnipeg: Big plays come from the Jets' second line tonight with winger Nikolaj Ehlers and center Bryan Little taking it to Chicago's second defensive pairing. Goalie Connor Hellebuyck stands tall tonight and gets his 24th win. Winnipeg goes on the road to win its fourth in a row, 4-2.
Fantasy plays for Chicago: The Blackhawks will lean on Duncan Keith to control the high-flying Jets but will come up short tonight. Chicago is struggling in net and that may be the downfall for the 'Hawks tonight and this season. 


Here are my top fantasy plays for tonight's slate:
C: Connor McDavid, Edmonton Oilers
C: Bryan Little, Winnipeg Jets
C: Evgeny Kuznetsov, Washington Capitals
W: Nikolaj Ehlers, Winnipeg Jets
W: Matthew Tkachuk, Calgary Flames
W: Jeff Skinner, Carolina Hurricanes
W: Milan Lucic, Edmonton Oilers
W: Josh Anderson, Columbus Blue Jackets
D: John Carlson, Washington Capitals
D: Dustin Byfuglien, Winnipeg Jets
D: Dougie Hamilton, Calgary Flames
G: Connor Hellebuyck, Winnipeg Jets
G: Cam Talbot, Edmonton Oilers


Never miss ASL's latest fantasy sports news. Send us an email at newsletter@advancedsportslogic.com and list the sports you are interested in (NFL, NBA, MLB, NHL, EPL) to start receiving ASL's newsletter.