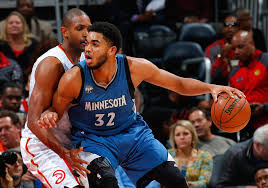 Written by Daniel Brown
15 December 2016
Safe and Speculative Plays For Tuesday Night – December 6th 2016.
Each night of the NBA season there are different options based on the number of games available and the expected players available. Here we look at some safer plays ("Free Throw" and "2 pt" Player), some riskier plays ("3 pt" and "Half Court" players), and give you a speculative player based on pricing ("Full Court Prayer" under $4,000 Draftkings) from the 6 games being offered for Tuesday night.
Check in each Tuesday to see who is recommended for inclusion and over the course of the season we will review the hits and misses! (For this we considered anything less than $200/pt to be a hit and anything else was a miss).
"Free Throw "player:
Karl-Anthony Towns (C – MIN - $8,100 Draftkings) – Averaging 43.8 Fantasy Point Per Game ("FPPG") this season Towns has been a great daily fantasy option particularly in cash game formats. His high volume of shots mixed with the number of trips to the free throw line and his rebounding ability make him a high floor player. He has been outstanding the past 10 match ups which included a ridiculous 80 Fantasy Points ("FP") against the New York Knicks on 11/30. Going up against San Antonio is a strong match up for him as they give up a lot of points to opposing C position. Minnesota at home should play hard and we expect Towns to be in the middle of the action on both ends of the court.
Last Week – Kawhi Leonard – 27 Fantasy Points - $311/pt – Miss
Season Stats: 2/3 (2pts)
"2 pt" player:
Carmelo Anthony (SF – NYK - $7,600 Draftkings) – Carmelo scored 20 Points ("PTS") and 4 Rebounds ("REB") on Sunday against the Sacramento Kings which was slightly below his season average, after scoring 29 PTS while accumulating 47.8 FP in the previous game against Minnesota. On the road here against a Heat team that is struggling at 7-13, it provides an opportunity for Anthony to yield a solid fantasy outing. The expected scoring for these two teams is slightly over the 200 point mark, but given the nature of the offense for New York, with the defense likely guarding Porzingis we see Anthony having a strong night.
Last Week – Kyrie Irving – 28.5 Fantasy Points - $266/pt – Miss
Season Stats: 2/3 (4pts)
 "3 pt" player:
Tyler Johnson (PG – MIA - $5,200 Draftkings) – Johnson has benefited from injuries to teammates Dion Waiters and Josh Richardson, and with both players expected to miss this game against the New York Knicks, who average giving up 106.4 Points per Game, there should be opportunities for Johnson to score, as well as contribute via Assists ("AST") and REBs. His salary remains very competitive for both cash and Tournament lineups.
Last Week – Brook Lopez – 50.5 Fantasy Points - $127/pt – HIT!
Season Stats: 3/3 (9pts)
"Half Court" player:
Kentavious Caldwell-Pope (SG – DET - $5,700 Draftkings) – Caldwell-Pope has had 4 solid games in a row, either scoring the basketball, or via REB, AST or 3-pt shots made. The Bulls have shown at times that their defense is very good, allowing just under 100 points per game, however they have given up a lot of points to the SG position ranking 29th overall in terms of points allowed, which bodes well for Caldwell-Pope He has a good floor for this match up averaging 27 FPPG this season and there is reasonable upside for him with the Pistons at home against the Bulls, who will be playing without Rajon Rondo for this game due to his 1 game suspension.  
Last Week – Nikola Vucevic – 31 Fantasy Points - $200/pt – HIT!
Season Stats: 2/3 (8pts)
 "Full Court Prayer" player:
Shelvin Mack (PG – UTA - $3,800 Draftkings) – This could be a high scoring encounter against the Suns who give up an average of 113 points per game to opponents.  Mack has been playing with the second unit despite George Hill being out, however he has still played more minutes than Dante Exum who received the start and while Mack likely starts with the second unit tonight, he should still see plenty of minutes and opportunities to contribute. With the Full Court Prayer player we are looking at upside!! When we hit we know the returns will be great at the price level, but more often than not we will miss here. This type of player affords you some cash savings to put an extra higher priced salary player into the lineup while still holding a lottery ticket in terms of upside if our selection here is able to put up strong number. In this case Mack has had 9 shots in his last 3 games and while he is hitting less than 50% of those, the opportunity is there.
Last Week – Jamal Crawford – 16.25 Fantasy Points - $228/pt – Miss
Season Stats: 1/3 (5pts)
Last Week Total Pts: 7
Season Total Pts: 28